Kashmir Tour Packages in June 2024
Kashmir, often referred to as "Paradise on Earth", has always been a desired travel destination. Its breathtaking combination of lovely valleys, majestic lakes, and snow-capped mountains makes it a dreamy getaway throughout the year. While Kashmir is known for its charm in all seasons, have you ever contemplated experiencing its magic in June? In this extensive guide, we'll delve into the captivating reasons to choose Kashmir Tour Packages in June 2024.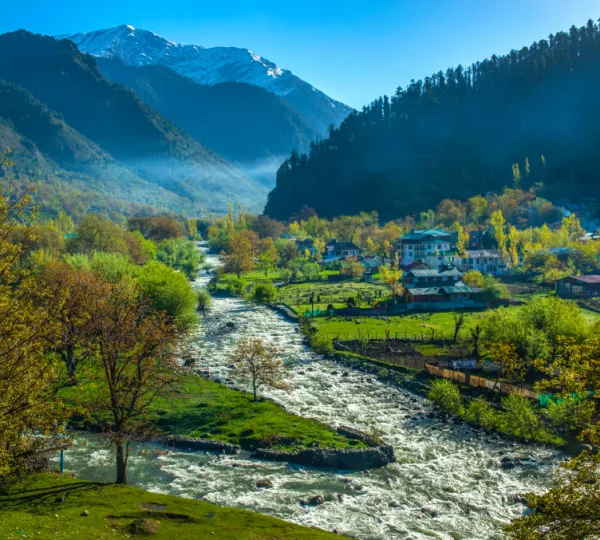 Kashmir in June 2024
Summer Paradise in Kashmir
Yes, you can Jump on a journey to this earthly paradise in June! Kashmir in the summer season transforms into a vibrant landscape, with blooming flowers, lush gardens, and perfect weather. The majestic beauty of the region is at its peak during this season, making June an ideal month to explore this summer paradise.
Weather in Kashmir in June 2024
One of the most crucial aspects to consider when planning your June escapade to Kashmir is the delightful weather. June offers pleasant temperatures, with average highs around 25°C and lows around 12°C. The days are long, and the weather is mostly sunny, creating the perfect conditions for outdoor adventures and sightseeing.
What's the Cost of Kashmir Tour in June 2024?
Budgeting for your trip to Kashmir in June is essential. The cost of a Kashmir tour can vary significantly based on several factors, including your choice of accommodations, transportation, and activities. Here's a breakdown of some potential expenses:
Accommodations: Kashmir offers a range of accommodations, from budget hotels to luxury resorts. Prices can vary widely, so research and book in advance to secure the best deals.
Transportation: The cost of getting to Kashmir depends on your location and mode of transport. Flights, trains, or road trips all come with different price tags.
Activities: Kashmir offers a plethora of activities, from trekking to shopping for local handicrafts. Allocate a budget for experiences you don't want to miss.
Food: Kashmiri cuisine is delicious, and dining out can be affordable. However, high-end restaurants may have higher prices.
Souvenirs: Don't forget to budget for souvenirs like Pashmina shawls, handicrafts, and local products.
Miscellaneous Expenses: Factor in expenses for entry fees to attractions, tips, and other miscellaneous costs.

Kashmir Tour Packages in June 2024 by KashmirTickets
When planning a trip to Kashmir, consider using reputable tour operators like KashmirTickets, which offer a range of Kashmir tour packages tailored to your preferences and budget. These packages often include accommodations, transportation, guided tours, and sometimes even meals. Booking a package can save you time and ensure a hassle-free experience.
Kashmir Tour Package Price
The price of Kashmir tour packages can vary depending on the duration of your stay, the level of luxury you desire, and the inclusions offered. Here are some approximate price ranges to give you an idea:
Budget Package: ₹15,000 to ₹30,000 per person for a 4- to 6-day trip with basic accommodations.
Mid-Range Package: ₹30,000 to ₹60,000 per person for a 6- to 8-day trip with comfortable hotels and guided tours.
Luxury Package: ₹60,000 and above per person for a premium 8- to 10-day trip with luxury accommodations, private transportation, and exclusive experiences.

Kashmir Tour Packages for Couples
Kashmir is a romantic destination, and many tour operators offer special packages for couples. These packages often include honeymoon suites, private Shikara rides on Dal Lake, and romantic dinners in picturesque settings. If you're planning a romantic getaway, look for packages tailored to couples to make your trip extra special.
The Best Month to Visit Kashmir?
While June is undoubtedly a fantastic time to visit Kashmir, determining the "best" month depends on your preferences and what you want to experience. Here's a quick overview of the pros and cons of visiting Kashmir in different months:
June: Ideal for pleasant weather, blooming gardens, and outdoor activities. However, it's also a peak tourist season, so expect larger crowds.
April to May: Springtime brings blossoming flowers and mild weather, great for nature enthusiasts.
September to October: Autumn offers a beautiful tapestry of colours as the leaves change. It's a less crowded time to visit.
December to February: Winter brings snow and is perfect for skiing and snowboarding. It's a quieter season, but temperatures can be very cold.
Exploring Kashmir Beyond the Tourist Trail
While the popular destinations like Srinagar, Gulmarg, Pahalgam, and Sonmarg are must-visits, consider exploring Kashmir beyond the tourist trail. Here are some hidden gems to discover:
Dachigam National Park: A haven for nature lovers, this park is home to the endangered Hangul deer and offers fantastic hiking opportunities.
Aru Valley: A serene and less-visited destination, perfect for trekking and camping amidst stunning landscapes.
Gurez Valley: A remote and picturesque valley known for its untouched beauty and warm hospitality of the locals.
Tarsar and Marsar Lakes: Pristine alpine lakes that offer a peaceful and off-the-beaten-path trekking experience.
Budgam: A quaint town known for its traditional Kashmiri homes and handicrafts.
How To Get To Kashmir in June 2024
Getting to Kashmir in June is convenient, and you have several transportation options:
By Flight: Srinagar Airport, located just 15 km away, connects Kashmir with major Indian cities. Airlines like Air India, GoAir, IndiGo, and Jet Airways operate regular flights. June typically experiences stable weather conditions for flights.
Kashmir by Public Transport or Taxi: If you prefer land travel, Jammu Tawi Railway Station, approximately 330 km away, serves as the nearest railhead. From Jammu, you can hire private cabs or use state or private buses to reach your desired Kashmir destinations.
Road Trip to Kashmir in June: The road conditions are excellent in June, making it a great time for a road trip. The journey through hilly terrains promises scenic beauty and memorable experiences.

Must-Visit Destinations in Kashmir in June 2024
As you plan your Kashmir Tour Packages in June 2024, make sure to include these exquisite destinations on your list:
Srinagar: The summer capital of Jammu and Kashmir comes to life in June. Enjoy a Shikara ride on Dal Lake, explore Mughal gardens in full bloom, and relish the local cuisine.
Gulmarg: Known for its lush green meadows and the world's second-highest operating cable car, Gulmarg is a paradise for nature lovers and adventure enthusiasts.
Pahalgam: Rejuvenate in the serene surroundings of Aru and Betaab valleys, and take leisurely walks along the Lidder River.
Sonmarg: Experience the charm of Sonmarg with its picturesque landscapes, glaciers, and opportunities for trekking and camping.
Leh-Ladakh: While Leh-Ladakh is a bit of a drive from Srinagar, it's worth exploring for its unique landscapes, monasteries, and high-altitude adventures.
Packing Essentials for June in Kashmir
When venturing to Kashmir in June, pack essentials to keep comfortable in the pleasant weather:
Light summer clothing
Sunscreen and sunglasses
Comfortable walking shoes
A light jacket or sweater for cooler evenings
Vital Travel Tips for Kashmir in June 2024
For a memorable and hassle-free trip, consider these travel tips:
Book accommodations in advance, especially if you plan to stay around Dal Lake or other popular destinations.
Stay hydrated as the weather can be sunny and warm during the day.
June is a peak tourist season, so be prepared for larger crowds at popular attractions.
Respect local customs and traditions when visiting religious sites.
Experiencing Kashmir's Beauty in June 2024
Kashmir in June offers a wide range of activities and experiences for travellers:
Enjoy a leisurely Shikara ride on Dal Lake or explore other serene lakes.
Capture the vibrant gardens and scenic landscapes with your camera.
Shop for local Kashmiri handicrafts, including exquisite Pashmina shawls and handmade rugs.
Savour the delectable Kashmiri cuisine, including Rogan Josh, Dum Aloo, and various kebabs.
Embark on outdoor adventures such as trekking, golfing, and river rafting in the scenic surroundings.
Planning Your May Trip to Kashmir in 2024: Tips for a Memorable Journey
Travel is not just about the destination; it's about the journey itself. To ensure your trip to Kashmir in May 2024 is memorable and seamless, consider the following do's and don'ts:
Do's:
Keep your passport with you at all times, especially if you're a foreign traveler.
Explore the Mughal gardens in Srinagar, iconic symbols of the city's charm.
Take leisurely morning strolls around Dal Lake to immerse yourself in its tranquility.
When visiting religious sites, be respectful by covering your head and removing your shoes before entering.
Capture the beauty of Kashmir with a camera or a high-quality smartphone to create cherished memories.
Utilize Google Maps to discover nearby tourist attractions, local businesses, public transportation options, and ATMs for your convenience.
Don'ts:
Avoid venturing out late at night; prioritize returning to your accommodation early to ensure safety.
Exercise caution when taking photographs at Srinagar International Airport, as excessive photography may raise security concerns.
Refrain from consuming alcoholic beverages in public spaces, as local customs and regulations may differ.
If possible, avoid relying solely on public transportation and consider using Google Maps for navigation to ensure you reach your desired destinations efficiently.
Kashmir in June is a paradise waiting to be explored. The lush landscapes, pleasant weather, and a myriad of activities make it an ideal destination for a summer getaway. As you plan your journey to Kashmir in June 2024, prepare to be enchanted by the natural beauty and warm hospitality of this remarkable region. The experiences that await you are sure to create cherished memories for a lifetime. So, don't miss the opportunity to explore Kashmir's enchanting beauty in June 2024.
Also, Read About Kashmir in June 2024
So, Without Further ado Here are Our Packages For You Click Here