Gulmarg in Winter: A Snowy Paradise
Gulmarg is a popular hill station and ski resort in the Pir Panjal Range of the Himalayas, located in the Baramulla district of Jammu and Kashmir, India. It is famous for its scenic beauty, snow-covered slopes, and adventurous activities. Gulmarg in winter is a dream destination for many travelers who want to experience the magic of snow and enjoy the breathtaking views of the mountains.
How to Reach Gulmarg
Gulmarg is about 56 km from Srinagar, the capital city of Jammu and Kashmir.
Reaching Gulmarg in the winter months involves a journey divided into three parts, each with its own unique considerations:
Getting to Srinagar: Your journey begins with reaching Srinagar.
Srinagar to Tangmarg: The second leg of your journey takes you from Srinagar to Tangmarg.
Tangmarg to Gulmarg: The final stretch of your adventure leads from Tangmarg to Gulmarg.
You have several transportation options: traveling in your own vehicle, renting a taxi, or using public transport.
Traveling by Car
Traveling in your own car or motorcycle offers flexibility and convenience, but it's not ideal for a winter trip to Gulmarg. The journey from Srinagar via the Jammu-Srinagar highway is relatively smooth until you reach Tangmarg, where the road becomes steep and winding, covered in snow. To tackle this challenging terrain, you'll need excellent driving skills and snow chains. If you lack confidence or experience in driving in snow, avoid attempting this route.
Traveling by Bike
Although not recommended due to extreme cold with temperatures as low as -15 to -20 degrees Celsius, if you choose to ride a motorcycle, follow the same route as described above, and ensure you have snow chains to prevent skidding.
Traveling by Bus
If you prefer public transport, note that there's no direct bus from Srinagar to Gulmarg. Your journey involves two phases:
Take a bus from Dal Gate in Srinagar to Parimpora.
Transfer to another bus heading to Tangmarg from Parimpora.
Upon reaching Tangmarg, go to the bus stand and board a minibus for Gulmarg. These minibusses operate throughout the day as soon as they fill up, equipped with snow chains. The ticket cost is Rs. 50 per person.
Beware of guides attempting to steer you toward hiring a private cab in Gulmarg. Ignore their suggestions and proceed to the bus stand to save money.
Traveling by Shared Taxi
Shared taxis operate similarly to buses. To reach Gulmarg by shared taxi:
Find a shared taxi either near Nehru Park or the main Srinagar Bus stand to get to Tangmarg.
Alternatively, go to Dal Gate, locate a shared cab to Parimpora, and then change cabs at Parimpora for Tangmarg.
Once in Tangmarg, look for a "service gaadi" (usually a Sumo) to Gulmarg, costing Rs. 50 per person.
Avoid using the term "shared cab" as it may lead to confusion. Stick to "service gaadi."
Traveling by Private Taxi
In winter, private taxis from Srinagar can only go as far as Tangmarg. You must then rent another cab for the journey to Gulmarg, costing Rs. 1600. To clarify, you'll pay Rs. 2500 for a one-way trip to Tangmarg and an additional Rs. 1600 for the Tangmarg to Gulmarg leg. In total, expect to spend around Rs. 4500 to Rs. 5000 for a round trip of approximately 50 kilometers. Taxi services are readily available at the Tangmarg Taxi stand.
Where to Stay in Gulmarg
Gulmarg has a range of accommodation options to suit different budgets and preferences. You can choose from luxury hotels, budget hotels, guest houses, cottages, or homestays. Some of the popular hotels in Gulmarg are: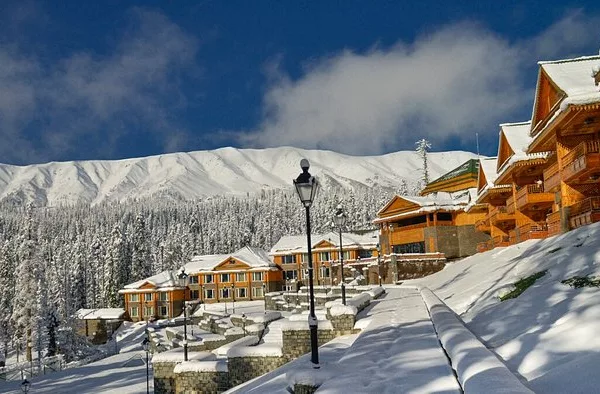 The Khyber Himalayan Resort & Spa: This is a 5-star hotel that offers luxurious rooms and suites with stunning views of the mountains and pine forests. The hotel has a spa, a heated indoor pool, a fitness center, a restaurant, a bar, and a lounge. The hotel also provides ski equipment rental and ski lessons for guests.
Hotel Royal Park: This is a 4-star hotel that offers spacious and comfortable rooms with modern amenities and balconies overlooking the snow-clad peaks. The hotel has a restaurant, a coffee shop, a conference hall, and a games room. The hotel also arranges sightseeing tours and adventure activities for guests.
Gulmarg Resort: This is a 3-star hotel that offers cozy and elegant rooms with wooden flooring and furniture. The hotel has a restaurant, a garden, a terrace, and a library. The hotel also organizes bonfire nights and cultural programs for guests.
What to Do in Gulmarg
Gulmarg in winter is a paradise for snow lovers and adventure seekers. You can indulge in various activities such as: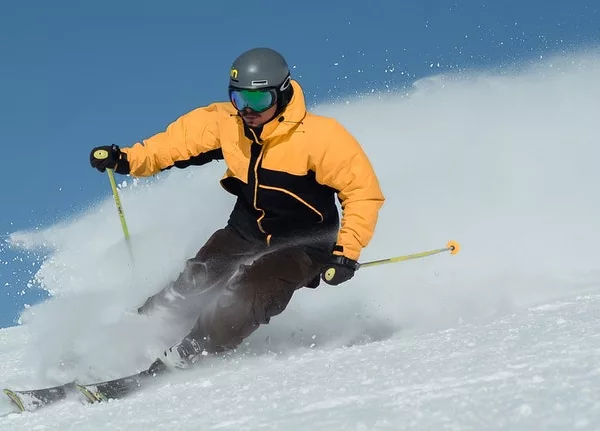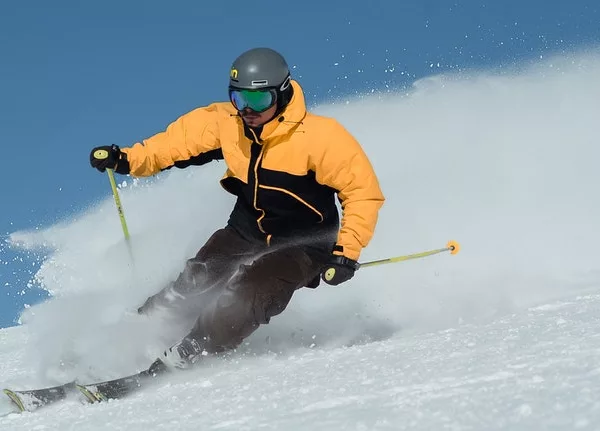 Skiing
Gulmarg is one of the best skiing destinations in India, with slopes ranging from beginner to expert levels. You can enjoy skiing on the fresh snow and glide through the pine trees and meadows. You can also take ski lessons from professional instructors or join ski tours to explore different trails.
Snowboarding
Snowboarding is another thrilling activity that you can try in Gulmarg. You can rent snowboards and boots from the shops near the gondola station or from your hotel. You can also learn snowboarding from certified trainers or join snowboarding camps to improve your skills.
Gondola Ride
A gondola ride is a must-do activity in Gulmarg. It is the world's highest cable car system that takes you from Gulmarg to Kongdoori and then to Apharwat Peak, which is at an altitude of 3,979 meters. You can enjoy the panoramic views of the snow-capped mountains, valleys, glaciers, and lakes from the gondola. You can also get off at Kongdoori or Apharwat Peak and enjoy some snow activities or trekking.

Snowshoeing
Snowshoeing is a fun way to explore the beauty of Gulmarg on foot. You can rent snowshoes from the shops near the gondola station or from your hotel. Hire a guide who will take you to some of the best spots for snowshoeing. You can walk on the soft snow and admire the flora and fauna of Gulmarg.
Sledging
Sledging is another enjoyable activity that you can do in Gulmarg. You can rent sledges from the local vendors near the gondola station or from your hotel. Hire a sledge driver who will take you for a ride on the slopes. You can feel the thrill of sliding down the hills and curves on a wooden sledge.
What to See in Gulmarg
Gulmarg in winter is not only about snow and adventure but also about culture and nature. You can visit some of the attractions such as:
Gulmarg Golf Course
This is one of the highest golf courses in the world, situated at an altitude of 2,650 meters. It is an 18-hole course that covers an area of 750 acres. The golf course is surrounded by pine trees and offers spectacular views of the mountains. The golf course is open from April to November, but you can still visit it in winter and see the snow-covered greens and fairways.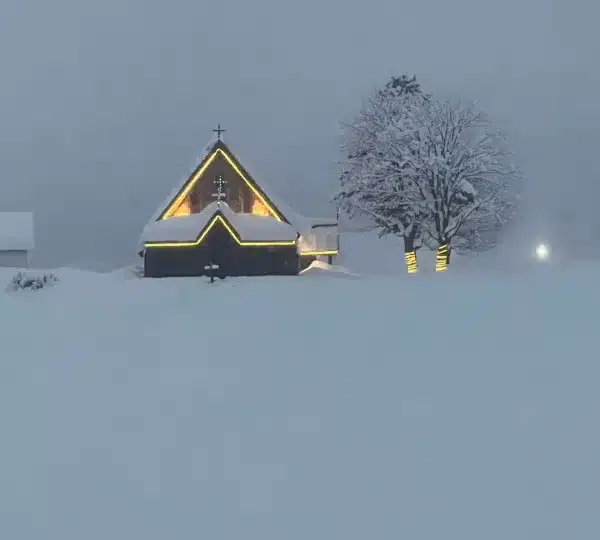 St. Mary's Church
This is a quaint and charming church that was built in 1902 by the British. It is located near the golf course and has Victorian-style architecture. The church has a green roof, wooden walls, and stained glass windows. The church is open for visitors and holds services on Sundays.
Gulmarg Biosphere Reserve
This is a wildlife sanctuary that covers an area of 180 sq km. It is home to many rare and endangered species of animals and birds, such as the musk deer, the brown bear, the leopard, the Himalayan monal, and the Kashmir stag. The reserve also has a rich variety of plants and flowers, such as the blue poppy, the wild tulip, and the saffron. It is open from September to March, but you can visit it in winter and see the frozen lakes and streams. The reserve also offers guided nature walks and wildlife safaris for visitors.
Shrine of Baba Reshi
This is a sacred shrine that was built in the 15th century by a Muslim saint named Baba Reshi. It is located on the slopes of Gulmarg and has a wooden structure with intricate carvings and paintings. The shrine attracts devotees of all faiths and is known for its healing powers. The shrine also offers a serene view of the valley and the mountains.
Tourist attractions in Gulmarg are mentioned below.
Drung Waterfall
Gulmarg Gondola
Alpather Lake
Apharwat Peak
Maharani Temple
Maharaja Palace
Children's Park
Strawberry Valley
Khilanmarg
Ningle Nallah & Ferozpur Nallah
Bota Pathri
Gulmarg Gondola Ticket Booking Guide
Securing Your Gondola Ride Tickets in Gulmarg
In Gulmarg, obtaining tickets for the thrilling Gondola ride is essential for an unforgettable experience. Here, we'll explore how to book your tickets, including important changes brought about by COVID-19.
Booking Options
In the past, you had two options for purchasing Gondola ride tickets: in-person at the ticket counter or online through the official Gondola Website. However, since the onset of COVID-19, the entire ticketing process has shifted online and remains so to this day. As of the present moment, buying tickets in person at the counter is no longer possible. While there may be plans to reintroduce this option in the future, it cannot be confirmed at this time.
Advanced Booking
When writing this article, we checked the online portal, and it allows for bookings up to 75 days in advance. This means that Gondola tickets are often sold out weeks in advance.
Plan Ahead
To secure your Gondola ride, meticulous planning and online ticket booking are crucial. If you fail to do so, you may need to exclude the Gondola ride from your travel itinerary.
Gulmarg Gondola Ticket Prices
Phase 1: Gulmarg to Kungdoor – Rs. 740 per person
Phase 2: Kungdoor to Apharwat Peak – Rs. 950 per person
The ticket prices differ for each phase of the Gulmarg Gondola. Remember that you will need to book rides for Phase 1 and Phase 2 separately, resulting in two distinct tickets.
Operating Hours of Gulmarg Gondola
Summer Season:
Phase 1 starts at 9 AM
Phase 2 starts at 10 AM
Winter Season:
Phase 1 starts at 10 AM
Phase 2 starts at 10:30 AM
Closing Times
Summer Season:
Phase 1 closes at 5 PM
Phase 2 closes at 4 PM
Winter Season:
Phase 1 closes at 4 PM
Phase 2 closes at 3:30 PM
Ensure you plan your visit according to these timings to make the most of your Gulmarg Gondola experience.
Clothes for Gulmarg in Winter
When preparing for a winter visit to Gulmarg, it's crucial to carefully consider your packing choices. The foremost requirement is warm clothing, including high-quality woolens and thermal wear.
A heavy, windproof, and waterproof jacket with a hood is an absolute necessity to shield your head, face, and neck from harsh weather conditions. If your jacket lacks a hood, be sure to pack a woolen cap, preferably a Balaclava.
To keep your hands from freezing, include top-notch gloves in your packing list, and if possible, opt for waterproof ones.
Renting Snow Boots in Gulmarg
Choosing the right footwear is a significant concern. Ordinary sports shoes won't suffice for the snowy terrain, as you can't risk getting them wet or allowing snow to seep inside.
What you truly need are boots that extend well above your ankles, ideally designed to be snow and waterproof. Securely fasten your boots and pull your jeans over them to prevent any snow infiltration.
If you find yourself without suitable boots for the trip and are reluctant to make a purchase solely for this occasion, worry not. Gulmarg offers the option to rent snow boots.
Upon reaching Gulmarg, you can easily obtain a pair for Rs. 250 per day, despite the initial quote of Rs. 500. Negotiating the price down to Rs. 200 is quite feasible.
In Tangmarg, some might try to mislead you by claiming that there are no boot rentals in Gulmarg. However, this information is inaccurate. Disregard these so-called guides and rent your boots directly in Gulmarg.
The only situation in which you might consider renting boots in Tangmarg is if you plan to make a brief day trip to Gulmarg and intend to return within a few hours. In such a case, you can rent the boots when hiring a private taxi in Tangmarg.
Conclusion
Gulmarg in winter is a snowy paradise that offers a lot of fun, adventure, culture, and nature. It is a place where you can enjoy the beauty of snow, ski on the slopes, ride on the gondola, explore the wildlife, visit the shrines, and taste the cuisine. Gulmarg in winter is a place that you will never forget.