Kashmir Tour Packages from Ahmedabad
People from Ahmedabad can now discover why Poets in the past were so Fascinated by the beauty of Kashmir. Kashmir is often called the "Paradise on Earth" and is surrounded by the Pir Panjal and The Mighty Himalayas. You should definitely take a look at the popular Kashmir Tour packages from Ahmedabad to see what makes this beautiful valley a point of contention between India and Pakistan. Kashmirtickets invites you to explore the different facets of Kashmir throughout the year. We offer various Kashmir Tour packages from Ahmedabad that include flights, catering to Honeymooners, families, and backpackers.
However, there's more to know about traveling to Kashmir from Ahmedabad. It's essential to have all the information you need if you have Kashmir on your list of places to visit. For instance, you might want to know when is the best time to visit Kashmir from Ahmedabad to experience snowfall or how to reach Kashmir from Ahmedabad by air, train, or road. So, keep reading to find all the answers you need in one place in Our Kashmir Tour Packages from Ahmedabad !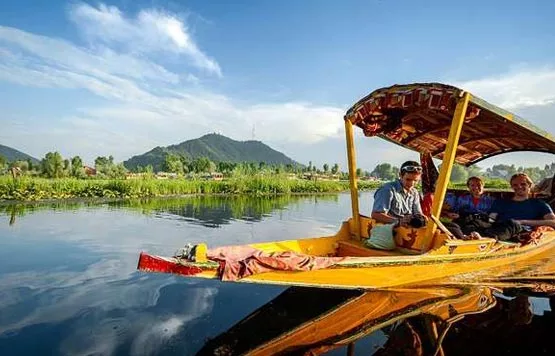 What makes Kashmirtickets's Kashmir tour packages from Ahmedabad special compared to others?
The folks at Kashmirtickets understand that everyone has different preferences when it comes to vacations. Some might want a simple and romantic getaway, while others may be looking for a family-friendly trip filled with spiritual experiences and moments of mindfulness. At Kashmirtickets, we have local experts from Kashmir on our team who can give you valuable advice based on their own experiences about the best places to stay in Kashmir and recommend great places to visit. Moreover, all our tour packages to Kashmir from Ahmedabad include meals, sightseeing, hotel stays, and quick transfers, so you don't have to worry about those details.
Is Kashmir safe for tourists?
Kashmir is a safe place for tourists, especially for people from Asian countries. Some folks in the western world might not know this, but it's true. The main issue in Kashmir was a dispute with Pakistan, but that doesn't affect the safety of tourists there. After Article 370 was removed in Kashmir, the Indian Army is keeping things secure. Also, the local people in Kashmir are very friendly and welcoming. Just remember, it's best not to walk alone at night and always follow safety rules.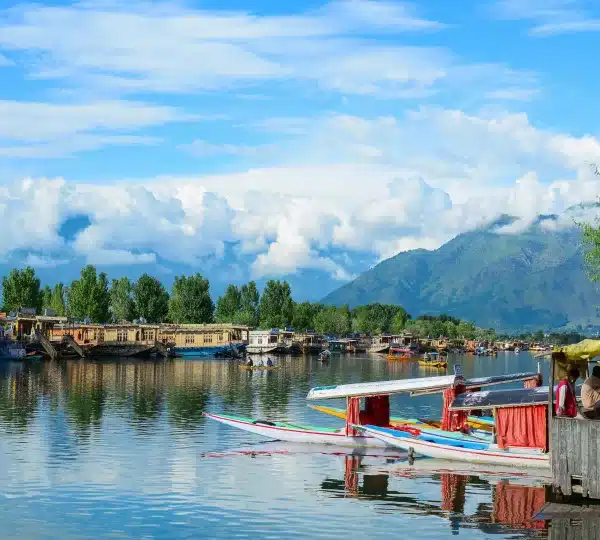 Best time to visit Kashmir From Ahmedabad
The best time to visit Kashmir is when you want to go on a holiday. Kashmir is a beautiful place often called "Paradise on Earth" and you can visit it any time of the year. However, if you want to see snow in Kashmir, the best time is from December to February. This is great for couples on a Honeymoon from Ahmedabad.
For families, it's best to visit during the summer months, from April to June. During this time, Kashmir is cooler than many places in northern India, making it a pleasant destination.
But be aware that the rainy season, called monsoon, is from July to September. Sometimes, heavy rain can affect activities like trekking. However, you can find good discounts on hotels during the summer season. So, plan your trip accordingly!
How to Get to Kashmir from Ahmedabad
Ahmedabad is in the west, near the Arabian Sea, while Kashmir is in the northern part of India. If you want to travel by road from Ahmedabad to Kashmir, it's quite a long journey of about 1,600 kilometers, taking roughly 30 hours with several stops. However, this isn't the most recommended option because it requires a lot of stamina and good driving skills.
If you're looking for budget-friendly ways to travel from Ahmedabad to Jammu and Kashmir, you've come to the right place. We'll explore some economical travel options that won't break the bank.
1. Night Bus and Bus Combo
Cost: ₹1,900 – ₹4,500 Travel Time: 34 hours and 16 minutes
One of the most economical ways to reach Jammu and Kashmir from Ahmedabad is by taking a combination of night buses and regular buses. This option provides a budget-friendly journey, allowing you to enjoy the scenic route to your destination. Although it takes a bit longer, it's a cost-effective choice for travelers on a tight budget.
2. Train and Taxi Combo
Cost: ₹3,700 – ₹7,500 Travel Time: 30 hours and 38 minutes
Another budget-conscious option is to combine train and taxi travel. You can board a train from Ahmedabad to a nearby city or station in Jammu and Kashmir and then take a taxi to reach your final destination. While this option may take a little longer than flying, it offers significant savings on your travel expenses.
Fastest Travel Options from Ahmedabad to Jammu and Kashmir
For those who value speed and convenience, there are quicker ways to reach Jammu and Kashmir from Ahmedabad. Here are the fastest travel options available:
1. Flight
Cost: ₹5,500 – ₹24,000 Travel Time: 2 hours and 26 minutes
The quickest way to reach Jammu and Kashmir from Ahmedabad is by taking a flight. While this option is faster, it may be a bit more expensive than the bus or train options. However, if you're short on time or prefer a swift journey, flying is the way to go.
Distance between Ahmedabad and Jammu and Kashmir: 1209 kilometers
There are multiple travel options available to suit your budget and preferences when traveling from Ahmedabad to Jammu and Kashmir. Whether you prioritize affordability or speed, you can choose the option that best fits your needs and embark on an exciting journey to this picturesque region.
To make your trip easier, the best way to reach Kashmir from Ahmedabad is by taking a flight. You can fly from Sardar Vallabhbhai International Airport in Ahmedabad to Sheikh ul-Alam International Airport in Srinagar. This flight takes approximately 5 hours.
Another option that's more affordable but takes longer is to travel by train. The nearest railway station to Srinagar is Jammu Tawi, which is about 291 kilometers away. Taking the train will take you around 32 hours.
Ahmedabad to Srinagar
| | |
| --- | --- |
|    Ahmedabad to Srinagar Road Distance | 1,791 km |
|     Ahmedabad to Srinagar Aerial Distance | 1,247 km |
|    Ahmedabad to Srinagar Travel Time | 1 day 4 hours |
Is Kashmir worth visiting for you?
No matter what type of traveler you are, whether you're traveling solo, with your family, or as a couple, Kashmir has something special to offer you! This beautiful valley seems like it's straight out of a fairy tale because it caters to the interests of all kinds of tourists.
If you're traveling from Ahmedabad with your parents, you can try the thrilling ropeway ride in Gulmarg. On the other hand, if you're an adventure enthusiast, consider going on a trekking expedition to Pahalgam with your friends.
For couples looking for a romantic getaway, there's the option to enjoy a serene houseboat ride on a Shikara, followed by a visit to the India Gandhi Tulip Memorial. Kashmir truly has a little something for everyone, making it a destination worth exploring.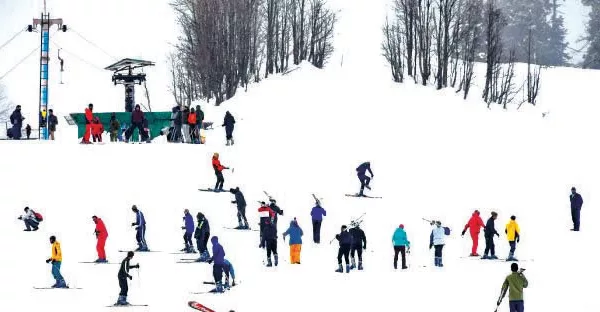 The Best Places to Visit and Things to Do in Kashmir
Kashmir vacations are like the cherry on top of the cake, especially for people coming from Ahmedabad, thanks to the stunning Himalayan backdrop. In this article, we've compiled a list of the top places to visit and things to do in Kashmir, your gateway to paradise on earth. Let's dive in!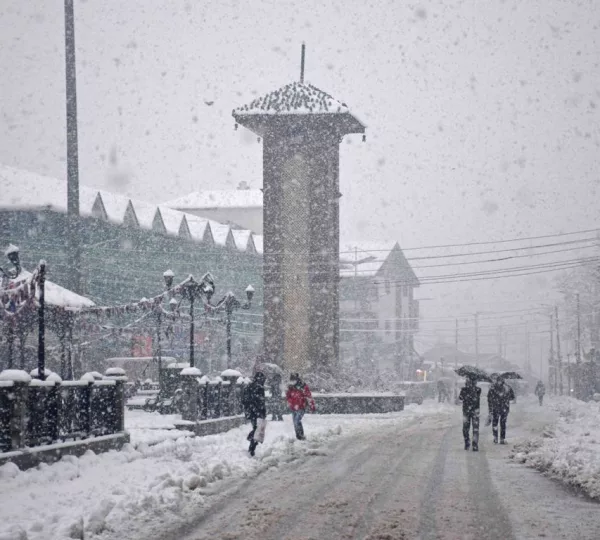 1. Srinagar
A visit to Srinagar is a must when you embark on your Ahmedabad to Kashmir tour. Srinagar, often referred to as the heart of Kashmir, is a dream destination for couples. Picture yourself gliding on a romantic Shikara along the serene Dal Lake, especially enchanting when it freezes over in winter. But that's not all; Srinagar boasts lush green gardens perfect for romantic strolls or quality family time. The Indira Gandhi Tulip Memorial Garden showcases a riot of tulip roses, while Dachigam National Park offers dense forests and grasslands to explore.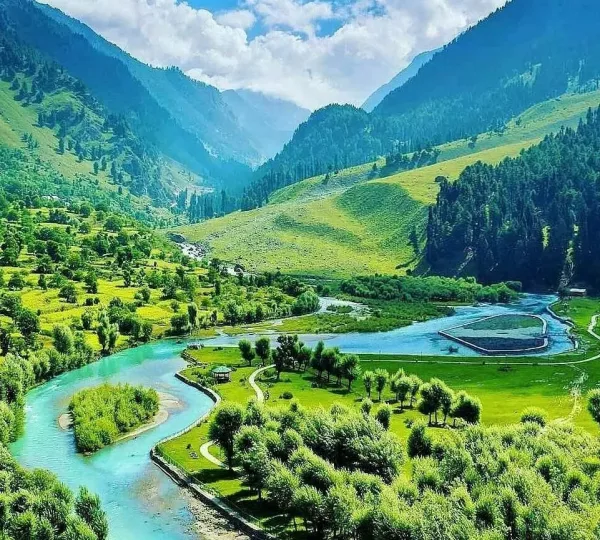 2. Sonmarg
Sonmarg is another gem among the famous places to visit in Kashmir. This incredible destination features attractions like Gadsar Lake, Zojila Pass, Thajiwas Glacier, and Baltal Valley. It's no secret that Sonmarg is a haven for activities like boating, mountain biking, trekking, and photography. Situated at a staggering elevation of 2,730 meters above sea level, Sonmarg is a winter wonderland with spectacular snowfall, making it a must-visit during your Kashmir Tour Packages from Ahmedabad.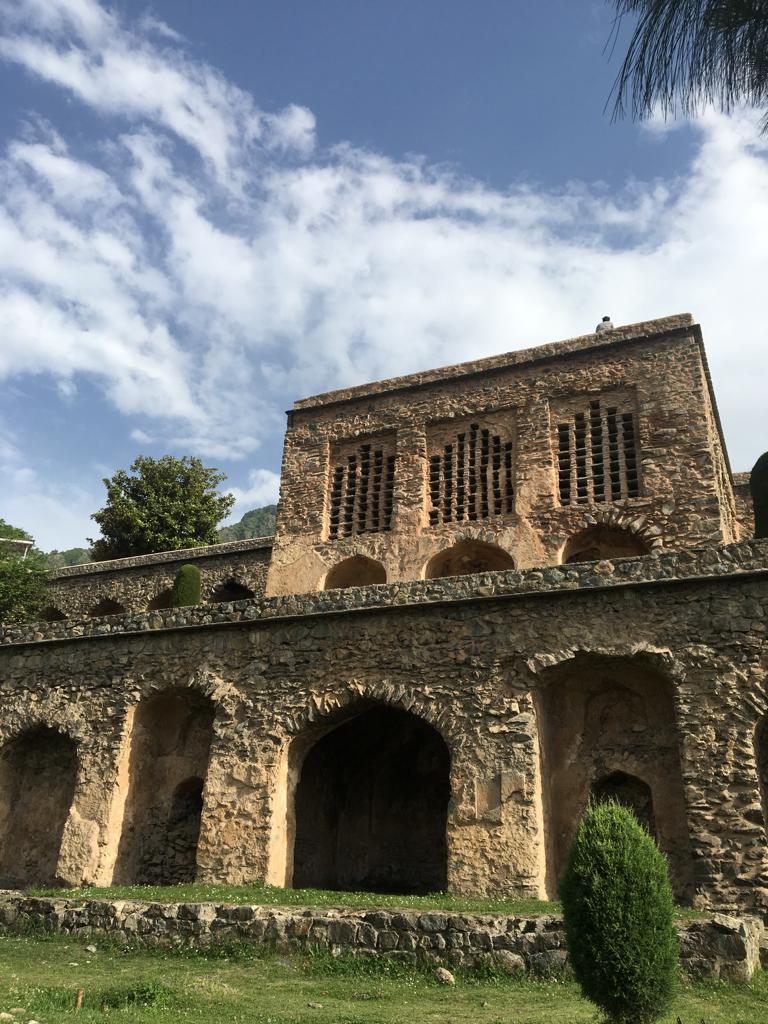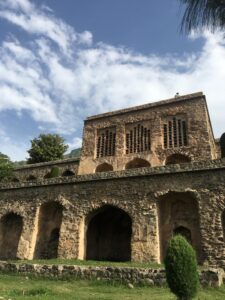 3. Pari Mahal
Pari Mahal, which translates to 'Palace of Fairy Tales', is a seven-terraced garden Situated in Srinagar's Zabarwan mountain range. From here, you can enjoy panoramic views of the entire city without the need for binoculars. Take a scenic drive to Pari Mahal, surrounded by lush greenery on both sides. Couples often rent traditional Kashmiri attire for enchanting photoshoots here. Explore a variety of flowers and trees inside Pari Mahal, with an entry fee of approximately INR 10 per person.
4. Pahalgam
Pahalgam, a high-altitude tourist attraction in the Kashmir valley, is renowned as the starting point for the Amarnath Cave Temple Yatra. With an elevation of over 2,740 meters, Pahalgam guarantees snowfall during the winter months. If you're traveling with friends, try river rafting in the Lidder River, followed by camping under the starry skies. Food shopping, mingling with the locals, boating in serene lakes, and trekking through lush green meadows are some of the fantastic experiences that await you in Pahalgam.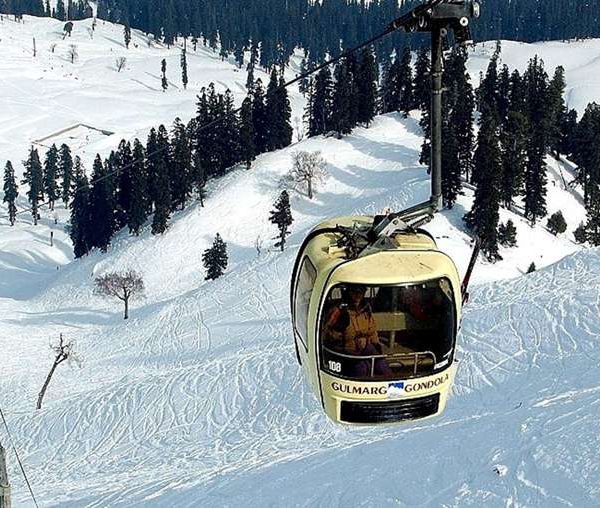 5. Gulmarg – The Crown Jewel of Kashmir
Gulmarg, often considered the crown jewel of Kashmir, is famous for being the Cable car capital of India. The Gulmarg Gondola, the second-largest cable car globally at an elevation of 2,650 meters, offers breathtaking views of the Himalayas. For families, the Gulmarg Biosphere Reserve is an ideal place to introduce kids to Himalayan wildlife. The region also boasts beautiful water bodies like Alpather Lake. Additionally, golfing, bird watching, pony rides, and trekking are some of the highlights of a trip to Gulmarg.
6. Chashma Shahi Garden
Chashma Shahi Garden is a three-terraced Mughal Garden located in Srinagar, surrounded by abundant greenery. Just 7 kilometers from Dal Lake, this garden features a captivating water fountain that serves as the perfect backdrop for family photos. The entry fee is a mere INR 25 (approx.) for adults and INR 15 (approx.) for children. The garden is built around a flowing water stream, creating a mesmerizing sight.
Pro Tip: To fully explore the offbeat attractions in Kashmir, like Yusmarg, Lolab Valley, and Tulain Valley, make sure to reserve at least 4-5 days in your Kashmir tour package from Ahmedabad.
Common FAQ's
When is the Best Time to Visit Kashmir from Ahmedabad?
Kashmir is accessible from Ahmedabad throughout the year, offering something unique in every season. However, the best time to visit Kashmir from Ahmedabad is during the months from March to June. During this period, you can explore most of the places in Kashmir comfortably. Summer, in particular, is an excellent time to visit because the weather is ideal for sightseeing and outdoor activities.
How Many Days are Required for a Kashmir Trip from Ahmedabad?
For a fulfilling Kashmir trip from Ahmedabad that covers key destinations like Srinagar, Sonmarg, Gulmarg, and Pahalgam, it's recommended to plan for a minimum of 5 nights and 6 days. This allows you to explore these beautiful places at a relaxed pace. However, it's advisable to include an additional buffer day in your itinerary to ensure you have enough time to visit all the tourist attractions without rushing.
What Activities Can You Enjoy in Kashmir from Ahmedabad?
Kashmir offers a wide range of activities for tourists coming from Ahmedabad to enjoy:
Shikara Ride on Dal Lake in Srinagar: Glide along the serene waters of Dal Lake in traditional Kashmiri boats known as Shikaras for a peaceful and picturesque experience.
Skiing, Trekking, Golfing, and Horse Riding in Gulmarg: If you're an adventure enthusiast, Gulmarg is a paradise for activities like skiing and trekking. Golfing amid stunning landscapes and horseback riding are also popular choices.
Mountain Biking in Pahalgam and Sonmarg: Explore the breathtaking scenery of Pahalgam and Sonmarg on a mountain bike, immersing yourself in the natural beauty.
These activities offer a chance to make the most of your trip to Kashmir from Ahmedabad while creating lasting memories in this beautiful region.
Your Affordable Adventure to Jammu and Kashmir
And here's an exciting offer for all you travellers from Ahmedabad – consider our exclusive Kashmir Tour Packages from Ahmedabad. We've carefully crafted packages that cater to your preferences and budget, ensuring an unforgettable journey through this paradise on Earth. With a range of options to choose from, you can explore the beauty of Kashmir with ease.
So, whether you opt for affordability or speed, one thing is certain – your adventure to Jammu and Kashmir promises to be an unforgettable experience filled with stunning landscapes, cultural richness, and unforgettable memories. Don't miss out on this incredible journey to a land that truly epitomizes the beauty of India. Book your Kashmir tour package from Ahmedabad today and get ready for an adventure of a lifetime!
So, Without Further ado Here are Our Kashmir Tour Packages from Ahmedabad
Also, Check Out Our Kashmir Tour Packages in 2024