Kashmir Trip in July 2024
Kashmir, often referred to as "Paradise on Earth," is a land of unmatched beauty and rich culture. In July 2024, this picturesque region beckoned travelers from around the world with its promise of enchanting landscapes, pleasant weather, and a wealth of experiences. Join us as we explore the best places to visit, create a Kashmir trip itinerary, share travel tips, and delve into the weather forecast for July 2024. Whether you're planning a honeymoon or an adventure of a lifetime, Kashmir has something to offer for everyone.
Weather in Kashmir in July 2024
When you think of Kashmir, you might imagine a winter wonderland. However, July in Kashmir paints a completely different picture. Contrary to popular belief, the weather in Kashmir in July 2024 is surprisingly pleasant. The mercury hovers around a comfortable 20 to 25 degrees Celsius during the day, making it the perfect time to explore the region without the bite of winter's chill.
During the day, the sun warms the picturesque valleys, creating a delightful ambiance for outdoor adventures. The evenings bring a touch of coolness, providing a serene atmosphere for leisurely strolls by the shimmering lakes. This unique blend of warm days and cool evenings sets the stage for an unforgettable Kashmir experience.
How to Reach Kashmir in July 2024
Reaching Kashmir in July 2024 is convenient through various means. You can opt for public transport, travel by train to Jammu, or take a flight to Srinagar International Airport. Private taxis are also readily available.
By Public Transport
The valley of Srinagar is accessible by road. After reaching Jammu either by train or, you can proceed to Srinagar by public transport. J&K State Road Transport Corporation operates many direct buses from Jammu at regular intervals.
By Train
There is no operational railway station in Srinagar, and the nearest railway station to Kashmir is Jammu, which is located at a distance of 290 kilometers. Jammu railway station is well connected to other Indian cities.
By Flight
Travelers can easily reach Kashmir by taking a flight to Srinagar International Airport, which is also named Sheikh-ul-Alam Airport. The airport is well-connected to cities including Delhi, Kolkata, Mumbai, Bangalore, etc.
By Private Taxi
To reach Kashmir by private taxi or cab, take the NH 1A route. The highway connects to different cities of Jammu and Kashmir, and one can enjoy the journey. Traveling through the Jawahar Tunnel, connecting Jammu with Kashmir, is a wonderful experience.
Best Places to Visit in Kashmir in July 2024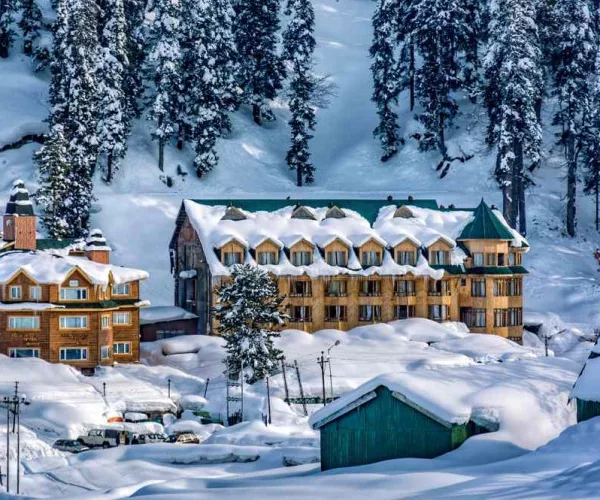 Gulmarg – The Meadow of Flowers: Gulmarg emerges as an enchanting paradise for travelers seeking respite from the ordinary. The Gulmarg Gondola, one of the world's highest cable cars, whisks you away to breathtaking heights, offering panoramic vistas of the Himalayas that stir the soul. Additionally, as you explore, you'll find serenity amidst the vivid hues of wildflowers and the tranquil lakes that dot the landscape. Gulmarg in July 2024 is an invitation to embrace nature's beauty and embark on an unforgettable alpine adventure.
Pahalgam – Nature's Haven: Pahalgam, surrounded by lush pine forests and tranquil lakes, beckons adventurers and nature enthusiasts alike. July's mild climate provides an ideal backdrop for exploring Pahalgam's natural wonders, where horse riding and river rafting adventures await. The Betaab Valley, named after the Bollywood movie "Betaab," offers a vivid tapestry of blooming flowers and breathtaking vistas. Pahalgam in July 2024 promises an unforgettable journey into the heart of nature's beauty, with opportunities for exploration and serenity at every turn.
Leh-Ladakh – The High-Altitude Marvel: Leh-Ladakh beckoned adventurers with its surreal beauty and accessible roads. The region's stunning landscapes, adorned with monasteries that seemed to cling to the mountainsides, offered an otherworldly experience. Travelers enthusiastically embraced the opportunity to explore this high-altitude desert, where clear skies and crisp air allowed for unhindered vistas of the rugged terrain. Leh-Ladakh in July 2024 was a testament to nature's artistry, becoming a place where each twist in the road revealed new wonders, and where the legacy of ancient cultures was etched into the very landscape.
Crafting Your Kashmir Trip Itinerary for July 2024
Planning your Kashmir trip in July 2024 requires careful consideration of the experiences you want to savor. Here's a sample itinerary to help you make the most of your visit:
Day 1: Arrival in Srinagar
Arrive in Srinagar, the summer capital of Jammu and Kashmir.
Check into a traditional houseboat on Dal Lake for a unique and memorable stay.
Spend the evening taking a Shikara ride on the serene Dal Lake.
Day 2: Explore Srinagar's Cultural Treasures
Visit the Mughal Gardens, including Shalimar Bagh and Nishat Bagh, to admire their breathtaking beauty.
Explore the historic Jama Masjid and Shah Hamdan's shrine for a glimpse of Kashmir's rich culture.
Enjoy a traditional Kashmiri meal at a local restaurant.
Day 3: Adventure in Gulmarg
Drive to Gulmarg and take the Gulmarg Gondola to enjoy stunning views.
Explore the Gulmarg Biosphere Reserve and go for a nature walk.
Experience the thrill of trekking or horse riding in the meadows.
Day 4: Journey to Pahalgam
Drive to Pahalgam, a scenic journey through lush landscapes.
Explore Betaab Valley, named after the Bollywood film "Betaab."
Enjoy a peaceful evening by the Lidder River.
Day 5: Pahalgam Adventures
Go horseback riding in the meadows or try river rafting.
Visit Aru and Chandanwari for picturesque views and trekking opportunities.
Return to Srinagar for the night.
Day 6: Leh-Ladakh Expedition
Fly to Leh and acclimatize to the high altitude.
Visit the monasteries of Thiksey, Hemis, and Shey.
Explore the local markets and savor Ladakhi cuisine.
Day 7-10: Ladakh's Majestic Landscapes
Embark on a road trip to Nubra Valley, known for its sand dunes and double-humped camels.
Visit Pangong Lake, a mesmerizing high-altitude lake.
Explore the charming town of Leh and indulge in local experiences.
Kashmir Travel Tips for July 2024
Pack Layers: Given the varying temperatures throughout the day, packing layers is essential. Be prepared for both warm days and cool evenings.
Stay Hydrated: The high-altitude regions, like Leh-Ladakh, can be dehydrating. Drink plenty of water and avoid excessive physical exertion upon arrival.
Respect Local Customs: Kashmir has a rich cultural heritage. Respect local customs, dress modestly, and ask for permission before taking photos of people.
Book Accommodation in Advance: July is a popular tourist month in Kashmir. It's wise to book your accommodations in advance to secure the best options.
Stay Informed: Keep an eye on weather forecasts and road conditions, especially if you plan to venture into remote areas.
Try Local Cuisine: Kashmiri cuisine is a treat for the taste buds. Don't miss out on Rogan Josh, Yakhni, and Wazwan dishes.
Kashmir Weather Forecast for July 2024
Before embarking on your Kashmir journey in July 2024, it's essential to stay updated on the weather forecast. While the days are warm and ideal for outdoor activities, it's good to be prepared for any unexpected changes in weather.
Kashmir in July 2024 promises an unforgettable adventure. With pleasant weather, breathtaking landscapes, and a rich cultural tapestry, it's a destination that caters to all types of travelers. Whether you're planning a honeymoon filled with romantic moments or seeking adrenaline-pumping adventures, Kashmir has it all. Embrace the warmth of July and let the beauty of this region sweep you off your feet, creating memories that will last a lifetime.