Kashmir Tour Packages in 2024
Are you ready for an unforgettable adventure in the paradise of Kashmir in 2024? This travel guide will walk you through the enticing reasons to visit Kashmir in 2024, the stunning places you must explore, and how to plan your trip for an ultimate experience with our Kashmir Tour Packages in 2024. From snow-covered landscapes to thrilling activities, Kashmir in Winter promises a mesmerizing journey you won't want to miss. So, without further ado here's our Kashmir Tour Packages in 2024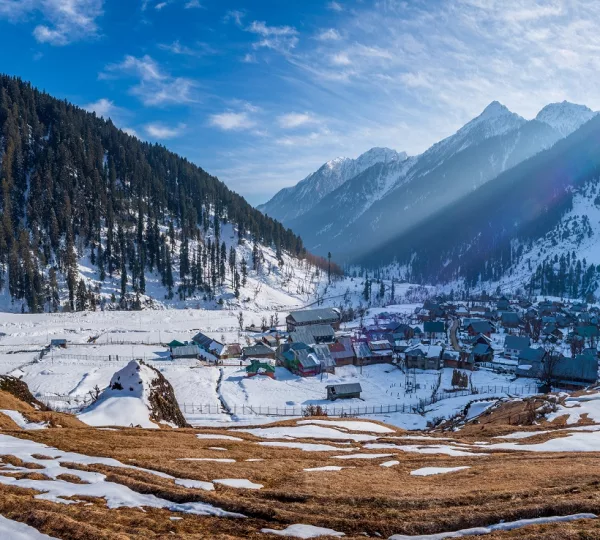 Discover Kashmir's Winter Wonderland
Kashmir is a dreamland for all travellers, and in the winter of 2024, it transforms into a winter wonderland. The lush green pine forests, snow-capped mountains, shimmering lakes, and vast meadows come together to create a Stunning scene. Whether you're a nature enthusiast or an adventure seeker, Kashmir has something to offer for everyone.
In Winter, Kashmir becomes a bustling hub for winter sports and activities, making it an ideal destination for those seeking thrill and adventure. From skiing to snowboarding, the region provides endless opportunities to embrace the winter season.
Kashmir's Winter Chill
While Winter in Kashmir may be chilly, the experience is worth every shiver. The average temperature hovers around 3.8°C, making afternoons cool and nights even colder, with an average low of -0.7°C. The weather is generally dry, but there's a chance of sleet, rain, or snow, creating a magical winter wonderland.
For honeymooners, Winter is the perfect time to visit as the Pir Panjal range is covered in pristine snow, adding a touch of romance to your trip. Popular destinations like Gulmarg, Sonamarg, and Srinagar attract tourists with the promise of snowfall and enchanting landscapes.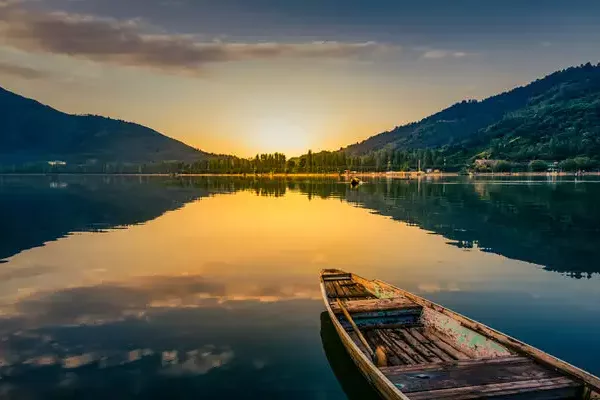 Your Pathway to Kashmir
Reaching Kashmir in Winter is a seamless process with multiple transportation options:
By Flight: Srinagar Airport, just 15 km away, offers excellent connectivity to major Indian cities. Airlines like Air India, GoAir, IndiGo, and Jet Airways operate regular flights. However, weather conditions may occasionally affect flight schedules.
Public Transport or Taxi: Jammu Tawi Railway Station, approximately 330 km away, serves as the nearest railhead to Kashmir. Trains like the New Delhi-Jammu Tawi Rajdhani Express and Jammu Mail provide convenient access. From Jammu, you can hire private cabs or take buses to reach various destinations in Kashmir.
Road Trip Adventure: If you're up for a road trip, Winter is an excellent time. Key highways are usually cleared of snow quickly, and the Jammu-Srinagar highway offers breathtaking scenery throughout the journey.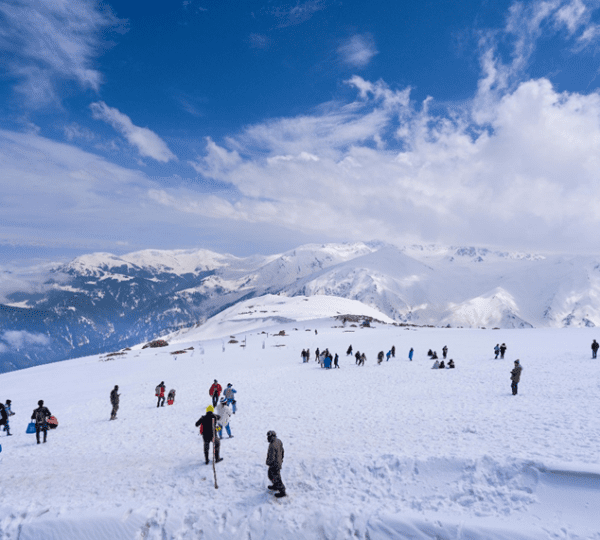 Best Places to Visit in Winter
As you embark on your journey to Kashmir in 2024, these enchanting destinations should be on your must-visit list:
Sonmarg: Explore the mesmerizing beauty of Sonamarg, often called the 'Golden Meadow'. With its lakes, mountains, glaciers, and meadows, Sonamarg offers a perfect backdrop for hiking, camping, and nature walks.
Srinagar is a must-visit, and Dal Lake is a highlight. The snow-covered Himalayas, clear views of Dal Lake, Nigeen Lake, and Wular Lake, and the rushing Jhelum River create a lovely setting.
Snow Covered Gulmarg: Gulmarg, known as the "flower meadow", is a stunning location surrounded by snow-capped mountains. Enjoy gondola rides for panoramic views and explore the beautiful strawberry fields.
Pahalgam : Pahalgam offers a peaceful winter getaway with stunning valleys, snow-capped mountains, and opportunities for adventure sports. It's a perfect spot for relaxation and rejuvenation.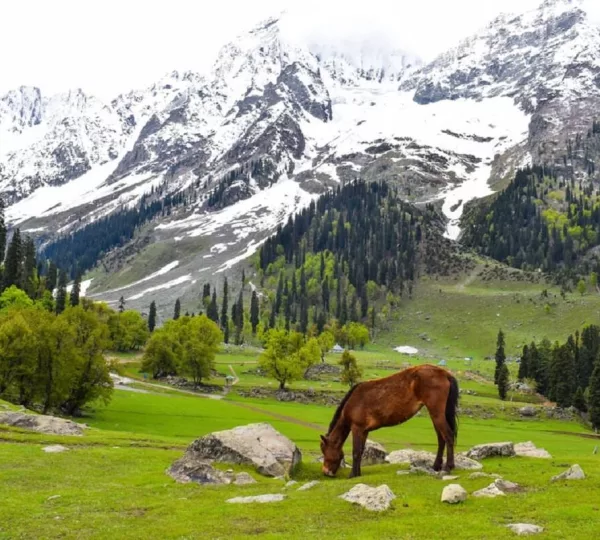 Your Perfect Kashmir Trip
Planning a trip to Kashmir requires some essential preparations:
Pack for the Cold: Ensure you have heavy woolens, windproof coats, gloves, mufflers, and woolen socks to stay warm. Don't forget a hooded jacket for added protection.
Adventure Gear: If you plan to indulge in adventure activities, sturdy shoes are a must.
Medications: Carry basic medications like Vicks, Avomine, and Metacin Sardon, as well as an umbrella for December trips.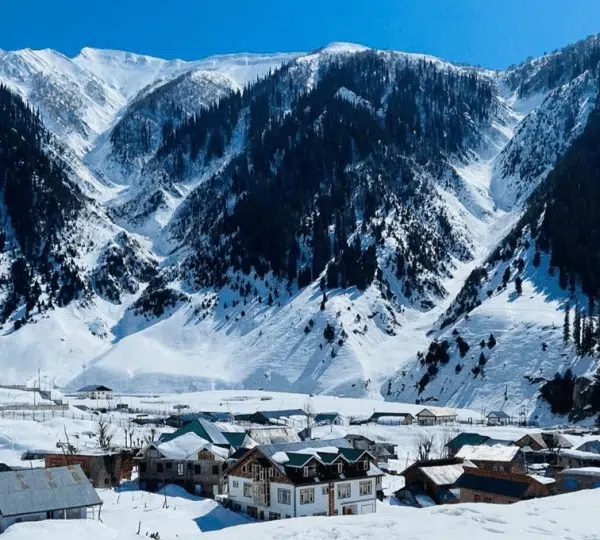 Vital Traveling Tips for Your Kashmir Adventure
To ensure a smooth and enjoyable trip, keep these tips in mind:
Early Hotel Reservations: Make early hotel reservations in safe areas like Dal Lake and Nehru Park.
Transportation: Getting around Kashmir is easy with leased cars, taxis, and auto-rickshaws.
Phone Connectivity: Note that phones from states other than J&K may not work, and acquiring a prepaid phone requires a BSNL or Airtel postpaid connection.
Banking and Medical Facilities: Srinagar offers numerous banks, ATMs, petrol stations, mechanics, hospitals, doctors, and medical supply stores.
Permits: While Kashmir doesn't require a permit for most areas, border regions may need special permissions.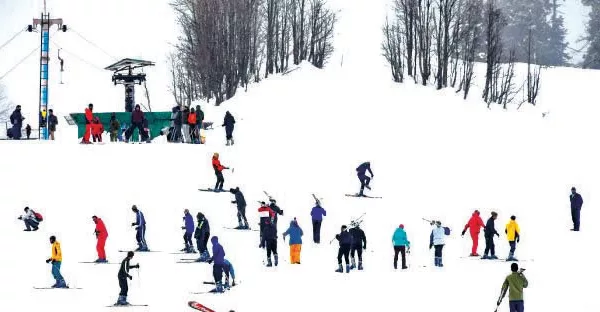 Things to Do in Kashmir in Winter
Kashmir in Winter offers a plethora of adventure activities:
Shikara Ride: Enjoy a serene Shikara ride on Dal Lake or Manasbal Lake for a tranquil escape.
Photography: Capture the beauty of gardens, lakes, and historical sites, but avoid photographing military personnel or facilities.
Shopping: Explore local markets for Kashmiri handlooms, Pashmina shawls, copperware, carpets, and more.
Kashmiri Cuisine: Savor the delicious Kashmiri Kahwa and dishes like Rogan Josh, Nadroo Yakhni, Paneer Chaman, and Dum Aloo.
Skiing and Snowboarding: Embrace the winter sports in Pahalgam, Sonamarg, and Gulmarg for an adrenaline rush.
Conclusion
Kashmir is an enchanting destination that continues to captivate hearts with its unparalleled beauty. Despite challenges, it remains too exquisite to ignore. Prepare to immerse yourself in the state's wonders by planning a visit to Kashmir in 2024 based on the insights provided in this guide. Choose Our Kashmir Tour Packages in 2024 for life long memories in Kashmir
Check Out Our Kashmir Tour Package: Explore Srinagar, Gulmarg, and Pahalgam in 4 Days
Also, Our Kashmir Family Tour Packages