Kashmir Tour Packages in December 2024
Are you ready for an unforgettable adventure? Picture yourself surrounded by snow-capped mountains, Vibrant Chinar trees, and Serene Frozen lakes. That's the Amazing vision that awaits you in Kashmir in December 2024. It's the perfect time to embark on a journey to this magical paradise. In this comprehensive guide, we'll delve into everything you need to know about Kashmir tour packages in December 2024, why a trip to Kashmir is so extraordinary during this season, the attraction of Kashmir in December, and the incredible experiences that await you in this breathtaking region.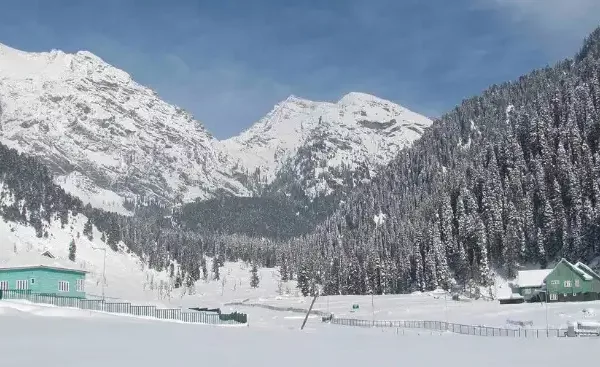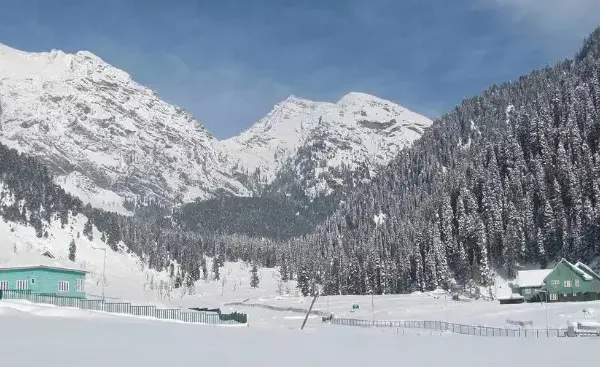 Kashmir Tour Packages in December 2024
Let's begin by exploring the array of Kashmir tour packages in December 2024 that are available for your trip to Kashmir. Regardless of your budget or preferences, there's a Kashmir tour package tailored just for you.
Budget-Friendly Packages: If you're traveling on a budget, worry not! Kashmir offers budget-friendly packages that allow you to explore the region's beauty without straining your wallet. These packages typically include comfortable accommodations and essential sightseeing.
Luxury Packages: For those seeking a touch of luxury, Kashmir has you covered. Treat yourself to opulent stays in lavish resorts, personalized services, and exclusive experiences that will make your trip truly unforgettable.
Honeymoon Packages: Kashmir is renowned for its romantic ambiance, making it a top choice for honeymooners. Honeymoon packages are crafted to make your special moments even more magical, with romantic accommodations, intimate dinners, and unforgettable experiences.

Kashmir: A Trip to Remember
Now, let's delve into what makes a trip to Kashmir in December so exceptional. It's not just the stunning landscapes; it's the rich culture, warm hospitality, and a plethora of tourist attractions that make it a must-visit destination.
Kashmir is often referred to as "Paradise on Earth", and for a good reason. The natural beauty of this region is unparalleled. Imagine Vibrant Chinar trees lining the streets of Srinagar, the glistening Dal Lake adorned with charming houseboats, and snow-capped mountains providing a breathtaking backdrop. This is the Kashmir you'll encounter in December – a landscape straight out of a fairy tale.
But it's not just about the scenery. Kashmir offers a treasure trove of activities for every type of traveller:
Sightseeing: Explore historic sites like Shankaracharya Temple, Hazratbal Shrine, and the Old City of Srinagar, each steeped in rich cultural heritage.
Houseboat Stays: Experience the unique charm of staying on a houseboat on Dal Lake, complete with intricate wooden carvings and serene waters.
Gondola Ride in Gulmarg: Don't miss the breathtaking views of the valley from the world's second-highest operating cable car in Gulmarg.
Adventure Sports: For adrenaline junkies, Pahalgam and Sonamarg offer trekking, rafting, skiing, and more.
Kashmir in December 2024
Now, let's talk about the weather. December is an ideal time to visit Kashmir if you're a fan of winter wonderlands. The temperature in December ranges from –2°C to 7°C, creating a chilly yet enchanting atmosphere for outdoor exploration. The region is blanketed in pristine snow, offering a lovely landscape that's perfect for winter sports and cozy getaways.
December adds a layer of magic to the landscape. The snow-covered Chinar trees, frozen lakes, and the glistening white panorama create a serene and ethereal ambiance. It's a visual spectacle that will leave you in awe.
Srinagar: The Heart of Kashmir in December 2024
Your journey to Kashmir begins in Srinagar, the summer capital of Jammu and Kashmir. Srinagar is a city that encapsulates the essence of the region, and visiting it in December adds a unique charm.
Shalimar Bagh: Explore the stunning Mughal Gardens with their terraced lawns, cascading fountains, and breathtaking views of Dal Lake.
Nishat Bagh: Another Mughal Garden gem, Nishat Bagh is known for its 12 terraces and delightful flowerbeds, which take on a different charm under the winter frost.
Dal Lake: While the Shikara rides may be replaced by frozen waters, the Dal Lake in December offers a peaceful and mesmerizing experience. The surrounding snow-covered mountains add to the beauty.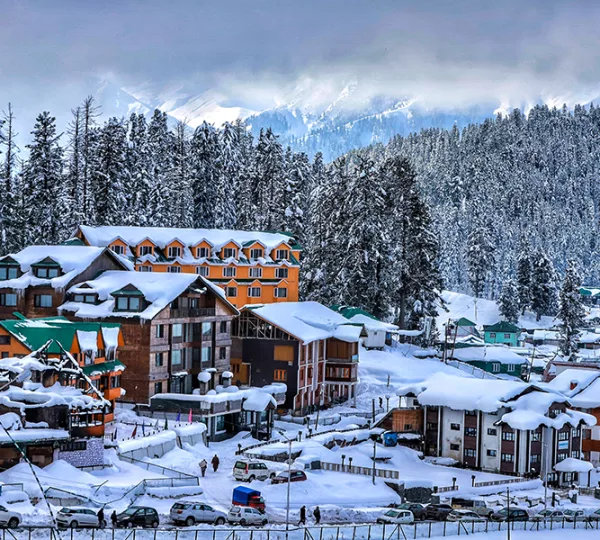 Gulmarg in December 2024 : The Winter Wonderland
Now, let's take a short trip to Gulmarg, a winter wonderland that's a must-visit in Kashmir. The highlight here is the Gondola ride, a cable car that offers awe-inspiring views of the valley. It's the second-highest operating cable car in the world and an experience you won't want to miss. In December, Gulmarg transforms into a ski enthusiast's paradise with powdery snow and pristine slopes.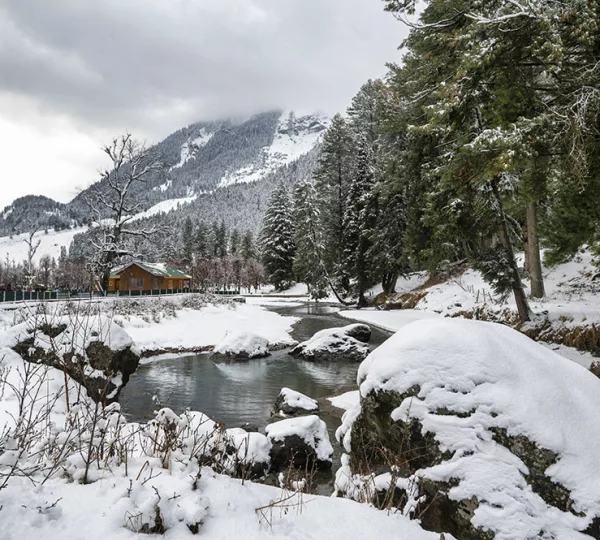 Pahalgam in December 2024 : The Snowy Retreat
Next up, Pahalgam, known as the 'Valley of Shepherds'. This serene destination offers lush green meadows during the summer, but in December, it transforms into a snowy retreat. It's the perfect base for trekking, horse riding, and experiencing the serenity of snow-clad landscapes.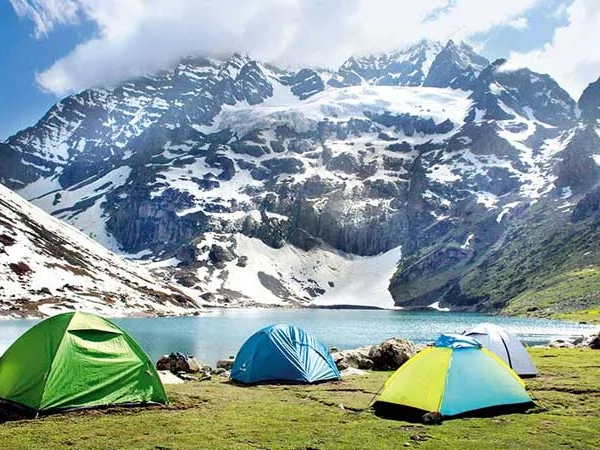 Sonamarg in December 2024 : The Meadow of Gold
Lastly, don't forget to explore Sonamarg, known as the 'Meadow of Gold'. While the golden hues of summer meadows may be absent, the snow-covered meadows against a backdrop of snow-capped peaks create a different kind of magic. Sonamarg offers skiing, trekking, camping, and an opportunity to immerse yourself in the heart of nature.
Planning Your December Trip in Kashmir 2024
Travel is an exciting journey, but planning is crucial to ensure a seamless experience. Here are some do's and don'ts to make your trip to Kashmir in December more enjoyable:
Do's:
Keep your passport with you at all times if you are a foreign traveler.
Explore the Mughal gardens in Srinagar, iconic symbols of the city's charm.
Take a leisurely morning stroll around Dal Lake to immerse yourself in its tranquility.
When visiting religious sites, cover your head and remove your shoes before entering.
Carry a camera or a high-quality smartphone to capture cherished memories.
Utilize Google Maps to discover nearby tourist attractions, businesses, public transportation, and ATMs.
Don'ts:
Avoid venturing out late at night; prioritize returning to your accommodation early.
Exercise caution when taking photographs at Srinagar International Airport, as it may raise security concerns.
Refrain from consuming alcoholic beverages in public spaces.
If possible, avoid relying solely on public transportation and consider using Google Maps for navigation.
FAQs
Have questions about your Kashmir tour packages in December 2024? We've got answers. Explore common queries such as "How much does a Kashmir trip cost?" and "What should I wear in Kashmir?" in our FAQs section.
Here are some more questions we frequently encounter:
How much does a Kashmir trip cost? A vacation to Jammu and Kashmir for one week usually costs around ₹17,248 for one person. So, a trip to Jammu and Kashmir for two people costs around ₹34,496 for one week. A trip for two weeks for two people costs ₹68,992 in Jammu and Kashmir.
Is it safe to travel to Kashmir?
Kashmir has earned the status of a safe zone, attracting a substantial influx of tourists, including foreign tourists. Several countries have also revised their travel advisories to be more favourable towards Kashmir. Over the past few years, the region has experienced a period of peace and economic growth, thanks to the burgeoning tourism industry.
What is the best season to visit Kashmir?
Kashmir is a place to visit all year round, with each season offering a unique charm. In December, you'll witness a winter wonderland with pristine snows capes and winter sports opportunities.
What adventure sports or activities are offered in Kashmir?
Kashmir offers an extensive selection of thrilling pursuits, including paragliding, water sports, river rafting, cycling, fishing, mountaineering, golfing, ice-skating, heli-skiing, trekking, gondola rides, camping, pony rides, and more.
What are the top attractions worth exploring in Kashmir?
While Srinagar, Gulmarg, Sonmarg, and Pahalgam are well-known destinations, Kashmir also harbors captivating yet lesser-explored locations like Krishnasar Lake, Aru Village, Kokernag, Verinag, the enchanting Lolab valley, and more.
How many lakes are there in Kashmir?
Kashmir boasts numerous beautiful freshwater and high-altitude lakes, including Dal Lake, Nagin Lake, Wular Lake, Manasbal Lake, Krishnasar Lake, Mansar Lake, Sruinsar Lake, Pangong Lake, Tso Moriri Lake, Tso Kar Lake, Gangabal Lake, and more.
Unforgettable Memories Await You in Kashmir
In December 2024, Kashmir beckons with its natural beauty, rich culture, and a wide range of tour packages to cater to all your travel desires. The comfortable weather, vibrant landscapes, and diverse activities make it an ideal time to experience the magic of this paradise on Earth.
So, pack your bags and embark on an adventure of a lifetime. Kashmir in December 2024 is ready to welcome you with open arms. Whether you're on a budget, seeking luxury, or planning a honeymoon, there's a perfect package waiting for you. Don't miss this opportunity to immerse yourself in the wonder of Kashmir, where every moment is a memory waiting to be made. Your dream getaway is just a plane ride away!
Without Further ado Here are Our Kashmir Tour Packages in December 2024.
Also, Read About Kashmir in December 2024.