Kashmir in January 2024
Kashmir, often referred to as "Paradise on Earth," is a destination that captivates the hearts of travelers year-round. However, January, with its pristine snow-covered landscapes and the promise of thrilling snow sports, adds a unique charm to this already enchanting region. As the calendar turns to 2024, Kashmir beckons adventurers and nature enthusiasts with open arms. In this extensive guide, we will delve deep into the allure of a January trip to Kashmir, exploring the various tour packages available, the weather conditions, and the myriad activities that await travelers in this winter wonderland.
Kashmir offers a multitude of tour packages to cater to the diverse tastes and preferences of travelers. Whether you seek a luxurious stay, a romantic honeymoon, an adventure-filled expedition, or a spiritual pilgrimage, there's a package tailored just for you. Here are some of the tour packages available for January 2024:
5 Star Tour Packages (7 days and 6 nights): This package promises a lavish experience, including visits to Gulmarg, Srinagar, and Pahalgam. Travelers can immerse themselves in luxury while exploring the stunning beauty of these Kashmiri destinations.
7 Nights 8 Days Kashmir Honeymoon Package (8 days and 7 nights): For newlyweds or couples seeking a romantic getaway, this package offers a dreamy escape to Gulmarg, Srinagar, and Pahalgam. It's the perfect way to celebrate love amidst breathtaking natural beauty.
 Kashmir Tour (8 days): This package takes travelers on an extensive 8-day journey through the picturesque landscapes of Kashmir. From serene lakes to lush gardens, it covers all the region's stunning attractions.
Golden Triangle Tour with Kashmir (Discovery tour): This tour combines the magic of Kashmir with the famous Golden Triangle destinations, offering a comprehensive exploration of India's rich cultural heritage.
Srinagar Ladakh Manali Tour Package (Romantic tour): An ideal choice for those seeking adventure and romance, this package combines the beauty of Srinagar with the rugged landscapes of Ladakh and the serene charm of Manali.
Short Trip to Kashmir (Hill station tour): If you're short on time but still want to experience the beauty of Kashmir, this package provides a quick getaway to the region's charming hill stations.
Heavenly Kashmir Tour (Discovery tour): For travelers with a penchant for exploration, this package offers an in-depth journey through the lesser-known gems of Kashmir.
Enchanting Kashmir Tour (Romantic tour): Designed for couples, this package ensures an enchanting experience amidst the romantic ambiance of Kashmir.
Srinagar Gulmarg Tour Package (Discovery tour): Focused on the discovery of the region's hidden treasures, this tour takes you to Srinagar and Gulmarg, promising unforgettable experiences.
Kashmir Tour with Vaishno Devi (Religious sites tour): Combining spiritual devotion with natural beauty, this package allows travelers to visit the revered Vaishno Devi shrine along with exploring Kashmir's scenic wonders.
Each of these packages offers a unique perspective on Kashmir, allowing you to tailor your trip to your specific desires and interests.
Is it worth going to Kashmir in January?
A common question that arises when planning a trip to Kashmir in January is whether it's worth it. The answer largely depends on your preferences and what you seek in a travel experience.
January is an excellent time to visit Kashmir for several reasons:
Snow-Covered Paradise: If you've ever dreamt of witnessing a winter wonderland, Kashmir in January will not disappoint. The region is draped in a pristine white blanket of snow, turning it into a magical realm straight out of a fairy tale.
Snow Sports: For adventure enthusiasts, January offers the opportunity to indulge in thrilling snow sports like skiing. The slopes of Gulmarg are renowned for their skiing opportunities, attracting both beginners and seasoned skiers.
Lower Hotel Rates: January is considered the off-season in Kashmir due to the cold weather, which means lower hotel rates. Travelers can enjoy a more budget-friendly trip while still experiencing the charm of the region.
Fewer Crowds: The reduced number of tourists in January means you can explore the attractions with more peace and tranquility. You'll have a chance to savor the serenity of the place without the usual hustle and bustle.
Unique Experiences: Building snowmen, sipping hot cocoa by the fire, and engaging in friendly snowball fights are some of the unique experiences you can have in Kashmir during January. It's a time to relive childhood joys and create lasting memories.
Photographer's Paradise: If you have a penchant for photography, Kashmir in January is a dream come true. The landscapes are a perfect canvas for capturing stunning shots of snow-clad mountains, frozen lakes, and charming villages.
While January offers these advantages, it's important to be prepared for the weather conditions. The average minimum temperature in Kashmir during January is around 27°F (-3°C), and it can go up to 43°F (6°C) during the day. Dressing warmly with layers, including thermals, insulated jackets, gloves, and boots, is essential to stay comfortable in the cold.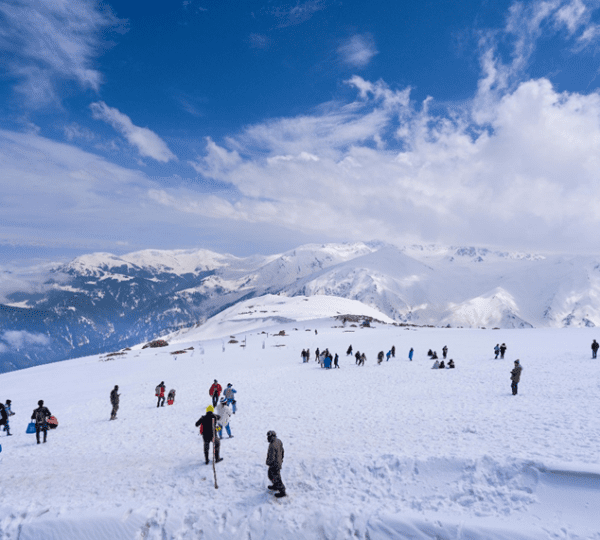 Things to Do in Kashmir in January 2024
Now that you've decided to embark on a January journey to Kashmir, it's time to explore the exciting activities that await you:
Gulmarg Winter Festival: Visiting Gulmarg during the winter festival is a must. This annual event showcases various snow sports, including skiing and snowboarding, and features cultural programs and exhibitions. It's an opportunity to witness local culture and talents amidst a stunning snowy backdrop.
Skiing in Gulmarg: If you're an adrenaline junkie or simply want to try something new, Gulmarg is one of the best places in India for skiing. The well-maintained slopes and professional instructors make it suitable for both beginners and experts.
Pahalgam's Snowy Landscapes: Pahalgam, with its snow-covered landscapes and tall trees, is a paradise for nature lovers and photographers. Take leisurely walks, go horse riding, or simply bask in the serenity of this charming town.
Snow Fun: Don't forget to indulge in the simple joys of winter, such as building snowmen, sipping hot cocoa by a cozy fire, and having friendly snowball fights. These activities are not just for kids; they can bring out the child in everyone.
Photography: Kashmir in January offers breathtaking views that are a photographer's dream. Capture the ethereal beauty of the snow-covered mountains, frozen lakes, and quaint villages to cherish the memories forever.
Gondola Ride: Experience the world's second-highest-operating cable car, the Gulmarg Gondola. The ride offers panoramic views of the snow-clad peaks and is an adventure in itself.
Local Cuisine: Warm up with hearty Kashmiri cuisine. Savor dishes like Rogan Josh, Dum Aloo, and Yakhni while sitting by a traditional Kangri (firepot) to stay cozy and relish the local flavors.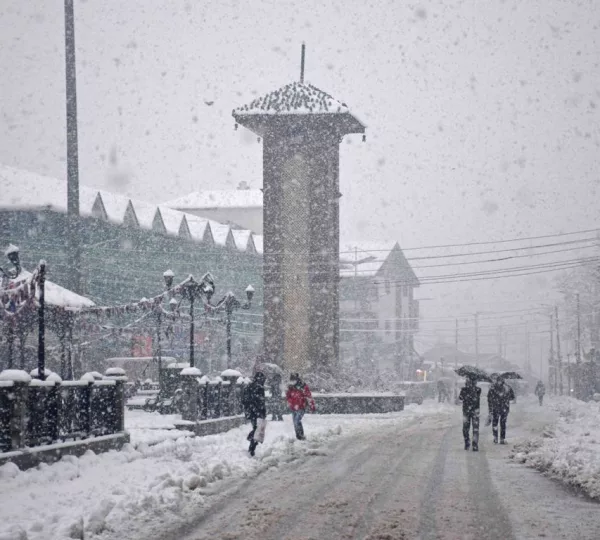 Things To do in Srinagar:
Visit Dal Lake: While the iconic Dal Lake is most famous for its houseboats and shikara rides during the warmer months, it takes on a serene charm in winter. The frozen lake is a sight to behold, and you can even take a walk on its surface.
Explore Srinagar: Discover the historic city of Srinagar with its Mughal gardens, ancient shrines, and bustling markets. The winter months offer a more intimate look at the city's culture and heritage.
Shopping: Also, don't forget to buy exquisite handicrafts and souvenirs. Shawls, Pashmina scarves, and intricate carpets make for excellent gifts and mementos.
How Much Will Kashmir Trip Cost in January 2024
The cost of a trip to Kashmir can vary significantly depending on several factors, including the duration of your stay, the type of accommodation you choose, your mode of transportation, your food preferences, and the activities you plan to engage in. Additionally, the cost can also be influenced by the time of year you visit and your overall travel style (budget, mid-range, or luxury).
Here is a rough estimate of the expenses you might incur during a trip to Kashmir:
Accommodation: The cost of accommodation can vary widely. Budget travelers can find hostels or guesthouses for as low as ₹500 to ₹1,500 per night. Mid-range hotels and houseboats typically range from ₹2,500 to ₹5,000 per night. Luxury hotels and premium houseboats can go well above ₹10,000 per night.
Transportation: The cost of transportation will depend on how you reach Kashmir. If you're traveling from a distant location, airfare will be a significant expense. Domestic flights to Srinagar can cost anywhere from ₹3,000 to ₹10,000 or more one way, depending on your departure location and how early you book. So, If you're traveling by train and road, costs will vary based on your starting point and mode of transportation.
Food: Dining costs can also vary. If you stick to local eateries and street food stalls, you can expect to spend around ₹300 to ₹500 per day on food. Dining in mid-range restaurants may cost around ₹1,000 to ₹2,000 per day, while fine dining can be more expensive.
Activities: The cost of activities will depend on what you plan to do. Entry fees to tourist attractions, adventure sports like skiing or trekking, and guided tours can add to your expenses. Budget at least ₹1,000 to ₹3,000 per day for activities.
Shopping: Kashmir is known for its handicrafts and souvenirs, including Pashmina shawls, carpets, and saffron. The amount you spend on shopping will depend on your preferences, but it's a good idea to allocate a budget for this.
Travel Costs:
Miscellaneous: This category includes expenses like local transportation, tips, and incidentals. Budget around ₹500 to ₹1,000 per day for miscellaneous expenses.
Travel Insurance: It's highly recommended to have travel insurance, which can vary in cost depending on the coverage and duration of your trip. So, Expect to pay anywhere from ₹500 to ₹2,000 or more for a comprehensive travel insurance plan.
Visa and Permits: If you are an international traveler, consider visa fees and any permits required for specific regions within Kashmir.
To estimate the total cost of your trip, you should consider the duration of your stay, your preferred accommodation type, and your travel style. Moreover, On average, a mid-range traveller might spend approximately ₹4,000 to ₹6,000 per day, including accommodation, meals, activities, and transportation. This estimate can fluctuate based on the factors mentioned above.
It's important to create a detailed budget based on your individual preferences and travel plans to get a more accurate estimate of your Kashmir trip's cost. Additionally, prices can change over time, so it's a good idea to check the latest rates and offers when planning your trip.
Conclusion
Kashmir in January 2024 is a paradise for those who yearn for the enchantment of winter landscapes and the thrill of snow sports. The diverse tour packages available cater to every traveler's preferences, from luxury seekers to adventure enthusiasts and romantic couples. While the weather may be chilly, dressing warmly allows you to embrace the unique experiences this season offers, from skiing in Gulmarg to sipping hot cocoa by a crackling fire.
Kashmir in January 2024 is not just a journey; it's a magical adventure that leaves an indelible mark on your heart and soul. The pristine beauty, warm hospitality, and unforgettable experiences make it a destination worth visiting, no matter the time of year. So, as January 2024 approaches, pack your warmest attire, a spirit of adventure, and a sense of wonder, and embark on a journey to discover the winter wonders of Kashmir.
Also Read about: Kashmir Tour Packages in January 2024