Kashmir in August 2024
Kashmir, often described as "Paradise on Earth", beckons travelers with its breathtaking beauty and rich cultural heritage. When considering a visit to this region in August 2024, you're in for an exceptional experience. In this detailed guide, we will unveil the wonders of Kashmir during this time, offering insights into weather forecasts, reaching Kashmir, top tourist attractions, travel tips, and COVID-19 guidelines to help you plan a truly memorable journey.
Weather in Kashmir in August 2024
One of the most critical factors to consider when planning a trip to Kashmir in August is the weather. This month marks a transitional phase from summer to autumn, presenting travelers with a unique blend of pleasant warmth and the first hints of cool breezes. Average daytime temperatures range from a comfortable 20°C to 30°C (68°F to 86°F), creating an ideal environment for outdoor exploration.
As we transition from summer to autumn, the region enjoys longer daylight hours, affording you more time to explore its captivating landscapes. The skies are clear, and gentle winds sweep through the valleys, forming a perfect backdrop for your adventure.
How to Reach Kashmir in June 2024
Reaching Kashmir in July 2024 is convenient through various means. You can opt for public transport, travel by train to Jammu, or take a flight to Srinagar International Airport. Private taxis are also readily available.
By Public Transport
The valley of Srinagar is accessible by road. After reaching Jammu either by train or, you can proceed to Srinagar by public transport. J&K State Road Transport Corporation operates many direct buses from Jammu at regular intervals.
By Train
There is no operational railway station in Srinagar, and the nearest railway station to Kashmir is Jammu, which is located at a distance of 290 kilometers. Jammu railway station is well connected to other Indian cities.
By Flight
Travelers can easily reach Kashmir by taking a flight to Srinagar International Airport, which is also named Sheikh-ul-Alam Airport. The airport is well-connected to cities including Delhi, Kolkata, Mumbai, Bangalore, etc.
By Private Taxi
To reach Kashmir by private taxi or cab, take the NH 1A route. The highway connects to different cities of Jammu and Kashmir, and one can enjoy the journey. Traveling through the Jawahar Tunnel, connecting Jammu with Kashmir, is a wonderful experience.
Top Tourist Attractions in Kashmir
When planning a trip to the captivating region of Kashmir in August, there are several delightful experiences awaiting you. Kashmir, often referred to as "Paradise on Earth", offers a unique blend of natural beauty, cultural richness, and thrilling activities. In this exploration, we will delve deeper into some of the most enticing attractions and activities that make a visit to Kashmir in August 2024 genuinely unforgettable.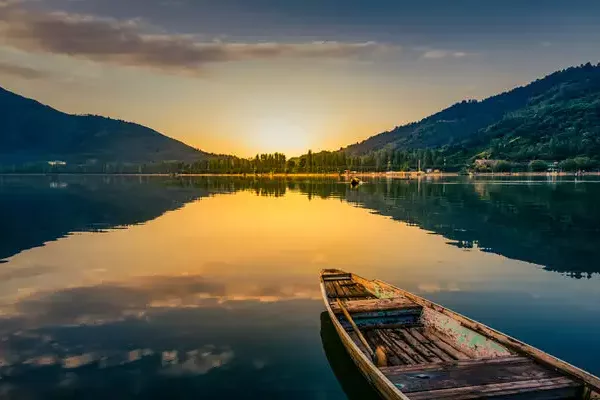 Dal Lake
One of the most delightful activities you can undertake during your visit to Kashmir in August is taking a Shikara ride on Dal Lake. There is something truly enchanting about gliding across the serene waters of this picturesque lake, surrounded by lush gardens and the majestic Himalayan peaks in the distance.
A Shikara boat trip in Kashmir is not just an activity; it's an experience that defines your journey. Whenever you plan a visit to Kashmir, ensure that you include this breathtaking Shikara ride on Dal Lake in your itinerary. It's an opportunity to immerse yourself in the region's rich culture and natural beauty, and it's an experience you will treasure for a lifetime.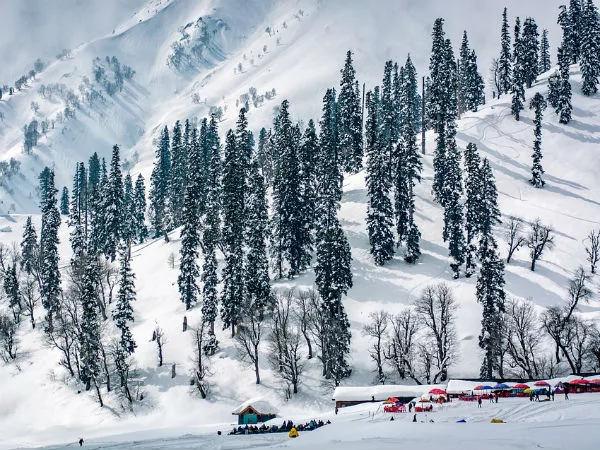 Gulmarg
Gulmarg, often dubbed the "Meadow of Flowers", stands as one of the finest and most popular destinations in Kashmir to explore in August. This beautiful hill station offers a wide range of thrilling activities that cater to every type of traveler.
One of the most spectacular experiences you can have in Gulmarg is taking a cable car ride on the Gulmarg Gondola. It's one of the world's highest-operating cable cars, providing breathtaking panoramic views of the surrounding mountains. When planning a trip to Kashmir in the winter months, don't miss out on the opportunity to try other popular sports like heli-skiing and ice skating in Gulmarg.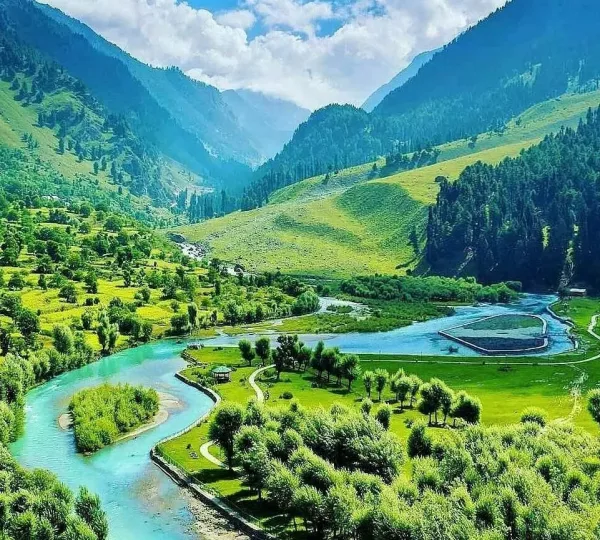 Pahalgam
Pahalgam, nestled amidst pristine valleys and dense pine forests, is a paradise for nature enthusiasts. August is a perfect time to explore the scenic beauty of this charming town. One of the best ways to experience Pahalgam's natural wonders is by going on a horse or pony ride. These rides allow you to witness Kashmir's glaciers at their best during this time and to immerse yourself in the region's enchanting weather.
Additionally, Pahalgam offers exciting activities such as river rafting and trekking, making it an ideal destination for adventure seekers. The Lidder River that flows through Pahalgam provides ample opportunities for river rafting, while the surrounding hills and valleys offer fantastic trekking trails.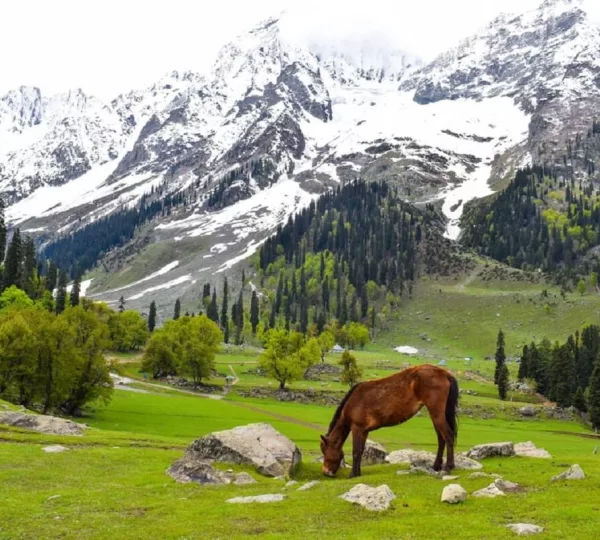 Sonamarg
Sonamarg, meaning "Meadow of Gold," is a blessed location in Kashmir known for its golden splendor. This picturesque destination undergoes a magical transformation in August. Two of the most stunning and popular tourist attractions in Sonamarg are Thajiwas Glacier and Zero Point.
Thajiwas Glacier is a breathtaking sight, with its pristine white expanses surrounded by towering peaks. It's a place where you can immerse yourself in the beauty of nature and enjoy activities like trekking and pony rides.
Zero Point, on the other hand, offers a different kind of allure. It's a place where you can witness the convergence of three significant mountain ranges: the Zanskar Range, the Great Himalayas, and the Pir Panjal Range. The vast landscapes of golden meadows set against the backdrop of these majestic mountains are a sight to behold, especially in the serene and gloomy winter months.
Doodhpathri
Doodhpathri, located in the Budgam district, is a relatively new addition to the stunning locations of Kashmir. The name "Doodhpathri" translates to the "valley of milk", which is fitting for this picturesque resort adorned with meadows resembling lush carpets. It is 42 kilometers away from Srinagar and owes its name to the abundance of milk production in the region.
The beauty of Doodhpathri lies in its pristine landscapes and the tranquility it offers to visitors. The meadows here are a sight to behold, especially in August when they are at their lushest. The serene environment, coupled with the soothing sound of flowing streams, makes it a perfect spot for those seeking solace in nature's embrace.
Yusmarg
Yusmarg, often referred to as the "Meadow of Jesus", is another gem that awaits travelers in Kashmir. This lovely location is renowned for its breathtaking natural beauty, verdant meadows, foamy river, Dudhganga, adventurous trekking trails, and trout fishing opportunities.
The primary attraction of Yusmarg is its lush meadows, which offer a serene and picturesque setting for travelers. Whether you're an adventure enthusiast looking to explore the trekking trails or a fishing enthusiast seeking to catch trout in the pristine waters of Dudhganga, Yusmarg has something to offer every traveler.
Visit Kashmir in August 2024
August offers a unique opportunity to witness the transition of seasons in Kashmir. The weather is exceptionally pleasant, and the landscapes are adorned with vibrant colors, making it an ideal time for nature enthusiasts, adventure seekers, and anyone in search of a tranquil escape.
Travel Tips for Your Kashmir Journey
Layered Clothing: Given the varying temperatures throughout the day, packing clothing in layers is advisable. This allows you to adapt to changing weather conditions effortlessly.
Stay Hydrated: While August is generally mild, the days remain warm. Carrying a water bottle ensures you stay hydrated during your excursions.
Savor Local Cuisine: Kashmiri cuisine is renowned for its rich flavors. Don't miss the opportunity to try iconic dishes like Rogan Josh and savor the local Wazwan feast.
Respect Local Culture: Show respect for the local culture and traditions. When visiting religious sites, dress modestly, and interact courteously with the locals to create a positive cultural exchange.
Travel Insurance: It's wise to secure comprehensive travel insurance that covers unexpected events, ensuring your trip remains worry-free.
Kashmir in August 2024 promises an enchanting experience with its pleasant weather, breathtaking landscapes, and rich cultural heritage. Whether you're a nature enthusiast, an adventure seeker, or simply seeking a peaceful getaway, Kashmir has something to offer everyone.
As you prepare for your journey to Kashmir, keep in mind the weather forecasts, top tourist attractions, and travel tips shared in this comprehensive guide. Your adventure in Kashmir awaits, and August 2024 is the perfect time to immerse yourself in the beauty and charm of this "Paradise on Earth".