Kashmir Tour Packages in October 2024
Present among the awe-inspiring Himalayan mountains, Kashmir is a place where nature paints its canvas with vibrant colours throughout the year. In this guide, we invite you to embark on a journey to Kashmir in October 2024, a time when the region adorns itself in the warm hues of autumn. Discover why this season is the perfect time to experience the serene beauty, pleasant weather, and a wealth of cultural treasures that Kashmir has to offer. Whether you're a nature lover, adventure seeker, or someone simply looking for a peaceful escape, Kashmir in October 2024 is ready to enchant your senses and create lasting memories. So, Here is Our Kashmir Tour Packages in October 2024 that Solves all Your Problems.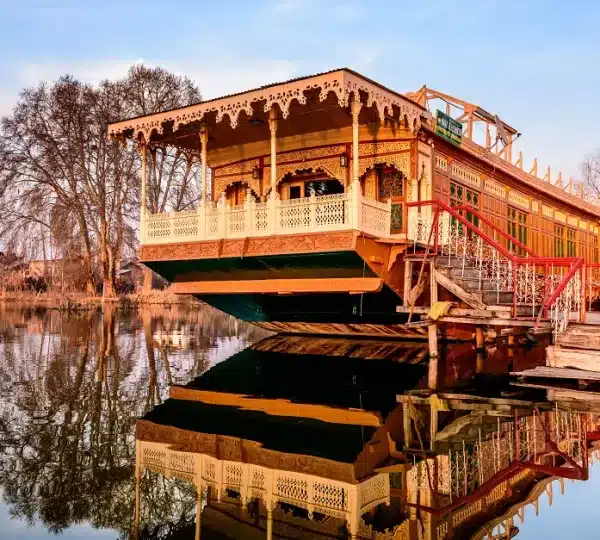 Kashmir in October 2024
Kashmir, a region known for its Beautiful Landscapes and rich culture, is a destination that captivates travellers throughout the year. In this guide, we will explore why October is an ideal time to visit this paradise on Earth. We'll discuss the pleasant weather, share details about how to get there, highlight must-visit places, and provide insights into activities that will make your trip memorable. Whether you're a nature enthusiast, an adventurer, or someone seeking a peaceful retreat, Kashmir in October 2024 has something special for everyone.
Why Choose Kashmir in October 2024?
Choosing to visit Kashmir in October is a wise decision for several reasons. The weather during this month is comfortable, with daytime temperatures ranging from 20-25 degrees Celsius. It's an excellent time to explore Kashmir's breathtaking natural beauty, as the trees begin to change colors, creating a stunning autumnal landscape. October offers a relaxed atmosphere, making it perfect for a peaceful vacation.
Weather in Kashmir in October 2024
October brings a delightful change in Kashmir's weather. The temperature varies from 9°C to 20°C, marking the arrival of autumn. While it can be chilly, especially in the evenings, the daytime sun is soothing and enjoyable. There might be occasional showers, but the overall climate is perfect for outdoor activities with your loved ones.
How to Get To Kashmir in October 2024
Traveling to Kashmir in October is convenient through various modes of transportation:
By Airways: Srinagar's Sheikh-ul-Alam International Airport is the primary airport connecting Kashmir to major Indian cities like Delhi, Mumbai, and Bangalore.
By Roadways: You can drive to Kashmir via Indian National Highway 44 (NH 44), which passes through states like Punjab and Himachal Pradesh. Starting from Delhi, it's a beautiful road journey to remember.
By Railways: If you prefer traveling by train, reach Jammu Tawi, which is the nearest railway station to Kashmir. From there, you can continue your journey by road.

Must-Visit Places in Kashmir in October 2024
Kashmir boasts a number of amazing destinations to explore:
Srinagar-Dal Lake: The heart of Kashmir, Srinagar, offers activities like trekking, water skiing, and bird watching. Don't forget to experience a Shikara ride on Dal Lake.
Betaab Valley: Located near Pahalgam, this valley is a treasure trove of pristine river waters and stunning landscapes. You can enjoy golfing, river rafting, and shopping for local handicrafts here.
Gulmarg: Known as the "Meadow of Flowers", Gulmarg is a paradise for nature lovers. It's a great place for skiing and offers breathtaking views.
Offbeat Destinations in October 2024
While the popular destinations are a must-visit, exploring lesser-known spots can add a unique charm to your trip:
Patni Top: This serene mountainous area, located about 110 miles from Jammu, is untouched by mass tourism, offering Peace amidst lush cedar and pine trees.
Kashmir Valley: A vast elliptical landmark, Kashmir Valley presents beautiful vistas from every angle. October is the best time for hiking and taking in the natural beauty.
Pulwama: Known for saffron fields, this region offers pleasant weather, scenic landscapes, and vibrant culture. It's an excellent spot for trekking and winter sports in October.
Religious and Historical Attractions in Kashmir
Kashmir is not only about natural beauty; it also has a rich history and spirituality to explore:
Vaishno Devi Temple: A sacred pilgrimage site, Vaishno Devi Temple is at its best in October due to the mild weather, making trekking enjoyable.
Kargil: Known for the infamous 1999 war, Kargil now offers historical significance, monasteries, and highland hiking experiences.
Thrilling Activities in Kashmir in October 2024
Kashmir in October offers a plethora of exhilarating activities:
Camping: Experience the charm of Kashmir's topography by camping in places like Gulmarg, Sonmarg, and Pahalgam.
Shikara Ride: Float across serene lakes and soak in the tranquil beauty of Kashmir through a Shikara ride.
Horse Riding: Explore the stunning valleys and meadows on horseback in various locations.
River Rafting: Conquer the thrilling white waters of Kashmir's rivers, suitable for both beginners and experienced rafters.
Paragliding: Soar above the breathtaking valleys for an adrenaline rush and unparalleled views.

Planning Your October Trip to Kashmir in 2024
For a seamless and memorable trip to Kashmir in October 2024, here are some essential tips:
Prepare your travel documents, including identification, visas, and permits.
Pack according to Kashmir's climate, with warm clothing for chilly nights.
Be aware of phone network limitations and bring essential medicines.
Respect local customs, especially when visiting mosques.
Consider booking with trusted tour operators for a hassle-free experience.
Frequently Asked Questions
Can we see snow in Pahalgam in October? Yes, you can experience snowfall in Pahalgam from October to February, making it suitable for various travelers.
What to pack while visiting Kashmir in October? Packing should include heavy jackets, woolen clothing, snow boots, and scarves to stay warm in the chilly weather.
Is Sonamarg worth visiting in October? Yes, Sonamarg is a fantastic destination between April and October, with peak tourism during July and August.
Is Tso Moriri open in October? Yes, Tso Moriri opens in October, allowing travelers to explore this stunning location.
Can we ski in Kashmir in October? Skiing in Kashmir in October may be challenging, as it's still early autumn, and snowfall may be limited. The best time for skiing is typically from December to February.

Book your Kashmir tour packages in October 2024
Your dream Kashmir tour in October 2024 is just a click away. Explore our range of Kashmir tour packages, and get ready for a journey filled with natural beauty, cultural richness, and warm hospitality.
Book your Kashmir tour packages in October 2024 today and secure your spot for an incredible adventure in October 2024. Contact us now to begin your journey to the paradise that is Kashmir.
Also, Read Our Blog On Kashmir Trip In October 2024
So, Without Further ado Here are Our Packages For You Click Here