Kashmir in February 2024
Kashmir, often hailed as "heaven on earth," has long captivated travelers with its diverse and enchanting landscapes. From the fragrant Mughal Gardens and serene Dal Lake in summer to the snow-covered wonderland that winter bestows upon it, Kashmir offers a mesmerizing experience throughout the year. But the question that lingers in the minds of many travelers is whether a visit to Kashmir in February 2024 is a viable and worthwhile endeavor. This comprehensive travel guide aims to delve into the charm and allure of Kashmir during this offbeat season.
The Allure of Kashmir in February 2024
Kashmir has always held a special place in the hearts of wanderers and dreamers, beckoning them with its natural beauty and rich cultural heritage. While summer unveils its fragrant Mughal Gardens and offers serene rides on Dal Lake, winter in Kashmir transforms it into a snowy wonderland that's equally captivating. The real question, however, is whether a visit to Kashmir in February 2024 is a feasible and enchanting endeavor.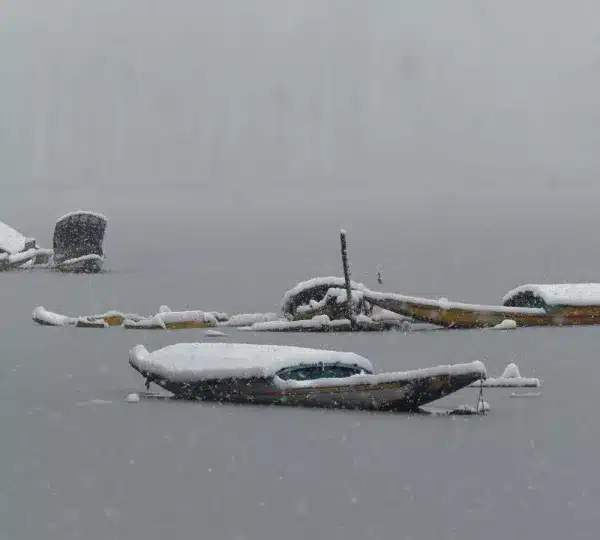 Places to Visit in Kashmir in February 2024
Dal Lake
One of the quintessential experiences when visiting Kashmir in February is taking a Shikara ride on Dal Lake. The serene waters reflect the surrounding snow-covered landscape, creating a surreal and ethereal experience. These traditional wooden boats glide smoothly across the lake, offering breathtaking views of the snow-capped peaks and providing a tranquil escape from the hustle and bustle of daily life. A Shikara ride on Dal Lake is a poetic journey, and no visit to Kashmir is truly complete without it.
Gulmarg
Gulmarg, often referred to as the "Meadow of Flowers," is not just a summer delight but a winter wonderland as well. It is undoubtedly one of the best and most sought-after destinations to explore in Kashmir in February. Gulmarg offers a wide range of thrilling activities, including skiing and cable car rides. The pièce de résistance is the Gulmarg Gondola, one of the world's highest cable cars, which offers panoramic views of the snow-covered Himalayan peaks. The ride is nothing short of a breathtaking adventure. For those who yearn for adrenaline-pumping experiences, Gulmarg in February has it all. Besides skiing and cable cars, you can also try your hand at heli-skiing and ice skating in this snowy paradise.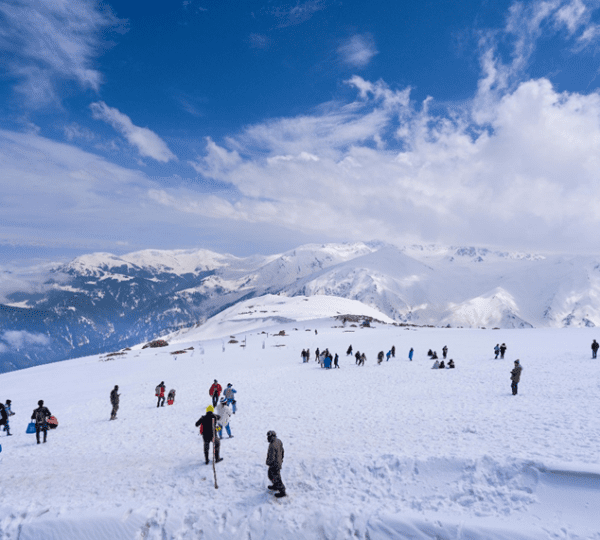 Pahalgam
Surviving the winters in Kashmir wouldn't have been as easy without the trusty ponies of Pahalgam. While visiting Pahalgam in February, you can take pony rides through the snow-covered meadows, offering a unique perspective of Kashmir's glaciers in their winter glory. Pahalgam also offers opportunities for rafting in the ice-cold rivers and exploring the charming town on horseback. The quaint and picturesque landscapes of Pahalgam are a visual treat for nature lovers, making it an essential stop on your Kashmir itinerary.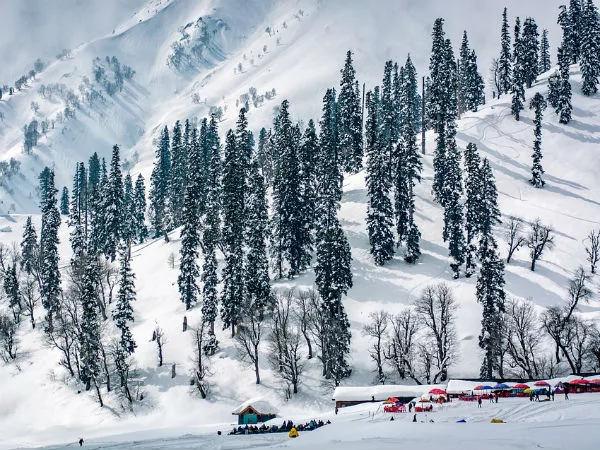 Sonamarg
Sonamarg, which translates to the "Meadow of Gold," is a blessed location in Kashmir that transforms into a sea of white during the winter months. The most stunning and popular tourist destinations in Sonamarg are Thajiwas Glacier and Zero Point, respectively. The golden meadows, which are stunning against the gloomy winter backdrop, offer a unique and enchanting experience. The drive to Sonamarg is an adventure in itself, with winding roads and snow-covered vistas that will leave you spellbound.
Doodhpathri
Doodhpathri, located in the Budgam district, is a relatively new and beautiful addition to the treasures of Paradise Kashmir. The name "Doodhpathri" literally translates to the "valley of milk," and this charming resort lives up to its name. Doodhpathri is known for its lush meadows that resemble soft carpets, set against a backdrop of snow-covered hills. The resort is situated 42 kilometers away from Srinagar and derives its name from the abundant milk production in the region. Additionally, it's believed that the name "Doodhpathri" reflects the fact that the cows grazing in the area produce copious amounts of milk. The pristine landscapes of Doodhpathri offer a serene and calming experience for travelers seeking solace in the lap of nature.
Yusmarg
Yusmarg, also known as the "Meadow of Jesus," is another hidden gem in Kashmir that every traveler must explore. This charming location is celebrated for its verdant meadows, the foamy river Dudhganga, adventurous trekking trails, and opportunities for trout fishing. The natural beauty of Yusmarg, with its lush landscapes and snow-covered peaks, is nothing short of breathtaking. Whether you're a nature enthusiast or an adventure seeker, Yusmarg offers something for everyone.
Kashmir Weather in February 2024
Understanding the weather in Kashmir in February 2024 is crucial for planning a trip to this snowy paradise. During this month, Kashmir experiences snowy weather, with wind chills averaging around 10°C and daytime temperatures ranging from 7°C to 21°C. Mornings in February can be foggy, with temperatures dropping to as low as 1°C at night. However, the afternoons tend to be relatively warmer and more comfortable. The monthly average temperatures typically hover around 7-8°C. It's important to prepare for chilly weather, but rest assured that with the right clothing and gear, you can enjoy the charms of Kashmir in February to the fullest.
Snowfall in Kashmir in February 2024
One of the most captivating aspects of visiting Kashmir in February is the abundant snowfall that blankets the region. Top tourist destinations like Gulmarg, Sonamarg, Pahalgam, and even the capital city of Srinagar are completely covered with a pristine layer of snow. The landscapes are transformed into a magical winter wonderland, creating the perfect conditions for a variety of winter sports and activities. Whether you're a skiing enthusiast, a snowboarder, or simply someone who enjoys the serenity of snow-covered landscapes, Kashmir in February promises an unforgettable experience.
Frequently Asked Questions About Visiting Kashmir in February 2024
Is it safe for tourists to visit Kashmir in February 2024?
Visiting Kashmir in February 2024 is not only safe but also promises a unique and enchanting experience. While there may be some areas that are inaccessible due to heavy snowfall, popular destinations like Pahalgam, Gulmarg, and Srinagar are open to visitors. These areas take on a new and magical appearance in the winter months, offering a fresh perspective on their natural beauty.
What clothes should I bring to Kashmir in February 2024?
When packing for a trip to Kashmir in February, it's essential to include warm clothing. This should include items like hats, coats, pullovers, warmers, and other winter accessories. Additionally, packing a waterproof bag and water-resistant boots for traversing the snowy terrain is advisable to ensure the safety of your valuables, including cash and electronic devices. A shawl, which can keep you warm and shield you from wind and snow, is another essential item to include in your packing list.
What is the temperature in Kashmir in February 2024?
The temperatures in Kashmir in February 2024 typically range from 7°C to 8°C. The valleys are covered in a thick layer of snow, creating a chilly but enchanting atmosphere. Even in the capital city of Srinagar, temperatures can dip to 3-4 degrees Celsius in February. Despite the cold, it's entirely safe and comfortable to explore and enjoy the beauty of Kashmir during this time. So, there's no need to worry about the weather; just come prepared to embrace the winter wonderland.
Is Kashmir open in February 2024?
Yes, all major places and attractions in Kashmir are open and accessible in February 2024. While some remote areas may be challenging to reach due to heavy snowfall, the popular destinations remain welcoming and enchanting.
Can we see snow in Gulmarg in February 2024?
Absolutely! Gulmarg is blanketed in snow during February 2024, making it an ideal destination for snow enthusiasts. Whether you're a skier or simply want to immerse yourself in the winter wonderland, Gulmarg promises a snowy delight.
Is there snow in Kashmir in February 2024?
Yes, February marks the beginning of the snowfall season in Kashmir. The entire region, from the popular tourist destinations to the remote valleys, is covered in a thick layer of snow. It's a magical time to experience the pristine beauty of Kashmir in all its snowy splendor.
If you're contemplating a visit to Jammu and Kashmir in February 2024, rest assured that you're in for a unique and enchanting experience. The snowy landscapes, thrilling activities, and the warmth of the local hospitality make it an ideal time to explore this captivating region. So, whether you're an adventure seeker, a nature lover, or simply looking for a tranquil escape, Kashmir in February 2024 promises to be an unforgettable journey into the heart of winter wonderland.
In Kashmir, each season has its own unique charm and allure, drawing travelers from across India and around the world. So, don't hesitate to plan your trip to this heavenly paradise; just pack your bags, embrace the winter, and embark on a remarkable adventure in Kashmir, no matter the season.
Also Read about: Kashmir Tour Package in February 2024