Kashmir Tour Packages in February 2024
When it comes to planning a dreamy getaway, Kashmir invariably tops the list of preferred destinations. The bewitching combination of lush pine forests, snow-draped peaks, pristine lakes, and sprawling meadows beckons travellers from far and wide. While Kashmir is a coveted travel spot throughout the year, have you ever contemplated experiencing its charm in February? In this comprehensive guide, we unravel the captivating reasons to opt for Kashmir Tour Packages in February 2024.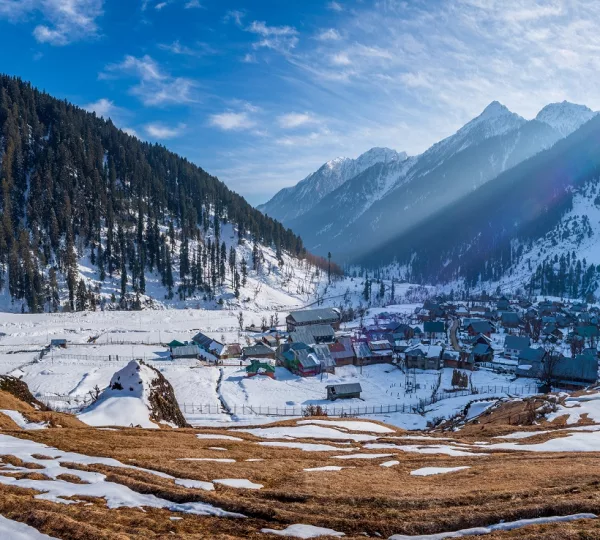 Winter Wonderland in Kashmir
Yes, you can embark on a journey to this earthly paradise in February! We all know how enchanting Kashmir is during winter. It emerges as one of India's foremost winter vacation havens, offering awe-inspiring vistas of snow-blanketed meadows, exhilarating peaks, thrilling adventure sports, and mesmerizing frozen lakes. Kashmir transforms into a vibrant hub for winter enthusiasts, making February the ideal month to explore this wonderland.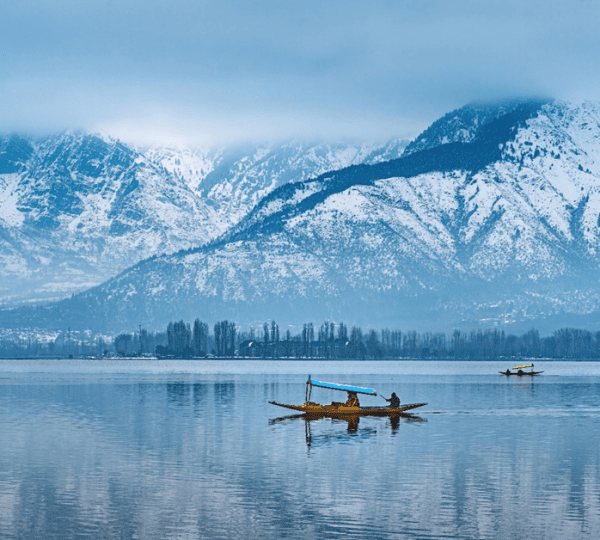 Kashmir's Weather in February 2024
A crucial aspect to consider when planning your February escapade to Kashmir is the weather. With an average temperature of 3.8°C, afternoons might feel a tad chilly, and nights can drop to an average low of -0.7°C. The temperature range hovers around 8.9°C, making it predominantly dry with occasional chances of sleet, rain, or snow. Parts of the Kashmir Valley receive abundant snowfall, particularly the Pir Panjal range, making it a prime destination for honeymooners and families seeking winter bliss.
How To Get To Kashmir in February 2024
To access this Alpine haven in February, you'll be pleased to discover a plethora of transportation options:
By Flight: The closest airport, Srinagar Airport, situated 15 km away, connects Kashmir with major Indian cities like Delhi, Goa, Jammu, Leh, Mumbai, and Bangalore. Airlines like Air India, GoAir, IndiGo, and Jet Airways operate regular flights. Although, do be aware that weather conditions might occasionally impact flights.
Kashmir by Public Transport or Taxi: If you prefer land travel, Jammu Tawi Railway Station, approximately 330 km away, serves as the nearest railhead. Popular trains such as the New Delhi-Jammu Tawi Rajdhani Express and Jammu Mail offer convenient connectivity. From Jammu, you can hire private cabs or utilize state or private buses to reach your desired Kashmir destinations.
Road Condition for Bike Trip to Kashmir in February: Even in February, when snowfall is relatively sparse, the key highways are efficiently cleared, ensuring safe passage. The Jammu-Srinagar highway, encompassing breathtaking hilly terrains, promises a picturesque journey.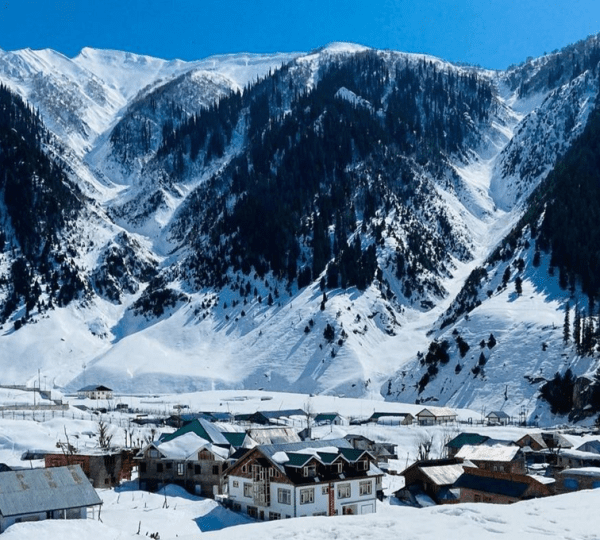 Must-Visit Destinations in Kashmir in February 2024
As you plan your Kashmir Tour Packages in February 2024, ensure these exquisite destinations are on your list:
Sonmarg: February turns Sonamarg into a winter wonderland, boasting photogenic lakes, mountains, glaciers, and lush meadows. The temperature ranges between 10 to 20 degrees, offering an ideal backdrop for hiking, camping, and leisurely nature walks.
Dal Lake: Srinagar shines in February, with Dal Lake adorning itself in lush greenery. Surrounded by snow-capped Himalayas and the glistening Jhelum River, it's a sight to behold.
Gulmarg: Gulmarg, known as the "flower meadow", presents stunning landscapes where strawberry fields meet snow-capped mountains. Gondola rides provide panoramic views of the hills, springs, and lakes, promising a unique February experience.
Pahalgam: If Peace and scenic beauty are your priorities, spend time rejuvenating in Aru and Betaab valleys. Pahalgam, renowned for its appearance in Bollywood films, offers a serene getaway.
Patnitop: Surrounded by the Shivalik Range and pine forests, Patnitop presents an adventurer's paradise. With natural treasures and thrilling adventure sports, it's a complete package for your February Kashmir itinerary.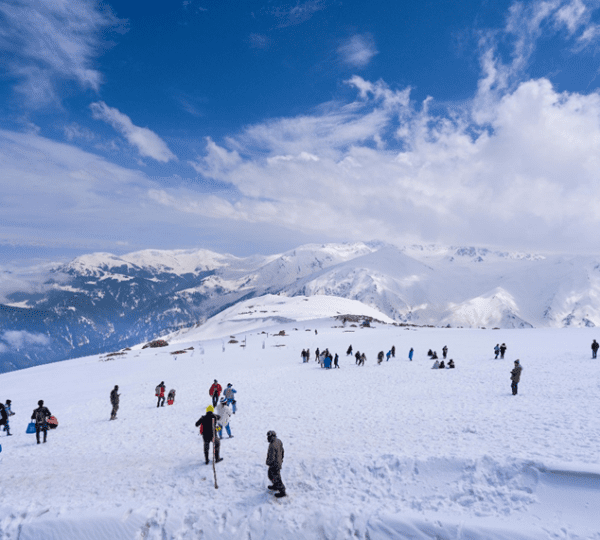 Planning Your February Kashmir Trip
When venturing to Kashmir in February, pack essentials to keep warm: heavy woolens, windproof coats, gloves, mufflers, and woolen socks. Don't forget a hooded jacket to shield yourself from the elements. Essentials for your packing list include:
Heavy woolens, sweaters, and scarves
Suitable footwear for adventurous activities
Basic medications like Vicks, Avomine, and Metacin Sardon
An umbrella for December travels
Vital Travel Tips For Kashmir in February 2024
For a safe trip, prioritize early hotel reservations in and around Dal Lake and Nehru Park. Kashmir offers a range of transportation options, including leased cars, taxis, and auto-rickshaws. Note that phones from states outside J&K may not work, and you can't buy prepaid phones unless you have a BSNL or Airtel  Post Paid connection. Access to banks, ATMs, petrol stations, mechanics, and medical facilities is readily available in Srinagar. While no permit is required to visit Kashmir, border areas like Gurez may necessitate one.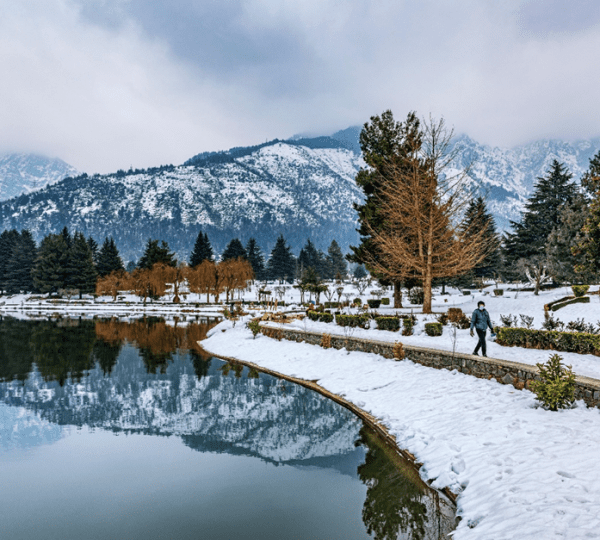 Experiencing Kashmir's Adventure in February 2024
Kashmir in February offers a multitude of adventure activities that go beyond land and water. The vast terrain and breathtaking landscapes promise unforgettable experiences. Highlights include:
Shikara Ride: Glide serenely across Dal Lake or Manasbal Lake, escaping the hustle and bustle of city life. It's an opportunity to relish the tranquility of nature.
Photography: Kashmir is a photographer's paradise with its gardens, lakes, and historical sites. Be mindful of where you point your camera.
Shopping in Kashmir: Don't miss the chance to collect local Kashmiri souvenirs, including handlooms, Pashmina shawls, and antique copperware. You can even shop for fresh produce on Dal Lake's Shikaras.
Kashmiri Cuisine: Savor the delectable Kashmiri cuisine, featuring delicacies like Kashmiri Kahwa and Lamb Mutton Rogan Josh. Explore other mouthwatering dishes such as Nadroo Yakhni, Paneer Chaman, and Dum Aloo.
Skiing and Snowboarding: February's cold climate and abundant snowfall make it the perfect time for winter sports. Pahalgam, Sonamarg, and Gulmarg offer thrilling opportunities for skiing and snowboarding enthusiasts.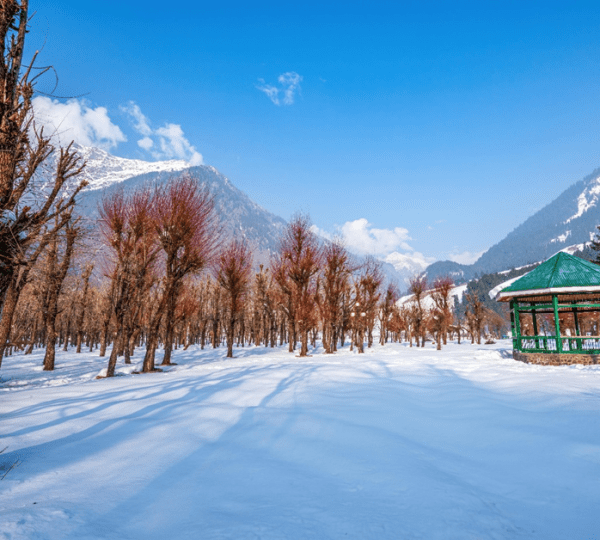 Conclusion
Kashmir is an unrivalled gem, exuding unparalleled beauty. Despite its challenges, this paradise on earth remains irresistible. As you plan your journey to Kashmir in February 2024, prepare to uncover and embrace the wonders of this remarkable state. The experiences that await you are sure to be etched in your memory forever. So This was our Kashmir Tour Packages in February 2024.
Here is Our Kashmir Tour Package: Explore Srinagar, Gulmarg, and Pahalgam in 4 Days
Also, Read  Kashmir In February 2024