Kashmir in April 2024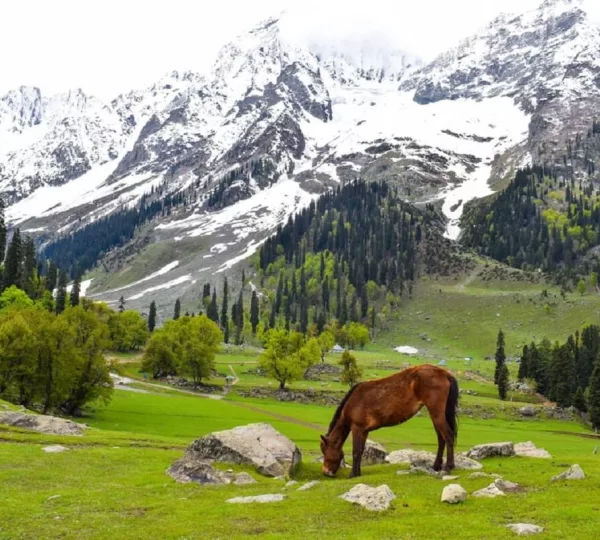 In India, as the sweltering summer approaches in April, the nation yearns for respite from the oppressive heat. And nestled within the arms of the mighty Himalayas, Srinagar, in Jammu and Kashmir, emerges as an enticing haven. Srinagar, adorned with its natural splendor and rich cultural tapestry, beckons weary souls to escape the monotony of their daily lives. A sojourn to Kashmir in the company of friends and family promises an opportunity to bask in nature's grandeur, revel in breathtaking vistas, partake in myriad activities, and much more.
Kashmir is a realm that seems plucked from another realm entirely. Its breathtaking beauty has not only ensnared tourists but also lured filmmakers to its enchanting landscapes. Amidst this enchanting tapestry, one can discover a treasure trove of religious sites, hiking trails, crystalline lakes, manicured gardens, charming bazaars, and tantalizing cuisines that dance on the taste buds. This ethereal landscape offers visitors a unique sojourn, be it on houseboats, in opulent five-star hotels, or amidst the serenity of secluded resorts, igniting a desire to return to Kashmir time and again.
Kashmir Weather in April 2024
The climate in Jammu, the winter capital of Jammu and Kashmir, adheres to a subtropical pattern, with scorching summers that reach their zenith in April. During the summer months, temperatures can surge to a blistering 45 degrees Celsius. Yet, when April dawns in the Kashmir Valley, a transformation occurs. The temperature ranges from a pleasant 14 to 28 degrees Celsius, inviting travelers to experience the region's unique allure. Srinagar, often described as paradise on earth, reveals its true beauty during this season, as the valley blossoms into a symphony of colors.
Journey to Kashmir in April 2024
By Air
The most convenient means of reaching Kashmir is by air. Although the Srinagar airport enjoys international status, it primarily caters to domestic flights, connecting major Indian cities like Delhi, Chandigarh, Amritsar, Bangalore, and Mumbai. From the airport, travelers can easily procure a taxi to transport them to their chosen destination.
By Bus
An extensive network of public and private buses weaves its way through Kashmir, connecting it to other cities and states. Buses link Srinagar with cities like Chandigarh and Delhi, while National Highway 1-A establishes a road connection to Jammu. Private deluxe buses operated by state road transport corporations offer routes from various states. However, it's wise to bear in mind that buses often arrive in the wee hours of the morning or late at night, a factor worth considering when planning your journey. While bus travel can occasionally be uncomfortable, the breathtaking scenery makes up for it.
By Taxi
Opting for a taxi or rental car to reach Kashmir, particularly Srinagar, is a popular choice. Both Jammu and Srinagar are well-connected by road, and a taxi or jeep can transport you to your destination. Booking a taxi for several days is often recommended, as it proves to be cost-effective in the long run. Keep in mind that the journey from Srinagar to Jammu spans almost ten hours.
Exploring the Crown Jewels of Kashmir
The union territory of Jammu and Kashmir boasts a reputation for its scenic grandeur, rustic landscapes, and towering, snow-clad peaks. Nestled in the northernmost part of India, this region is fondly referred to as the "Roof of India." With a multitude of hill stations offering solace from the summer heat, Jammu and Kashmir have rightfully earned the title of an "all-season vacation destination." Here, we present a curated list of the top five must-visit destinations in Kashmir for those traveling with friends and family.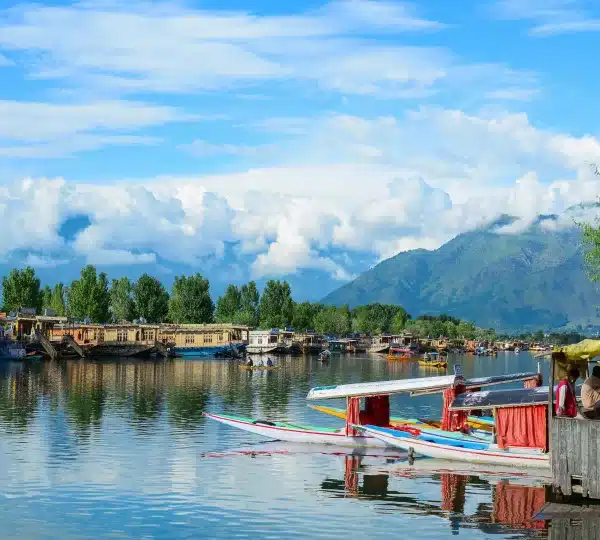 Sonmarg
The very name "Sonmarg" translates to "The Meadow of Gold," a moniker befitting its stunning landscape. This Himalayan paradise, resplendent with towering mountains, offers trekkers a canvas of vibrant wildflowers in April, a sight that draws visitors year after year.
Gulmarg
Often dubbed "India's Switzerland," Gulmarg is a haven for snow enthusiasts in winter and transforms into a tapestry of colorful blooms in April. It's the perfect place to experience the unique charm of a flower-laden meadow.
Kupwara
Located about 90 kilometers from Srinagar, Kupwara offers an idyllic retreat with its lush alpine ranges and serene landscapes. The clear April weather enhances the scenic beauty of this less-visited gem in Kashmir.
Betaab Valley
Immortalized by the Bollywood film "Betaab," this valley lives up to its cinematic fame. With lush forests and delightful April weather, it's an ideal spot for weekend getaways and day picnics.
Kathua
Nestled between Himachal Pradesh and Punjab, Kathua offers a glimpse into history with its ancient shrines and vibrant local culture. The breathtaking riverside vistas and military presence add unique dimensions to this charming town.
Experiencing the Essence of April in Kashmir 2024
Take a Tour of Breathtaking Landscapes
Kashmir, often called "Paradise on Earth," offers a stunning array of landscapes. From the Aru Valley to the Saffron Fields, the Zabarwan Mountain Range to the Chashme Shahi, and Badam Vari to the Apple Garden, the region teems with natural wonders. Destinations like Gulmarg, Pahalgam, and Sonmarg offer unforgettable experiences, enticing travelers to return time and again.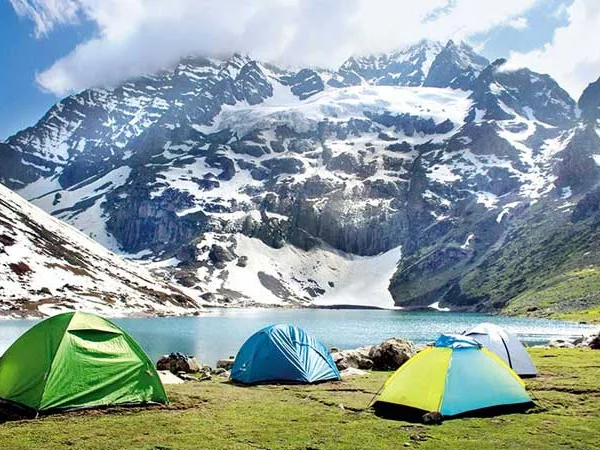 Enjoy Your Trek
Nestled amidst the Great Himalayas and Pir Panjal mountain ranges, the Kashmir Valley beckons adventurers to embark on treks, camp under the starry sky, and revel in the stunning vistas of mountains, lakes, and meadows. The Kashmir Great Lakes Trek is a highlight, offering the chance to explore pristine lakes like Gangabal, Kishansar, and Vishansar in the shadow of the Harnukh Peak.
Visit Museums
Kashmir's museums are windows to its rich cultural heritage. Displaying a myriad of artifacts, from paintings and copper utensils to shawls and handicrafts, these museums offer insights into the region's artistic prowess. Don't miss museums like Amar Mahal, Dogra Art, and Stok Palace Museum, each housing treasures from Kashmir's illustrious past.
Explore Historical Monuments
The historical monuments of Jammu & Kashmir provide a glimpse into the region's fascinating past. From the Martland Sun Temple and Bumzuva Cave to the Shankaracharya Temple and Pari Mahal, each structure narrates a chapter of the state's rich history.
Sample a Wide Range of Kashmiri Cuisines
Kashmir's street food and eateries offer a delectable journey for food enthusiasts. Savor a variety of vegetarian and non-vegetarian delights, including Rogan Josh, Yakhni, Matschgand, Dum Aloo, Paneer Chaman, Kashmiri Saag, and Nadur Churma. Be sure to try Noon Chai and Kahwa, traditional beverages that capture the essence of Kashmiri hospitality.
Planning Your April Sojourn in Kashmir
Travel is a thrilling endeavor, but planning is crucial to ensure a seamless experience. Here are some do's and don'ts to make your trip to Kashmir in April more enjoyable:
Do's:
Keep your passport with you at all times if you are a foreign traveler.
Explore the Mughal gardens in Srinagar, iconic symbols of the city's charm.
Take a leisurely morning stroll around Dal Lake to immerse yourself in its tranquility.
When visiting religious sites, cover your head and remove your shoes before entering.
Carry a camera or a high-quality smartphone to capture cherished memories.
Utilize Google Maps to discover nearby tourist attractions, businesses, public transportation, and ATMs.
Don'ts:
Avoid venturing out late at night; prioritize returning to your accommodation early.
Exercise caution when taking photographs at Srinagar International Airport, as it may raise security concerns.
Refrain from consuming alcoholic beverages in public spaces.
If possible, avoid relying solely on public transportation, and consider using Google Maps for navigation.
Ensuring a Smooth Journey
When preparing for your journey to Kashmir in April 2024, it's essential to carry all necessary documents and identity verification. These documents include tickets, visas, licenses, and any permits that may be required in Kashmir. Given the presence of military forces in the region, having these documents on hand is prudent and can be crucial in case of emergencies.
Additionally, ensure you have a well-stocked first-aid kit, including any necessary medications. The kit should include anti-nausea tablets, bandages, antiseptic, anti-allergy pills, and other essentials, as it's not uncommon for travelers to experience health issues when exploring new destinations.
In Srinagar, the tourism season blossoms in April, making it the prime time to explore this enchanting city. This period allows travelers to savor the best that Srinagar has to offer, from natural beauty to cultural treasures, without the overwhelming crowds that come later in the season. So, seize the opportunity, secure your tickets, and immerse yourself in the wondrous city of Srinagar before the year draws to a close. Kashmir in April 2024 awaits, promising an unforgettable journey amidst nature's grandeur.
Also Read about: Kashmir Tour Package in April 2024