Kashmir Trip in June 2024
In the ethereal embrace of June 2024, the land of Kashmir unfurls its natural splendor, akin to the opening notes of a symphony that lingers in your heart. The air, fragrant with the bloom of countless flowers, extends a cordial invitation to travelers from across the globe. In this odyssey through Kashmir during the enchanting month of June, we shall delve deep into the intricacies of the weather, temperature, and the myriad of captivating places that beckon you to explore. So, dear readers, fasten your seatbelts and embark on this unforgettable journey through a paradise known as Kashmir.
Kashmir Weather in June 2024
June 2024 blesses Kashmir with weather that can only be described as idyllic. With temperatures ranging from a comfortable 15°C to a mild 30°C, it strikes an impeccable balance between warmth and coolness, offering the perfect conditions for exploration.
As the curtains of the day rise, at daybreak, mornings greet you with a gentle chill, like a whispered secret. During these early hours, it's the perfect time to savor a hot cup of chai by the tranquil Dal Lake, where the mist hovers like a dream. As the day progresses, with the sun ascending in the cerulean sky, the afternoons usher in a soothing warmth, ideal for venturing out into mesmerizing landscapes. Throughout the day, temperatures hover around the delightful mid 20s°C, ensuring that your outdoor escapades remain comfortable.
Temperature in Kashmir in June 2024
One of the most intriguing facets of Kashmir in June 2024 is the orchestration of its temperatures. The mornings, veiled in the gentle cloak of dawn, are ideal for quiet contemplation by the Dal Lake or a leisurely stroll along the resplendent Mughal Gardens. The afternoons, on the other hand, paint the landscapes with a soothing warmth, enticing you to traverse the region's captivating terrain. As the day unfolds, the temperature remains steadfast, oscillating around the delightful mid 20s°C. This harmonious climate is the consummate companion for your exploits.
The temperature dynamics in June 2024 in Kashmir create a comfortable and inviting atmosphere, whether you are navigating the bustling streets of Srinagar or hiking through the emerald meadows of Gulmarg. It's a climate that responds to your aspirations, making every moment of your journey truly remarkable.
Places to Visit in June 2024
As you traverse the exquisite Kashmir in June 2024, a treasure trove of destinations unfolds before you. From the bustling heart of Srinagar to the tranquil meadows of Pahalgam, each locale offers a unique charm.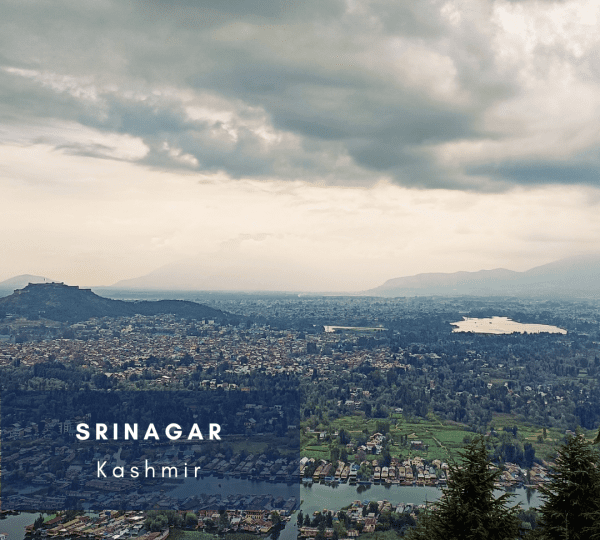 Srinagar: The Heartbeat of Kashmir

Begin your adventure in the enchanting city of Srinagar. Firstly, the iconic Dal Lake mirrors the cerulean heavens, secondly, offering serene shikara rides that seamlessly transport you to a realm of tranquility. Thirdly, meander through the Mughal Gardens, where vibrant flowers meticulously paint the landscape. Lastly, don't forget to savor the delectable Kashmiri cuisine at local eateries.

Gulmarg: The Meadow of Flowers

Continue your odyssey to Gulmarg, aptly named the 'Meadow of Flowers.' In June 2024, the valley erupts in a symphony of colors as wildflowers bloom in abundance, creating a captivating contrast against the snow-draped peaks. The Gulmarg Gondola promises a breathtaking view of this mesmerizing spectacle.

Pahalgam: A Tranquil Paradise

For those in pursuit of serenity, Pahalgam is an oasis of tranquility. Here, the Lidder River meanders lazily, offering an ideal setting for trout fishing or simply reveling in the embrace of nature's serenity.

Leh-Ladakh: The Roof of the World

Extend your journey to Leh-Ladakh, a high-altitude desert ensconced in the Himalayas. In June 2024, the region is accessible, allowing you to explore monasteries, pristine lakes, and rugged terrains that stretch to the horizon.

Sonamarg: The Meadow of Gold
Aptly named 'Sonamarg' or the 'Meadow of Gold,' this locale truly shines in June. The lush meadows are a sight to behold, and a trek to Thajiwas Glacier offers an adventure that will etch itself into your memory.
How to Reach Kashmir in June 2024
Reaching Kashmir in June 2024 is convenient through various means. You can opt for public transport, travel by train to Jammu, or take a flight to Srinagar International Airport. Private taxis are also readily available.
By Public Transport
The valley of Srinagar is accessible by road. After reaching Jammu either by train or, you can proceed to Srinagar by public transport. J&K State Road Transport Corporation operates many direct buses from Jammu at regular intervals.
By Train
There is no operational railway station in Srinagar, and the nearest railway station to Kashmir is Jammu, which is located at a distance of 290 kilometers. Jammu railway station is well connected to other Indian cities.
By Flight
Travelers can easily reach Kashmir by taking a flight to Srinagar International Airport, which is also named Sheikh-ul-Alam Airport. The airport is well-connected to cities including Delhi, Kolkata, Mumbai, Bangalore, etc.
By Private Taxi
To reach Kashmir by private taxi or cab, take the NH 1A route. The highway connects to different cities of Jammu and Kashmir, and one can enjoy the journey. Traveling through the Jawahar Tunnel, connecting Jammu with Kashmir, is a wonderful experience.
Cultural Immersion in the June Breeze
Venturing beyond the mesmerizing natural vistas, Kashmir in June 2024 irresistibly invites you to immerse yourself further in its rich culture and heritage. Moreover, the locals, renowned for their warm hospitality, not only extend a heartfelt welcome to all but also eagerly share their cherished traditions. Additionally, a leisurely stroll through the vibrant local markets not only reveals a world of exquisite handicrafts but also provides an opportunity to engage with the artisans themselves. Among these treasures, you'll discover Pashmina shawls, saffron, and intricate jewelry, each telling a unique story of Kashmir's enduring craftsmanship.
As you traverse the quaint villages, you'll not only encounter the rhythms of daily life but also witness how time-honored traditions harmoniously coexist with modernity. Furthermore, don't pass up the exceptional opportunity to savor the aromatic Kashmiri cuisine; here, dishes like Rogan Josh and Wazwan platters tantalizingly await to delight your taste buds.
Activities in the Cradle of Nature
The inviting weather in Kashmir in June 2024 invites adventure enthusiasts to partake in a myriad of activities. Trekking, in particular, is a popular choice, with trails that cater to both beginners and seasoned hikers. The Great Lakes Trek and Tarsar Marsar Trek promise breathtaking views of pristine lakes and snow-clad peaks.
For aficionados of water sports, the serene Dal Lake provides ample opportunities for kayaking, canoeing, and even paddleboarding. Angling enthusiasts will find their haven in the Lidder River of Pahalgam, where trout abound, ready to test your angling skills.
Unveiling the Kashmiri Craftsmanship
Kashmir is renowned for its impeccable craftsmanship, and June 2024 offers the perfect backdrop to explore this facet of the region. Visit local artisans in their element, and witness the creation of intricate handwoven carpets, papier-mâché masterpieces, and exquisite woodcarvings. You can even try your hand at these crafts, leaving with a tangible piece of Kashmir's artistry as a souvenir.
As June 2024 casts its benevolent embrace over Kashmir, simultaneously, the enchanting weather, coupled with captivating landscapes, creates an irresistible allure for travelers to embark on an unforgettable journey. Furthermore, from the comfortable temperatures to the plethora of places to visit, this is a voyage that promises memories to be cherished for a lifetime. So, pack your bags, embrace the June breeze, and surrender to the timeless spell of Kashmir in June 2024.
Also Read about: Kashmir in May 2024