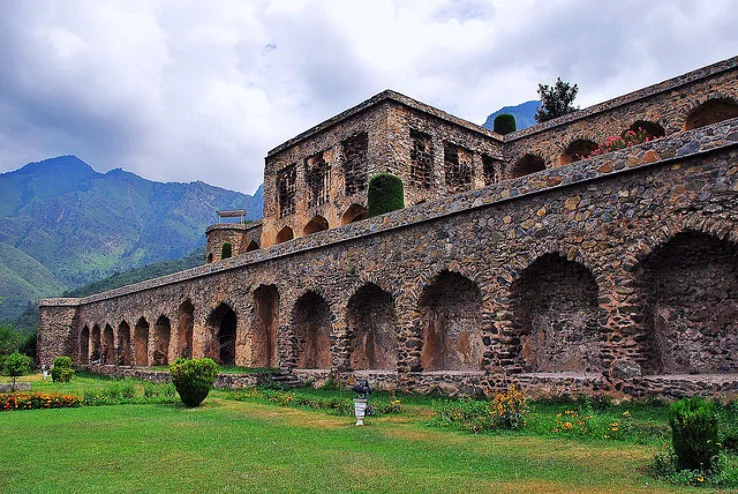 Pari Mahal in Srinagar : The Palace of Fairies
Located atop the Mighty Zabarwan Mountain Range, Overlooking the Beautiful Dal Lake in Srinagar, Pari Mahal , also known as the "Palace of Fairies", is a Marvel among Mughal Architectural Wonders. In this Comprehensive guide, we'll take you on a journey through the history, architecture, and the Stunning beauty of Pari Mahal. With a name that means "The Fairies Abode", Pari Mahal has a fascinating story to tell and is a must visit destination for anyone exploring the magnificent city of Srinagar. Let's embark on this magical journey together.

Location of Pari Mahal in Srinagar
Perched Majestically on the Zabarwan Mountain Range, Pari Mahal offers a breathtaking panoramic view of Srinagar and the Pristine Dal Lake. The setting is nothing short of mesmerizing, making it the ideal spot for those seeking solace in the lap of nature. As you ascend this historic marvel, you'll find yourself amidst the serene surroundings, with each terrace revealing a new layer of n
atural splendour.
History of Pari Mahal
Pari Mahal holds a fascinating history that dates back to the Mughal era. This architectural marvel was originally constructed in 1650 AD by Mughal Prince Dara Sh
ikoh. The eldest son of the renowned Mughal Emperor Shah Jahan. Surprisingly, this site was once a Buddhist Monastery before being transformed into the beautiful Palace we see today. It's here that Prince Dara Shikoh delved into the world of Astronomy and Astrol
ogy, guided by his mentor, Mulla Shah. This Fairy Palace stands as a testament to their enduring legacy.
The Tragic Tale of Pari Mahal
However, the history of Pari Mahal isn't just about Scholarly Pursuits and Architectural Brilliance. It's also marked by a tragic twist. It is said that this very locati
on was where Prince Dara Shikoh met his Untimely demise at the hands of his younger brother, Prince Aurangazeb. The power struggle within the Mughal dynasty played out on these terraces, leaving behind a story as poignant as the architecture itself.
The Building Blocks of Pari Mahal
What is Pari Mahal Made Of?
Pari Mahal's architectural excellence reflects the Mughal dynasty's Mastery of garden design and construction. This seven-terraced garden boasts a length of 122 m
eters and a width of 62.5 meters, following the traditional Mughal garden layout. Each terrace is a work of art in itself, showcasing the genius of Mughal architecture.
Waterworks of Pari Mahal
One remarkable feature of Pari Mahal is its ingenious Water Supply System. Unlike some other Mughal gardens, Pari Mahal doesn't have cascading waterfalls. Instead, it employs an intricate network of water tanks and underground pipelines to ensure that each terrace is supplied with water. This engineering marvel is a testament to the Mughal ingenuity and their commitment to creating paradise on earth.

Pari Mahal Srinagar Timings and Visiting Season
Best Times to Visit
Pari Mahal's elevation means that it experiences Cold and freezing temperatures during winters. Consequently, the best time to visit this historical gem is during the summer months. The garden opens its gates to the public from 9:30 AM to 5:30 PM, with the last entry permitted until 4:30 PM. Please note that Pari Mahal remains closed on Fridays, so plan your visit accordingly. Don't forget to carry your identification cards for a hassle-free entry.
How to Get to Pari Mahal from Srinagar
Reaching Pari Mahal is a convenient and well-connected journey for tourists. If you're arriving by train, Srinagar Railway Station is just 19 kilometers away, a short 25-minute ride to the paradise on the mountain. Alternatively, if you're flying in, Srinagar International Airport is a mere 22 kilometers from Pari Mahal, accessible within 30 minutes by local transportation services.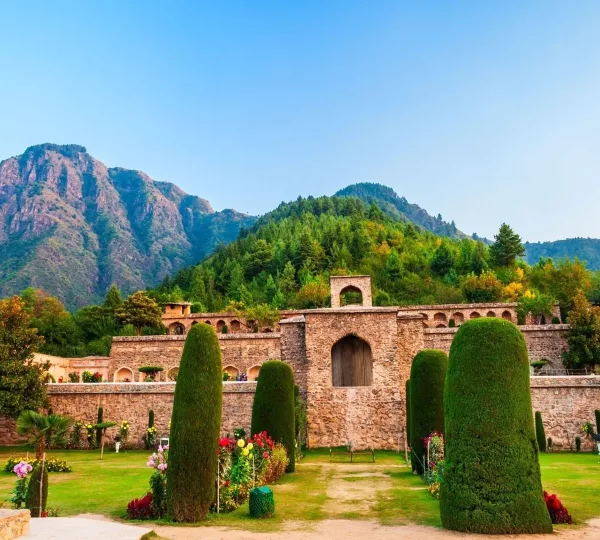 The Beauty of Pari Mahal
Pari Mahal is not just a historical site; it's also a testament to the aesthetic sensibilities of the Mughal era. The architecture, with its delicate arches, Lush gardens, and Scenic terraces, is a visual feast for anyone with an appreciation for art and history. The peacefulness of this place, combined with the captivating views of Srinagar and Dal Lake, make it a perfect spot to immerse yourself in the past while experiencing the natural beauty of the present.
Pari Mahal's Mughal Gardens
The Intricate Design of Pari Mahal Gardens
The gardens surrounding Pari Mahal are a vital part of its attraction. The seven terraces are designed with precision and care, giving you an insight into Mughal Aesthetics. From the moment you enter through the arch and dome entrance, you'll be surrounded by extensive rooms on both sides. The terraces are connected by steps that allow you to explore each level of the garden gracefully. However, it's the top terrace that holds a true marvel. A massive water tank sourced from a natural spring, though, sadly, many of these water sources have dried up with time.
Preservation of Pari Mahal
The Ongoing Efforts to Conserve Pari Mahal
Pari Mahal has weathered centuries of change and transformation. The site's preservation is of paramount importance, and the Government of Jammu and Kashmir has taken on this responsibility. They are dedicated to maintaining the charm and historical significance of Pari Mahal for generations to come. Visitors should take care while exploring the site, as many areas are in ruins and require cautious navigation.
Chashme Shahi
Chashme Shahi Mughal Garden
Just a stone's throw away from Pari Mahal, you'll discover another Mughal masterpiece – Chashme Shahi Mughal Garden. Located on the banks of Dal Lake, Chashme Shahi is a haven of beauty and serenity. After your visit to Pari Mahal, take a short 5-minute drive to Chashme Shahi and immerse yourself in the peaceful ambiance of this Lush garden, complementing your exploration of Srinagar's Mughal heritage.
Pari Mahal, with its intriguing history, breathtaking architecture, and idyllic surroundings, is a must-visit destination in Srinagar. This Fairytale abode will transport you to another era, where the Mughals reigned supreme, creating havens of beauty and peace. So, don't miss Out on this Masterpiece when visiting Srinagar next time.
Also, If You have any Queries Regarding anything related to Kashmir Feel free to Contact Us Here
Also, Check Out Our Kashmir Tour Packages in 2024.