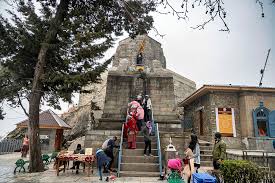 Shankaracharya Temple in Srinagar
All you Need to Know about Shankaracharya Temple in Srinagar
The Shankaracharya Temple, located atop a hill in Srinagar, is a significant pilgrimage site for Hindus. The temple is dedicated to Lord Shiva and is believed to have been built by Adi Shankaracharya, a great philosopher and theologian of Hinduism, in the 9th century.
The temple is situated on top of Takht-i-Sulaiman Hill and is also known as the Jyesteshwara temple. The hill is about 1,000 feet high and is surrounded by beautiful mountains and valleys, offering stunning views of Srinagar and the Dal Lake. The temple is a perfect example of the ancient Hindu architecture and attracts devotees from all over the country.
The temple has a steep staircase of about 250 steps, which can be a bit challenging for some visitors, but the view from the top is worth the climb. At the entrance, there are two lions made of stone, which guard the temple. The temple itself is a small shrine, which houses a Shiva Linga, a symbol of Lord Shiva.
Adi Shankaracharya
The Shankaracharya Temple is not only a place of worship but also a historical monument. According to legend, Adi Shankaracharya, after visiting this place, was so impressed by its natural beauty that he decided to stay here for some time and meditate. It is believed that he achieved enlightenment here, and hence, the temple is named after him.
Apart from the religious significance, the temple also holds great historical importance. It has been mentioned in many ancient texts and is believed to be the oldest surviving temple in Srinagar. The temple has undergone several renovations over the years, but its original structure has been well preserved.
In conclusion, the Shankaracharya Temple in Srinagar is not only a place of worship but also a significant historical monument. It attracts visitors from all over the country and offers stunning views of the valley. The temple is a must-visit for anyone visiting Srinagar and is a great place to experience the ancient Hindu culture and architecture.