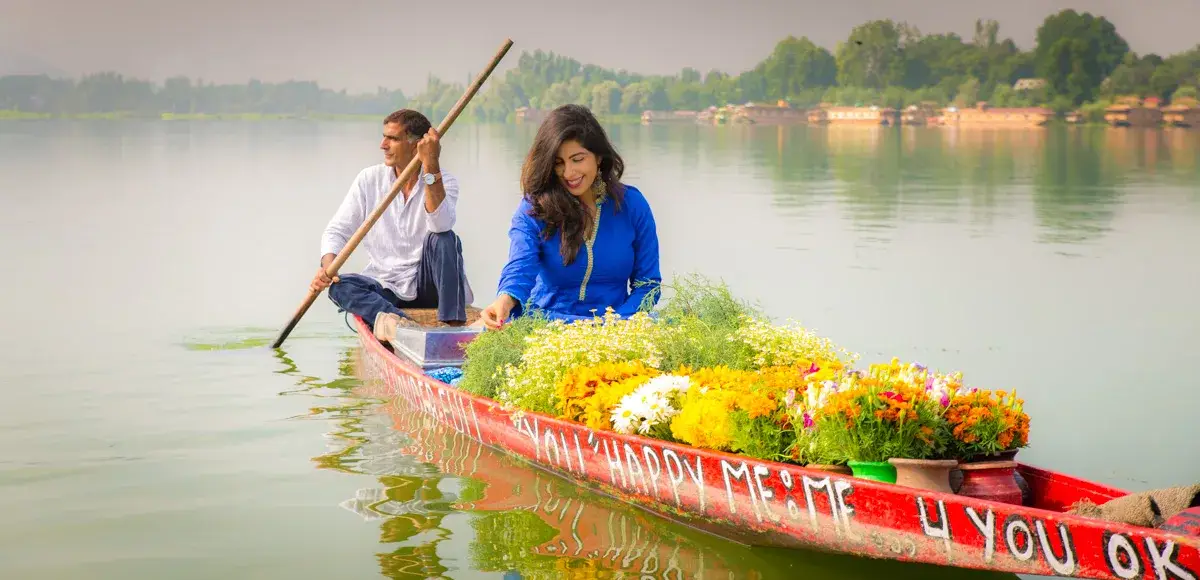 Top 15 Things To Do In Srinagar
Srinagar, often referred to as the "Heart of Kashmir" is a city that caters to every type of traveller. Whether you are an Adventure Seeker, a Nature Lover, or a Culture Enthusiast, this magical haven has something to offer for everyone. The city's charm is not limited to any particular season, you can visit Srinagar throughout the year and experience its diverse offerings. In this comprehensive guide, we'll explore the Top 15 things to do in Srinagar to ensure you have a memorable and fun vacation.
1. Seek Blessings At Shankaracharya Temple
Also known as the Jyesteshwara Temple, the Shankaracharya Temple is a must visit in Srinagar. Perched on Shankaracharya hill, this Hindu temple not only exudes beauty but also offers Stunning Panoramic views of the city and the surrounding Mountains. The divine aura and the Lovely scenery make it one of the best things to do in Srinagar, especially in January when the weather is crisp and pleasant. So Make this the First Thing On Your Top 15 Things To Do In Srinagar
Temple Timings | Open on all days of the week from 6:00 AM to 8:00 PM |
Entry Fees | There are no charges for visiting this temple. |
Location | Durgjan, Srinagar, Jammu and Kashmir |
2. Eat Popular Local Cuisines
Kashmiri cuisine is Renowned for its rich flavours and unique fusions. Exploring the local culinary delights is a top thing to do in Srinagar. The dishes, such as Rogan Josh, Kashmiri Pulao, Nadru Yakhni, and Sewai, are a perfect blend of spices, pepper, and vegetables, resembling culinary art. You can savor these delicacies at popular restaurants like Mughal Darbar, Lhasa, Niramish, and Alka Salka.
3.Trek To The Famous Points
Srinagar is not just about Gardens and Temples. If you're an adventure enthusiast, consider trekking through the Lush green hills. Trekking allows you to explore the city like a local, offering an intimate connection with the serene natural surroundings. Popular trekking spots in Srinagar include Shankaracharya Hill and Hari Parbat, which Should be on the list of your Top 15 Things To Do In Srinagar.
4. Indira Gandhi Memorial Tulip Garden
One of the best things to do in Srinagar in April is to visit the famous Indira Gandhi Memorial Tulip Garden. Take a Leisurely stroll amidst the Stunningly beautiful tulips, similar to the Keukenhof Gardens in Holland. The garden offers beautiful views of the city, adding to Srinagar's heavenly charm.
Garden Timings | Open on all the days from 8:00 AM to 7:00 PM |
Entry Fees | INR 60 for adults and INR 25 for children |
Location | Cheshma Shahi Road, Rainawari, Srinagar, Jammu and Kashmir |
5. Shop Like A Local
Srinagar offers a unique shopping experience with a wide range of locally crafted items. Pashminas, Paper Mache bangles, carved wooden boxes, embroidered scarves, wicker baskets, silver jewellery, spices, and Kashmiri carpets are some of the Famous items to buy in Srinagar. These items not only make great purchases but also serve as incredible souvenirs. Don't miss shopping at popular markets like Lal Chowk, Badshah Chowk, Residency Road, Polo View Market, and Raghunath Bazaar.
6. Birdwatching At Manasabal Lake
Located to the North of Srinagar, Manasabal Lake is a beautiful destination blessed with Scenic beauty. The Lake's emerald waters are dotted with lotus flowers, creating a mesmerizing backdrop. It's a paradise for birdwatchers and ornithologists, as you can spot various bird species on the lake's shores. Activities like boating and water skiing add to the fun. Don't forget to bring your Camera to capture the scenic beauty of Manasabal Lake.
7. Find Peace at The Hazratbal Mosque
Hazratbal Mosque, the only domed Mosque in Srinagar, is a Muslim Shrine believed to house a Strand of the Prophet's hair. Located near Dal Lake, the mosque exudes a divine aura that adds to the city's spiritual appeal.
| Location | Hazratbal Rd, Hazaratbal, Srinagar, Jammu and Kashmir |
8. Go Rafting At Sonmarg
Sonmarg, known as the "Meadow of Gold", offers a thrilling experience for adventure lovers. Enjoy the excitement of Whitewater rafting, suitable for both experienced and first-time rafters. The Indus River provides Grade 4 rapids for expert rafters, making it one of the best activities in Srinagar for those seeking an adrenaline rush.
| Best time to go rafting | September to November |
9. Go Skiing At Gulmarg
Gulmarg, often referred to as the "Meadow of Flowers", is a popular destination for Skiing enthusiasts. It boasts a triangular frozen lake, the world's highest golf course, and a famous Gondola ride. Skiing in Gulmarg has gained popularity worldwide, making it one of the top things to do in Kashmir. The Gulmarg Ski Resort, situated at over 8,600 feet, offers smooth slopes suitable for both beginners and skiing professionals.
| Best time to go skiing | Late December to March |
10. Fun At Cricket Bat Factories
Cricket Bat Factories in Srinagar are a great attraction for kids and sports enthusiasts. Kids can have a fantastic time exploring the numerous cricket factories, some of which supply bats to renowned cricket players. Whether it's taking a Shikara ride on Dal Lake or building a snowman, Srinagar is a year-round entertainment spot for kids. So, If You have Kids Keep this on Your List of Top 15 Things To Do In Srinagar
| Location | Sangam, 40km from Srinagar |
11. Visit The Famous Jamia Masjid
The Jamia Masjid Mosque, situated in the heart of the old city and opposite bustling bazaars, is a surreal place that should be on your Srinagar sightseeing list. With its beautiful Indo-Saracenic architecture, a stunning courtyard, and over 350 wooden pillars, this mosque will leave you spellbound. This is a Must on your List of Top 15 Things To Do In Srinagar
Masjid Timings | Open on all the days from 3:00 PM to 7:00 PM | | Entry Fees | NA | | Location | Nowhatta Kathi Darwaza Road, Nowhatta, Srinagar, Jammu and Kashmir |
12. Stay In A Gorgeous Houseboat
One of the most unique and immersive experiences in Srinagar is staying in the famous houseboats of Kashmir. These floating boats offer a blend of traditional charm and modern comfort, making your stay comfortable and memorable. You can relax in your room and, when you're ready, admire the natural beauty surrounding you from the boat's balcony.
Price | The tariff for a standard room in a good houseboat starts from INR 1,500 per night |
13. Go For Paragliding
Explore the city from the skies with a thrilling paragliding adventure in Srinagar. The surreal aerial view of the city allows you to witness its beautiful lakes and gardens all at once. It's an adventure you won't want to miss, whether you're an adventure lover or not.
Timings | Open on all days of the week from 08:00 AM to 6:00 PM |
Entry Fees | The price varies as per the duration and the type (solo or tandem) of the flight. |
Location | Pari Mahal, Srinagar, Jammu and Kashmir |
14. Explore The Mughal Gardens
Srinagar is known for its famous Mughal Gardens, each of which reflects the grandeur of bygone eras. The Chashme Shahi, Shalimar, and Nishat Gardens beautifully showcase the city's historical charm. Take an enchanting stroll amidst the lush green lawns, lovely fountains, and gorgeous flowers.
Most popular Mughal Gardens in Srinagar: Nishat Garden, Chashme Shahi Garden, and Shalimar Bagh.
15. Enjoy Shikara Ride On Dal Lake
When in you're in this summer capital of J&K, believe us, 'What to do in Srinagar' will never be your top concern. The gorgeous Dal Lake has just got the most surreal experience in store for you – the Shikara ride. While rowing around the lake, you will not just be able to witness the sunset in all its glory, but also the city's lifestyle at its best. This timeless experience in the city is worth every dime.
Timings | Open on all days of the week from 5:00 AM to 6:00 PM |
Entry Fees | The charges for a ride varies from INR 150 to 600 per person |
Location | Challi Point, Srinagar, Jammu and Kashmir |
So these were the Top 15 Things To Do In Srinagar. With so many things to do in Srinagar, you'd surely have the time of your life, and we can vouch for it. But to make sure your experience becomes more unique, make sure to plan your trip to Srinagar right away!
Also, Check Out Our Kashmir Tour Packages in 2024
For any Other Queries Contact