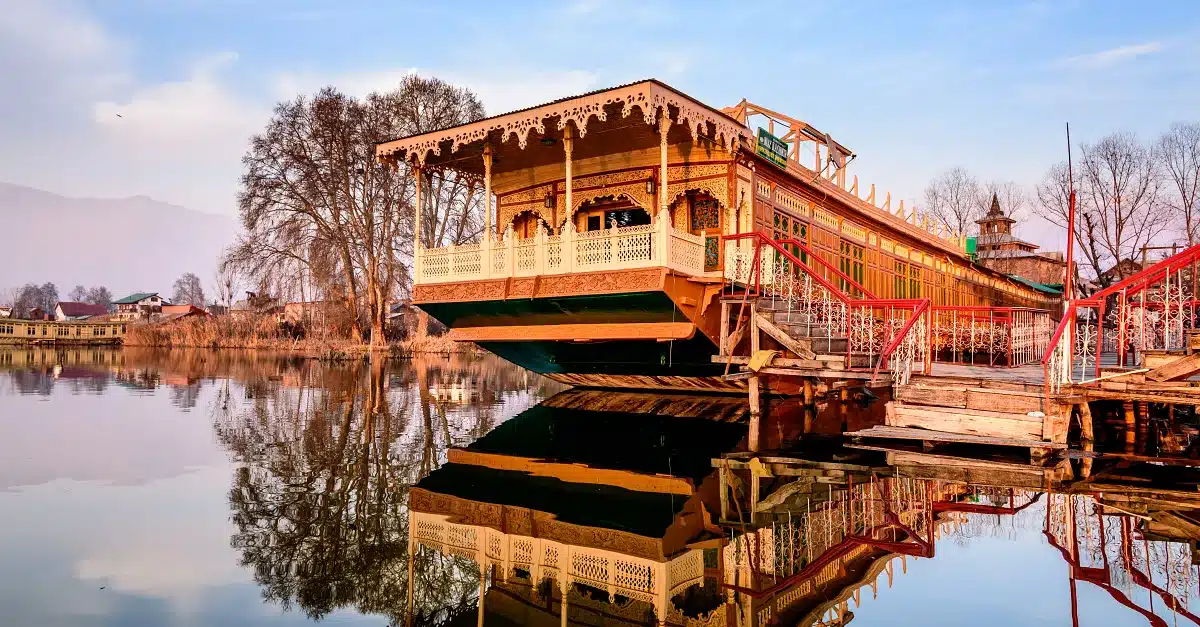 How to Plan a Trip to Kashmir in 2024?
Planning a trip to Kashmir and experiencing it like a local can be an incredibly rewarding experience. Kashmir is known for its stunning natural beauty, rich culture, and warm hospitality. To make the most of your trip and immerse yourself in the local culture, follow this itinerary:
Duration: 7-10 days (flexible)
Season: Spring (April to June) or Autumn (September to November) are ideal for pleasant weather and blooming gardens.
Day 1: Arrival in Srinagar
Arrival: You'll begin your journey in Srinagar, the summer capital of Jammu and Kashmir, by flying into Srinagar International Airport. As you descend into the valley, you'll be treated to stunning aerial views of the Himalayan peaks, making for an exciting start to your trip.
Stay: Upon arrival, check into a traditional houseboat on Dal Lake or a local guesthouse in Srinagar. Staying in a houseboat is a unique experience, giving you a chance to live on the water amidst the serene surroundings. Make sure to choose a houseboat with authentic Kashmiri craftsmanship for the complete experience.
Day 2: Explore Srinagar
Morning: After a restful night on the houseboat or guesthouse, start your day by visiting the Shankaracharya Temple. Perched atop a hill, this ancient temple offers panoramic views of Srinagar and the Dal Lake. To reach the temple, you'll need to climb a series of steps, and the effort is well worth it for the breathtaking views.
Afternoon: Spend your afternoon exploring the Mughal Gardens – Shalimar Bagh, Nishat Bagh, and Chashme Shahi. These beautifully manicured gardens date back to the Mughal era and showcase the Persian-style garden design. Stroll through the terraced lawns, enjoy the fountains, and take in the fragrance of the vibrant flowers.
Evening: In the evening, head to the local market near Dal Lake. Here, you can shop for exquisite handicrafts, including Pashmina shawls, Kashmiri carpets, and saffron. Don't forget to try some local street food, such as kebabs, golgappas, and the famous Kashmiri tea, known as Kahwa.
Day 3: Srinagar's Old City
Morning: Start your day by exploring the historic old city of Srinagar. Visit the Jamia Masjid, an impressive wooden structure with 378 wooden pillars, showcasing Kashmiri architecture at its finest. Adjacent to the mosque, you'll find the Shah Hamdan's Shrine, an important religious site in the city.
Afternoon: The highlight of your day will be a Shikara ride on Dal Lake. Shikaras are traditional Kashmiri wooden boats, beautifully decorated with colorful canopies. You'll glide through the calm waters of the lake, passing by floating gardens, houseboats, and local life. Engage with the Shikara owner, who will share stories about life on Dal Lake.
Evening: For dinner, make sure to sample Wazwan cuisine at a local restaurant. Wazwan is a traditional Kashmiri feast that includes a variety of dishes, including Rogan Josh, Gushtaba, and Dum Aloo. The flavors and spices used in Kashmiri cuisine are unique and unforgettable.
Day 4: Pahalgam
Morning: On day four, it's time to venture beyond Srinagar. Drive to Pahalgam, which is about 90 kilometers away from the capital. The journey itself is scenic, with the road winding through picturesque villages and pine forests.
Afternoon: In Pahalgam, visit Betaab Valley, named after the Bollywood movie "Betaab," which was shot here. The valley is adorned with lush green meadows, crystal-clear streams, and a backdrop of snow-capped mountains. You can also explore Aru Valley and enjoy a horse ride by the Lidder River.
Stay: Spend the night in a local guesthouse or a campsite in Pahalgam, which will provide a closer connection to the stunning nature around you.
Day 5: Pahalgam
Morning: Take advantage of Pahalgam's serene beauty by hiking or exploring the nearby villages. The fresh mountain air and peaceful surroundings make this an ideal place to connect with nature and the local way of life.
Afternoon: For golf enthusiasts, Pahalgam offers a unique opportunity to play at one of the world's highest golf courses. The Pahalgam Golf Course is surrounded by breathtaking views of the Himalayas and is a must-visit for golfers and non-golfers alike.
Evening: As the sun sets, return to your accommodation and experience local music and a bonfire. The people of Kashmir are known for their warm hospitality, and sharing stories and music around a bonfire is a delightful way to connect with them.
Morning: Depart Pahalgam and head to Gulmarg, which is approximately 140 kilometers away. Gulmarg is known for its lush green meadows and the Gulmarg Gondola, one of the highest cable cars in the world.
Afternoon: Upon arrival in Gulmarg, make your way to the Gulmarg Gondola. This cable car ride offers mesmerizing views of the surrounding mountains and valleys. You can take it up to the first phase or all the way to the second phase if the weather permits. The second phase provides an opportunity for skiing or snowboarding in winter.
Stay: Spend the night in a local guesthouse or hotel in Gulmarg. These accommodations often offer beautiful views of the meadows or the snow-covered peaks.
Day 7: Gulmarg
Morning: Begin your day by exploring the meadows of Gulmarg. During summer, colorful flowers carpet these meadows, creating a great place for a nature walk.. If you visit during winter, you can try your hand at skiing or snowshoeing.
Afternoon: Visit the St. Mary's Church, a historic church built in the 19th century. The church's Gothic architecture stands in contrast to its surroundings, making it a unique and photogenic spot.
Evening: For dinner, savor local Kashmiri dishes like Rogan Josh, Yakhni, and Dum Aloo at a local eatery. Engage with the locals, and you might get invited to join a game of carrom or hear traditional folk stories.
Day 8: Sonamarg
Morning: Bid farewell to Gulmarg and drive to Sonamarg, which is approximately 80 kilometers away. Sonamarg, which means "Meadow of Gold," is a paradise for nature lovers.
Afternoon: In Sonamarg, don't miss the opportunity to visit the Thajiwas Glacier. To reach the glacier, you'll embark on a short trek or a pony ride, depending on your preference. The glacier is surrounded by lush green meadows and offers a glimpse of high-altitude beauty.
Stay: Spend the night in a local guesthouse or campsite in Sonamarg. Camping in Sonamarg allows you to immerse yourself in the pristine surroundings and gaze at the starry night sky.
Day 9: Back to Srinagar
Morning: On day nine, make your way back to Srinagar. The journey will take you through the breathtaking landscapes of Jammu and Kashmir once again. Be sure to make some stops along the way to take in the views and capture memorable photographs.
Afternoon: Upon returning to Srinagar, take some time to explore the local markets once more, perhaps picking up any souvenirs you missed earlier in your trip.
Evening: End your day by enjoying another Shikara ride on Dal Lake, soaking in the tranquil beauty of the lake at sunset. Follow it up with a traditional Kashmiri dinner and savor the flavors of this unique cuisine.
Day 10: Departure
Departure: Depending on your flight schedule, you may have some free time to revisit any missed attractions or simply relax in Srinagar before heading to the airport for your departure. Take a moment to reflect on the incredible experiences and memories you've gathered during your trip to Kashmir.
Tips for Experiencing Kashmir Like a Local:
Dress Modestly: Kashmir is a conservative region, and it's respectful to dress modestly, especially when visiting religious sites.
Learn Some Phrases: Learning a few basic Kashmiri phrases can go a long way in connecting with the locals and showing respect for their culture.
Participate in Local Activities: If you have the opportunity, join in on traditional ceremonies, festivals, or local games to get a deeper understanding of Kashmiri culture.
Stay in Local Accommodations: Opt for homestays or guesthouses run by locals to experience their warm hospitality and gain insights into their way of life.
Taste Local Cuisine: Don't miss the chance to try authentic Kashmiri dishes like Rogan Josh, Gushtaba, and Kashmiri Pulao. The flavors are unique and unforgettable.
Respect the Environment: Help preserve the natural beauty of Kashmir by not littering and being responsible travelers. Leave no trace of your visit.
Remember that Kashmir is a region with a complex political situation, and it's essential to stay informed about the current conditions and follow any travel advisories issued by your government. Safety should always be a priority while traveling in this region.
---
This expanded itinerary provides a more comprehensive guide to experiencing Kashmir like a local, allowing you to immerse yourself in the culture, history, and natural beauty of this enchanting region. "Enjoy your journey, and may your trip to Kashmir fill you with unforgettable experiences!"