Luxury Tourism in Kashmir : A Gateway to Your Luxurious Trip in Kashmir
Located in the Northernmost region of India, Kashmir is often referred to as "The Heaven on Earth" due to its Incredible Natural beauty, Beautiful Landscapes, and Rich Cultural Heritage. For travellers seeking a Luxurious and Unforgettable Experience, Kashmir offers a unique blend of High end accommodations, Majestic views, and a range of activities that cater to the discerning travellers. In this Extensive guide, we'll explore the various facets of Luxury Tourism in Kashmir , including Top luxury Hotels and Resorts that show off how Rich and Comfortable they are while providing excellent service.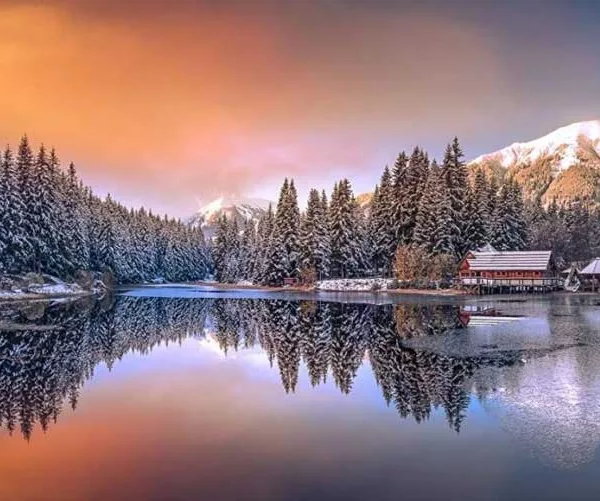 Discovering Kashmir: A Luxurious Heaven
Kashmir, with its Pristine Valleys, Stunning Lakes, Snow Blanketed Mountains, and Green Lush Meadows, is a destination that has been captivating travellers for Centuries. The region is known for its ever-changing landscapes, making it an all-year-round destination for those who appreciate natural beauty and Spiritual Peace.
Kashmir's attraction extends beyond its Scenic beauty. Its Rich cultural tapestry is woven with influences from the Mughal Emperors, Persian Poets, and Sufi Mystics. The Local Cuisine, with its aromatic flavours and spices, adds another layer to the Kashmiri Experience. It's no wonder that travellers from around the world seek to explore and savour this unique blend of natural beauty and culture, and many opt for a Luxury Tourism in Kashmir Travel experience to do so.
Luxury Hotels in Kashmir
Kashmir offers a variety of Luxury accommodations, including High End Resorts, Boutique Hotels, and Traditional Houseboats. Here are some of the Top Luxury Hotels in the region that provide an extraordinary level of comfort and service:
1. The Khyber Himalayan Resort & Spa, Gulmarg
Set against the Stunning backdrop of the Himalayas, The Khyber Himalayan Resort & Spa in Gulmarg is a Luxury retreat that promises an unforgettable experience. With its warm, wooden interiors and panoramic views of the snow-clad mountains, the resort offers a perfect blend of opulence and natural beauty. The resort features well-appointed rooms and suites, a world-class spa, and fine dining options. Activities include golfing, trekking, and enjoying the world's second-highest operating cable car, the Gulmarg Gondola.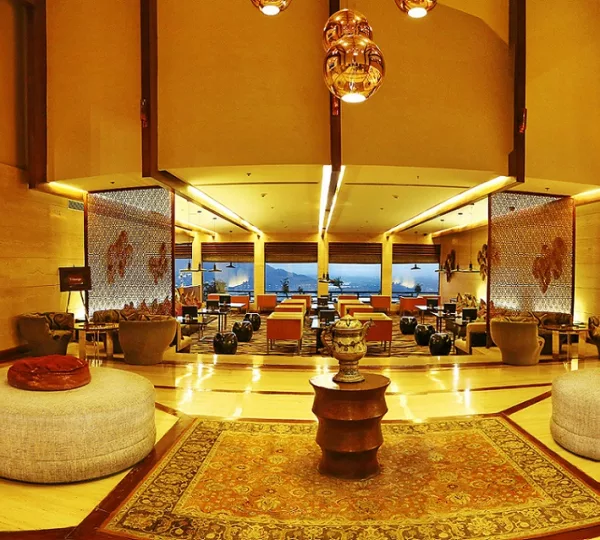 2. Vivanta Dal View, Srinagar
Situated on the banks of Dal Lake in Srinagar, Vivanta Dal View is a Luxurious Taj property that offers stunning views of the lake and the Zabarwan Range. The Hotel provides elegantly designed rooms and suites, each with a private balcony to soak in the Lovely surroundings. Guests can enjoy a delightful culinary journey at Latitude, the hotel's restaurant, or unwind at the Jiva Spa. A Shikara Ride on Dal Lake is a must when staying at this property.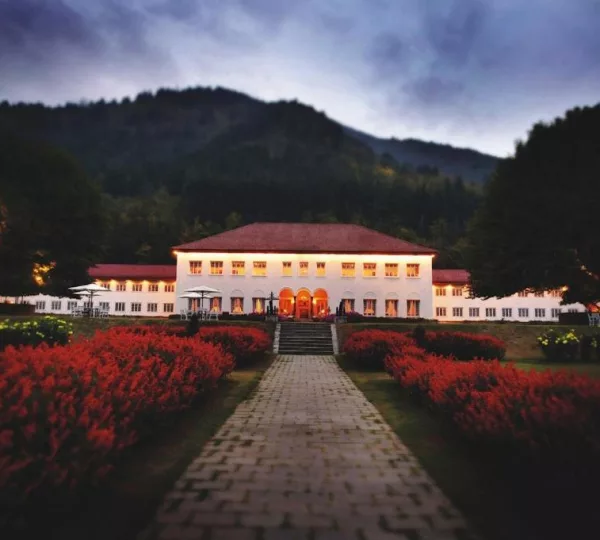 3. The Lalit Grand Palace, Srinagar
Formerly the residence of the Maharaja of Jammu and Kashmir, The Lalit Grand Palace is a royal retreat that exudes Regal charm. The property is a masterpiece of architecture and offers well-appointed rooms and suites adorned with exquisite art and antiques. The Chinar Garden at the Lalit is a delightful alfresco dining venue, and the Dal Bar is an ideal place to unwind. The hotel also has a golf course and a luxurious spa.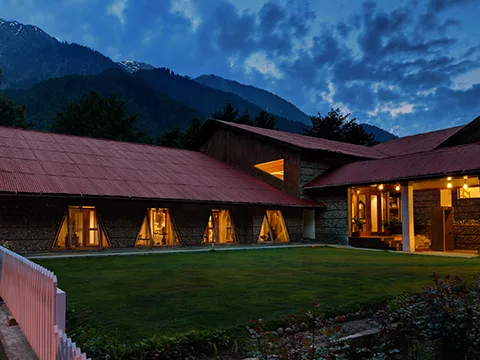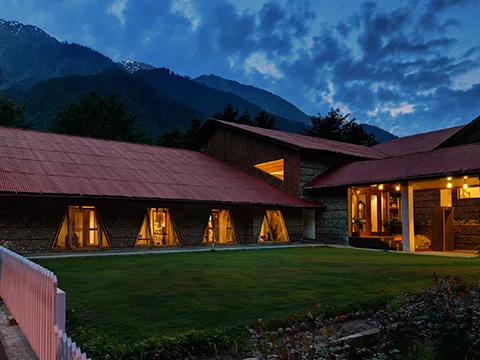 4. Pine N Peak, Pahalgam
For those looking to explore the Beautiful Landscapes of Pahalgam, the Pine N Peak is an ideal choice. Perched among The Lush Pine forests, this hotel offers comfortable rooms with breathtaking views. The hotel also boasts a multi-cuisine restaurant, a bar, and a spa to unwind after a day of exploring the beautiful surroundings. Pahalgam offers a range of activities, including horse riding and golfing.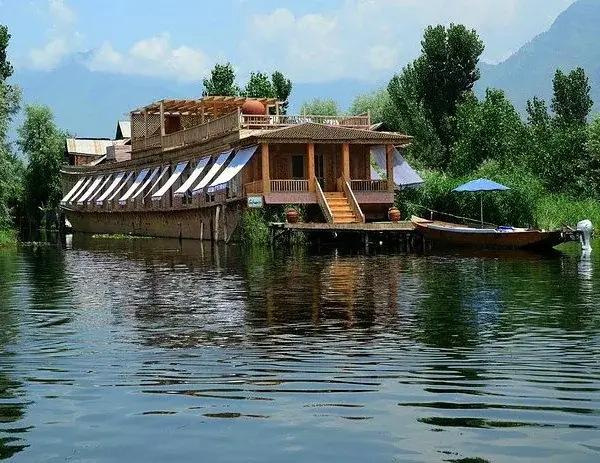 5. Sukoon Houseboat, Srinagar
A stay in a Traditional Houseboat is a quintessential Kashmiri experience, and Sukoon Houseboat offers the epitome of Luxury on Dal Lake. These beautifully decorated houseboats feature exquisite furnishings, private decks, and impeccable service. Guests can savour Authentic Kashmiri cuisine while enjoying panoramic views of the lake and the surrounding mountains.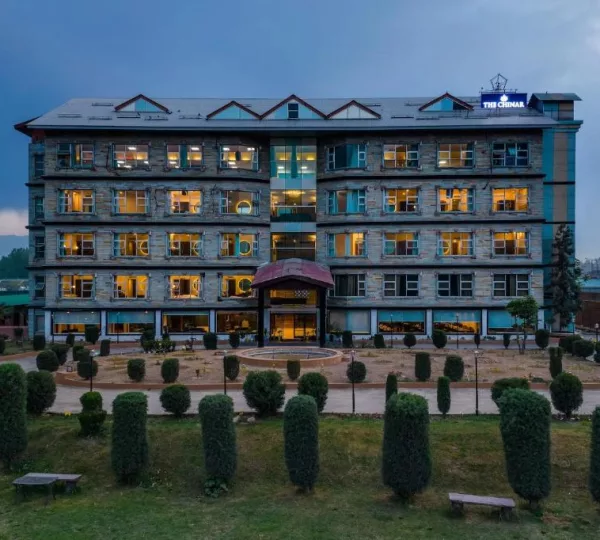 6. The Chinar Resort & Spa, Kud, Patnitop
Located in the Lovely town of Patnitop, The Chinar Resort & Spa is an oasis of Luxury in the Jammu region of Kashmir. Surrounded by dense pine forests, the resort offers spacious rooms and suites, a multi-cuisine restaurant, and a wellness spa. It's an excellent base for exploring the nearby Nathatop and Sanasar.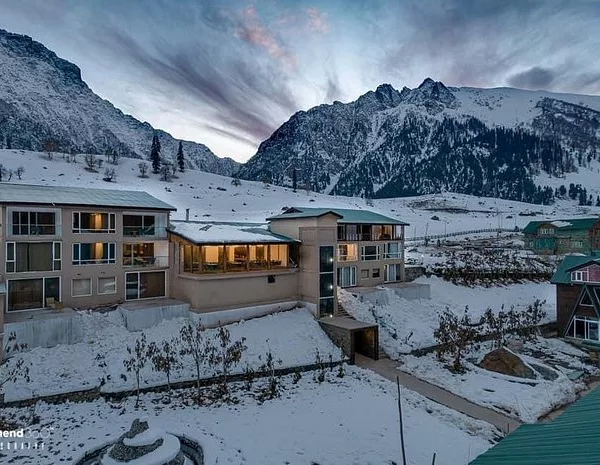 7. Hotel Snowland, Sonamarg
Hotel Snowland in Sonamarg is a popular accommodation option for travellers visiting this Beautiful region during both the summer and winter seasons. This hotel provides a comfortable and convenient place to stay while exploring the natural beauty and outdoor activities in Sonmarg.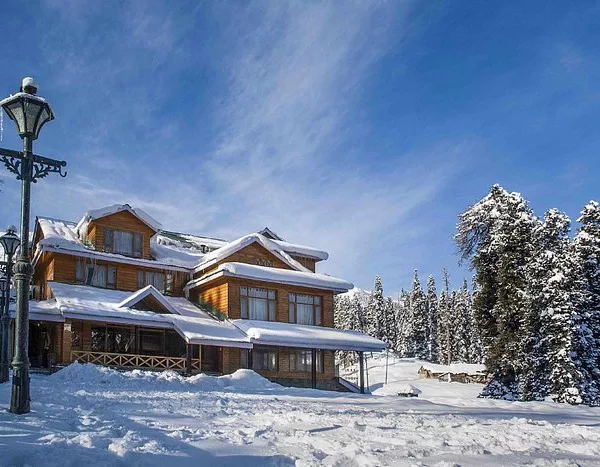 8. Heevan Retreat, Gulmarg
Heevan Retreat in Gulmarg offers a cozy and Luxurious Escape in the midst of snow-covered landscapes. The resort provides elegantly furnished rooms, a multi-cuisine restaurant, and a wellness spa. It's an excellent choice for both winter sports enthusiasts and summer explorers.
Luxury Experiences and Activities in Kashmir
Beyond Luxury accommodations, Kashmir offers a wide range of experiences and activities to make your visit truly unforgettable. Here are some recommendations:
1. Shikara Ride on Dal Lake: A Shikara ride on Dal Lake in Srinagar is an iconic experience. Glide along the serene waters, passing by Floating gardens and Houseboats while sipping on traditional Kahwa tea.
2. Gulmarg Gondola Ride: Take a ride on the Gulmarg Gondola, one of the highest operating cable cars in the world, for breathtaking views of the Himalayas. In winter, Gulmarg is a paradise for skiers and snowboarders.
3. Houseboat Stay: A stay on a traditional Houseboat on Dal Lake offers a unique perspective on life in Kashmir. Enjoy modern amenities while being surrounded by the peacefulness of the lake.
4. Visit the Mughal Gardens: Explore the Mughal Gardens of Shalimar Bagh, Nishat Bagh, and Chashme Shahi in Srinagar. These meticulously Landscaped gardens are a testament to Kashmir's historical connection with the Mughal Emperors.
Enjoy The Luxurious Kashmir
1. Traditional Kashmiri Cuisine: Indulge in authentic Kashmiri cuisine, including dishes like Rogan Josh, Dum Aloo, and the elaborate Wazwan feast, which is a culinary highlight of the region. Pair your meals with local Kahwa tea.
2. Sufi Concerts and Cultural Performances: Immerse yourself in the rich cultural heritage of Kashmir by attending Sufi concerts, traditional music and dance performances, and carpet-weaving demonstrations.
3. Adventure Activities: If you seek adventure, you can engage in activities like heli-skiing, trekking, paragliding, and river rafting in the region's pristine landscapes.
4. Visit Royal Palaces: Explore historic sites like the Royal Springs Golf Course and Pari Mahal, which showcase the region's royal heritage and architectural wonders.
5. Explore the Countryside: Consider taking a helicopter ride to visit awe-inspiring destinations like Gulmarg, Sonamarg, and Pahalgam. These locations offer varying experiences depending on the season, from lush greenery in spring to snow-covered wonderlands in winter.
16. Souvenir Shopping: Kashmir is renowned for its handicrafts, including Pashmina shawls, handwoven carpets, intricate woodwork, and exquisite jewelry. Explore upscale boutiques and showrooms to purchase authentic, high-quality souvenirs.
7. Relax at High-Altitude Spas: Many Luxury Tourism in Kashmir Resorts and hotels in Kashmir offer wellness centres and spas that provide traditional Ayurvedic treatments and relaxation options, allowing you to unwind and rejuvenate.
8. Seasonal Planning: Kashmir's beauty varies throughout the year. Spring and summer bring lush green landscapes and vibrant flowers, while autumn offers golden hues and crisp weather. Winter transforms the region into a snow-covered wonderland. Plan your trip according to your preferred season and the activities you wish to enjoy.
9. Stay Informed: Given the region's historical and political context, it's essential to stay informed about the latest travel advisories and safety recommendations before planning your trip to Kashmir. Always prioritize safety and security during your stay.
A Note on Safety and Travel Considerations
Kashmir's political situation has been a subject of concern, and it's important to monitor travel advisories and news updates before planning your visit. Always follow the advice and guidance of local authorities and your embassy or consulate. Ensure you have the necessary permits and documentation for your visit, particularly if you plan to explore areas close to the border.
Additionally, it's advisable to use reputable tour operators and local guides who are knowledgeable about the region and can provide valuable insights and assistance throughout your trip.
Luxury tourism in Kashmir is an extraordinary experience that combines the natural beauty of the region with opulent accommodations, exquisite cuisine, and a rich cultural tapestry. The Luxury hotels and resorts mentioned in this guide offer a glimpse into the world of comfort and indulgence that awaits travellers in Kashmir. Whether you're seeking adventure, relaxation, or cultural exploration, Our Luxury Tourism in Kashmir Packages have something to offer every type of Luxury traveller. Just remember to plan your trip carefully, stay informed about local conditions, and prioritize safety while enjoying the unparalleled beauty of Kashmir.
Also, Check Out How to Plan Your Trip to Kashmir?