Kokernag , Kashmir: A Natural Paradise
Situated among the Majestic Mountains of the Charming Kashmir Valley, Kokernag is a hidden gem that promises an unforgettable experience for every traveller. Known for its lush gardens, glistening springs, and captivating scenery, Kokernag has earned its reputation as an ideal tourist destination. Let's take a closer look at the enchanting beauty of Kokernag and why it should be at the top of your travel bucket list.
1. Kokernag : A Nature Lover's Haven
Kokernag is a Beautiful town located approximately 70 kilometres from Srinagar, the summer capital of Jammu and Kashmir. It is renowned for its captivating landscapes, encompassing the beautiful Jhelum River, snow-capped mountains, and verdant meadows. This charming town offers visitors a serene escape from the hustle and bustle of city life, making it an excellent destination for nature lovers.
2. The Crown Jewels of Kokernag
Kokernag is famed for its numerous natural springs, the most prominent being the Botanical Garden, also known as Kokernag Spring. This stunning spring gushes crystal-clear water from the ground and creates a small stream, providing an enchanting sight that will leave you in awe. The surrounding lush gardens and vibrant flowers add to the surreal beauty of the place, making it an ideal spot for picnics and leisurely strolls.
3. Verinag – The Origin of the Jhelum River
Adding to Kokernag's charm is Verinag, a place of immense historical and religious significance. It is here that the Jhelum River originates from the Verinag Spring. It is surrounded by Mughal-style gardens and a grand pavilion. The cool breeze and the melodious gurgling of water create a serene ambiance that calms the soul. Delighting history enthusiasts, the architectural wonder stands the test of time, as they learn about the Mughal emperor Jahangir's patronage.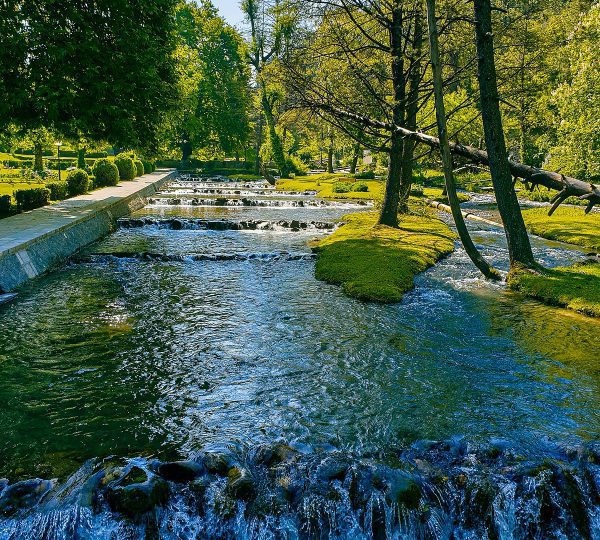 4. Kokernag's Enthralling Garden of Eden
The allure of Kokernag doesn't end with its springs and rivers; it is also home to the enchanting Kokernag Garden. It is  popularly referred to as the Garden of Eden. This well-maintained garden boasts an impressive collection of vibrant flowers, towering trees, and well-manicured lawns. As you meander through the pathways, the sweet aroma of flowers fills the air, creating a delightful sensory experience that will rejuvenate your senses.
5. Kokernag's Trekking Trails
For the adventure seekers, Kokernag offers an array of thrilling trekking trails that lead to panoramic viewpoints and hidden valleys. Embark on a journey through the pine forests and rolling meadows, where breathtaking vistas of the surrounding mountains await you as a rewarding experience. The trek to the nearby Tatakuti Peak, particularly popular, will etch an adrenaline-pumping adventure in your memory forever.
6. Kokernag's Warm Hospitality
Beyond its natural splendour, Kokernag embraces visitors with its warm hospitality and rich local culture. Interact with the locals, who are known for their friendliness and welcoming nature. Immerse yourself in the traditional Kashmiri cuisine, savouring mouth-watering dishes like Rogan Josh, Yakhni, and Kahwah tea. The local handicrafts, including intricately designed carpets and Pashmina shawls, make for unique souvenirs to take back home.
7. When to Visit Kokernag
Kokernag's climate is mild and pleasant throughout the year, making it an excellent destination for a vacation at any time. However, the best time to visit is during the summer months, from April to October, when the weather is perfect for outdoor activities and sightseeing. The winters bring a blanket of snow, transforming the landscape into a winter wonderland, creating a different yet equally mesmerizing experience for travelers.
Kokernag in Kashmir is a hidden paradise that captivates the hearts of all who visit. Its natural beauty, gushing springs, and welcoming ambiance make it an excellent choice for tourists seeking a memorable getaway. Whether you're an adventure enthusiast or a peace seeker, Kokernag offers something special for every traveler. So, pack your bags and set forth on an unforgettable journey to this enchanting haven in the lap of nature!
Read About Sinthan Top, The Range After Kokernag.