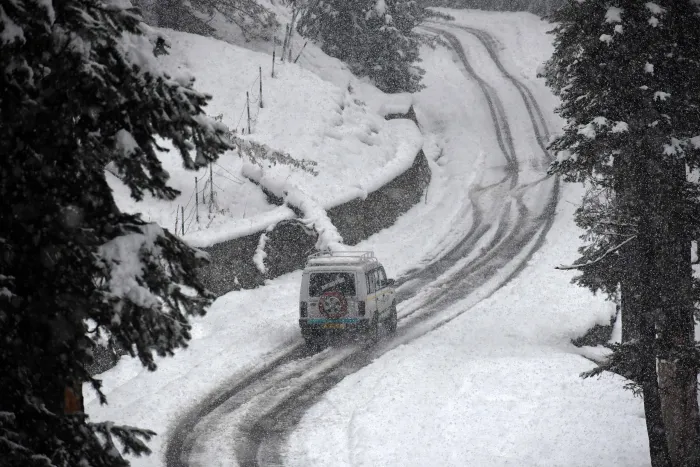 Kashmir Weather and Seasons: A Comprehensive Guide to the Climate of the Valley
Kashmir, often referred to as "Paradise on Earth," is not only renowned for its stunning landscapes but also for its diverse and captivating climate. Nestled in the northernmost part of India, this region experiences distinct seasons, each with its unique charm. From the breathtaking beauty of spring to the snow-covered wonderland of winter, Kashmir's weather and seasons are a source of fascination for travelers and locals alike. In this comprehensive guide, we will explore Kashmir's weather patterns, the timing of snowfall, and answer frequently asked questions about its climate.
Part I: Seasons in Kashmir
Spring (March to May)

Spring is undoubtedly one of the most enchanting seasons in Kashmir. The valley bursts into a riot of colors as almond, cherry, and apple blossoms bloom, creating an ethereal landscape. The temperatures gradually rise, and the snow begins to melt, filling the rivers and streams, making it an excellent time for outdoor activities like trekking and boating on Dal Lake.

Summer (June to August)

Kashmir's summer is a delightful escape from the scorching heat of the plains. The weather is mild and pleasant, with daytime temperatures ranging from 20°C to 30°C (68°F to 86°F). Summer is the peak tourist season, with visitors flocking to the region to enjoy its natural beauty, lush meadows, and clear blue skies. It's the ideal time for exploring the many gardens, hiking trails, and pristine lakes.

Autumn (September to November)

Autumn in Kashmir is known for its golden hues. The chinar trees, with their vibrant red and orange leaves, create a stunning contrast against the clear, blue skies. The weather remains pleasant, with temperatures gradually dropping as winter approaches. It's an excellent time for photography, and the famous Dal Lake is especially photogenic during this season.

Winter (December to February)

Winter in Kashmir transforms the region into a winter wonderland. The temperatures drop significantly, and heavy snowfall blankets the entire valley. The snow-capped mountains, frozen lakes, and cozy houseboats on Dal Lake create a magical atmosphere. Winter is perfect for winter sports enthusiasts, with Gulmarg being a popular destination for skiing and snowboarding.
Part II: When Does it Snow in Kashmir?
Timing of Snowfall

The timing of snowfall in Kashmir depends on the altitude and location within the region. Generally, snowfall starts in November and continues through February, with January being the coldest and snowiest month. Higher-altitude areas like Gulmarg and Sonmarg receive heavier snowfall, making them ideal destinations for winter sports. Srinagar, at a lower altitude, also experiences snowfall during this period, although it may not be as intense as in the surrounding hills.

Heavy Snowfall and Accessibility

Heavy snowfall can affect accessibility to certain areas of Kashmir. Roads, especially those leading to remote villages and tourist destinations, may become impassable. However, the government and local authorities work diligently to clear the roads and ensure the safety of residents and tourists. If you plan to visit Kashmir during the winter, it's advisable to check weather forecasts and road conditions in advance.

Houseboats on Dal Lake in Winter

A unique experience in Kashmir is staying in a houseboat on Dal Lake during the winter. These traditional houseboats are equipped with heating facilities to keep you warm and comfortable. The serene surroundings covered in snow and the experience of waking up to a winter wonderland on the lake are truly memorable.
Part III: Frequently Asked Questions about Kashmir Weather
Is Kashmir's weather suitable for year-round tourism?

Yes, Kashmir's weather is suitable for year-round tourism, but the best time to visit depends on your preferences. Summer (June to August) is ideal for pleasant weather and lush landscapes, while winter (December to February) offers a unique experience for snow enthusiasts. Spring and autumn also have their own charms, making Kashmir a year-round destination.

Are there any specific precautions to take during winter in Kashmir?

Yes, if you plan to visit Kashmir during the winter, here are some precautions to consider:

Dress in layers to stay warm.
Use appropriate winter gear, including insulated jackets, gloves, and boots.
Check weather forecasts and road conditions before traveling.
Be prepared for possible flight delays or cancellations.
Stay in accommodations with heating facilities.
Carry essentials like food, water, and emergency supplies when traveling to remote areas.

Is it possible to visit during the monsoon season?

While the monsoon season in Kashmir (July to September) isn't as intense as in some other parts of India, it can still bring occasional rain showers. If you don't mind occasional rain and are interested in experiencing the region during the off-season, you can visit Kashmir during this time. Just be prepared for some disruption to outdoor activities.

Can I witness snowfall in Srinagar and other major cities of Kashmir?

Yes, Srinagar and other major cities in Kashmir do receive snowfall during the winter months, particularly in December and January. However, the amount of snowfall may be less compared to higher-altitude areas like Gulmarg and Sonmarg.

What are the best winter activities to enjoy in Kashmir?

Kashmir offers a wide range of winter activities, including:

Skiing and snowboarding in Gulmarg.
Snowshoeing and trekking in the picturesque landscapes.
Ice skating on frozen lakes.
Sipping hot Kahwa (traditional Kashmiri tea) by a cozy fire in a houseboat.
Conclusion
Kashmir's weather and seasons are a testament to the region's natural beauty and diversity. From the vibrant colors of spring to the pristine white landscapes of winter, each season offers a unique and captivating experience. Whether you're a nature enthusiast, an adventure seeker, or simply looking for a tranquil getaway, Kashmir's climate and landscapes have something to offer year-round. Just remember to plan your visit according to your preferences and be prepared for the weather conditions, especially during the winter months when snowfall transforms the valley into a magical winter wonderland.