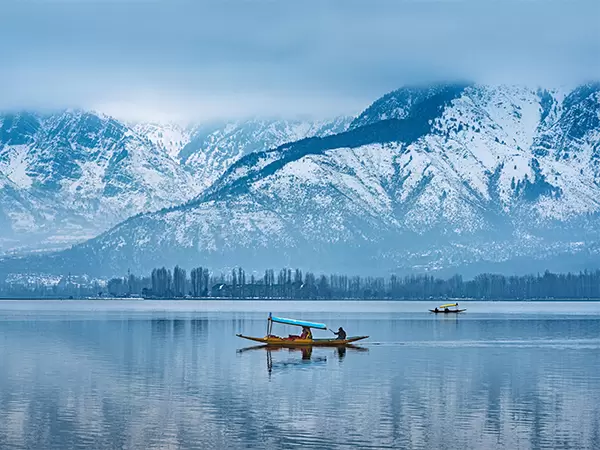 Kashmir in December 2023: Plan Your Trip to The Winter Wonderland
Kashmir, the crown jewel of India's natural beauty, takes on an otherworldly charm in December. This winter wonderland, cloaked in pristine snow, beckons travelers to embark on a journey of a lifetime. In this immersive guide to Kashmir in December 2023, we delve deep into the heart of this mesmerizing destination. From the weather and transportation to the best places to visit and thrilling activities, get ready for a comprehensive exploration of Kashmir's December allure.
Kashmir Weather in December
As you step into the enchanting world of Kashmir in December 2023, prepare to be greeted by a symphony of snowflakes. The temperature in Kashmir during this time of the year ranges from a chilly 1°C at night to a relatively warmer 21°C during the day. Mornings often drape the region in a gentle fog, adding to the ethereal ambiance. The average temperature hovers around 7-8°C, ensuring a crisp and refreshing winter experience.
Getting to Kashmir in December
Your quest to discover the magic of Kashmir in December 2023 begins with choosing the right mode of transportation. Fortunately, Kashmir offers several options to suit your preferences:
Public Transport: If you seek an authentic local experience, public buses operated by JKSRTC and private companies are readily available from Srinagar. They provide affordable and regular services, allowing you to connect with the heart of Kashmir.
By Flight: For a faster and more convenient journey, consider flying to Srinagar. The major airport here connects to various cities, including Delhi, Goa, Jammu, Leh, Mumbai, and Bangalore. Upon arrival, you can hire taxis to reach your desired destinations within Kashmir.
Via Private Taxi: If you value privacy and flexibility, hiring a private taxi is an excellent choice. These taxis are easily accessible in Srinagar, and you can even rent a car through a travel service. Explore the charming towns and cities of Kashmir at your own pace.
By Bike: Adventurous souls can opt for a bike journey through Kashmir's well-connected network of roads. The National Highway that links Srinagar to Jammu offers an exciting route for motorcycle enthusiasts.
Exploring Kashmir's December Delights
Kashmir's allure lies in its scenic wonders, and December unveils a unique tapestry of beauty. Here are a few must-visit destinations:
Dal Lake: Picture yourself gliding on a Shikara boat across the serene Dal Lake. This iconic experience captures the essence of a Kashmir holiday, and there's nothing more enchanting than planning a ride on these tranquil waters during your December visit.
Gulmarg: Renowned for its skiing opportunities, Gulmarg offers a plethora of adventures. Ride a cable car, hit the slopes for skiing, or embark on thrilling activities like skating and heli-skiing. The cable car ride here is an absolute must for panoramic views of the winter wonderland.
Sonmarg: In December, Sonmarg transforms into a sea of white, earning its nickname as the "golden beauty." Explore the breathtaking Thajiwas Glacier and Zero Point, where you can immerse yourself in the enchanting charm of golden meadows against the dusky winter backdrop.
Pahalgam: Your winter journey in Kashmir wouldn't be complete without pony riding and rafting in Pahalgam. Take a horse or pony ride to witness the majestic glaciers at their best and savor the mesmerizing Kashmiri climate in December.
Apart from these popular destinations, Kashmir offers hidden gems like Gurez, Lolab Valley, Chatpal, Reshwari, Daksum, Karnah, Warwan Valley, Watlab, Tulail Valley, and Bhaderwah, waiting to be explored.
Adventurous Escapades in Kashmir's Winter Wonderland
Kashmir in December 2023 invites adventure enthusiasts to partake in exhilarating activities:
Trekking in the Ranges of Kashmir: The valleys of Kashmir are a hub for trekking expeditions. Whether you're a seasoned trekker or a beginner, the mesmerizing meadows and exotic vistas will captivate your senses. With low costs and breathtaking views, trekking in Kashmir is an experience like no other.
Camping in the Valleys: December in Jammu and Kashmir offers the perfect camping experience. Trekking sites double as camping grounds, allowing you to bask in the beauty of the Himalayas. Pahalgam, in particular, is a favored spot for camping. Here, you can dance around campfires, sing melodies, pitch tents, and relish traditional or gourmet cuisine under the starry winter sky.
Skiing Adventures: With various skiing resorts in Kashmir, Gulmarg stands out as the ultimate skiing destination. Resorts like Khyber Himalayan Resorts and Spa, Gulmarg Resorts, The Pine Palace, Resort Gulmarg Backcountry Ski Resort, and Heevan Retreat Gulmarg offer diverse skiing experiences. December is the perfect time to carve through the snowy slopes of Kashmir, creating memories that will last a lifetime.
Jeep Safari and Sightseeing: Embark on a thrilling jeep safari to explore Kashmir's valleys. Witness the majestic peaks, indigenous wildlife, native flora, and the avian wonders of the hill ranges up close. Jeep safaris are suitable for all ages, making them a family-friendly adventure to include in your Kashmir tour package.
Heritage Walk: Immerse yourself in the rich history and traditions of Kashmir through a heritage walk. Discover traditional handicrafts, listen to captivating folklore, experience Kashmiri fabrics, and savor delectable traditional dishes. Knowledgeable guides can provide insights, and the open-air museum offers a glimpse into the hidden historical narratives of Kashmir and Srinagar.
Planning Your Kashmir Adventure in December
Traveling to Kashmir in December requires careful planning to ensure a smooth and enjoyable journey. Here are some essential tips:
Account for Delays: Due to heavy snowfall, be prepared for possible flight delays and road disruptions. Plan your itinerary with these potential delays in mind.
Check Road Accessibility and Weather Forecasts: Stay informed about road conditions and weather forecasts well in advance. This knowledge will help you plan your travel efficiently.
Choose Private Transport: Local transportation may not be convenient during winter. Booking a prepaid car or private taxi in advance for your entire December trip to Kashmir is recommended.
Bundle Up: With temperatures dropping as low as -10 degrees, pack ample warm clothing to stay comfortable. Kashmir's weather can be unpredictable, so packing extra layers is advisable.
Book Accommodations in Advance: Kashmir is a popular tourist destination, and December is prime travel time. Secure your hotel bookings in advance to avoid any last-minute hassles.
Know the Road Conditions: While the roads to most destinations remain clear thanks to snow-clearing machines, some areas like Gulmarg may be less accessible. However, this should not deter your plans, as there are plenty of other breathtaking places to explore in Kashmir during December.
Dos and Don'ts for a Pleasant Journey
Here are some dos and don'ts to ensure a smooth and enjoyable trip to Jammu and Kashmir:
Do's:
Local SIM Card: Request a local SIM card from your hotel, as your existing one may not work due to security restrictions in Kashmir.
Essentials: Carry essential items, including medicines, food, and water, to avoid inconveniences such as running out of medication or food supplies.
Passport for Foreign Travelers: If you are a foreign traveller, always carry your passport, as it may be required for entry into various places.
Respect Local Customs: When visiting holy places like mosques, ensure you cover your head as a sign of respect.
Don'ts:
Health Concerns: If you have asthma or a fear of heights, avoid visiting higher sections of destinations where these concerns may be exacerbated.
Excess Cash: Carrying excessive cash can be cumbersome and risky. Keep your cash to a reasonable minimum to ensure peace of mind throughout your trip.
Airport Photography: For security reasons, refrain from taking photographs at the international airport in Srinagar.
Late-Night Roaming: Avoid venturing out at unusual hours, as this can potentially lead to safety issues. Plan your outings during daylight hours.
Conclusion
A trip to Kashmir in December is not just a vacation; it's an enchanting odyssey into a world of natural beauty and adventure. India's crown jewel, Kashmir, beckons with its snowy landscapes, captivating culture, and thrilling activities. Don't miss this chance to explore Dal Lake's tranquil waters, conquer the slopes of Gulmarg, and immerse yourself in the timeless charm of Sonmarg and Pahalgam. With hidden gems like Gurez, Lolab Valley, and Chatpal waiting to be discovered, your December journey promises unforgettable memories.
The key to a successful Kashmir adventure in December lies in careful planning. Account for potential delays, check road conditions and weather forecasts, and book accommodations in advance. Embrace the beauty of Kashmir's winter wonderland with layered clothing, and choose private transport options for convenience. Remember the dos and don'ts to ensure a pleasant journey while respecting local customs.
In conclusion, embrace the magic of Kashmir in December 2023. If you miss this opportunity, you'll be missing out on an unparalleled experience. Customized, affordable Kashmir tour packages in December are readily available, making your winter escape both memorable and accessible.