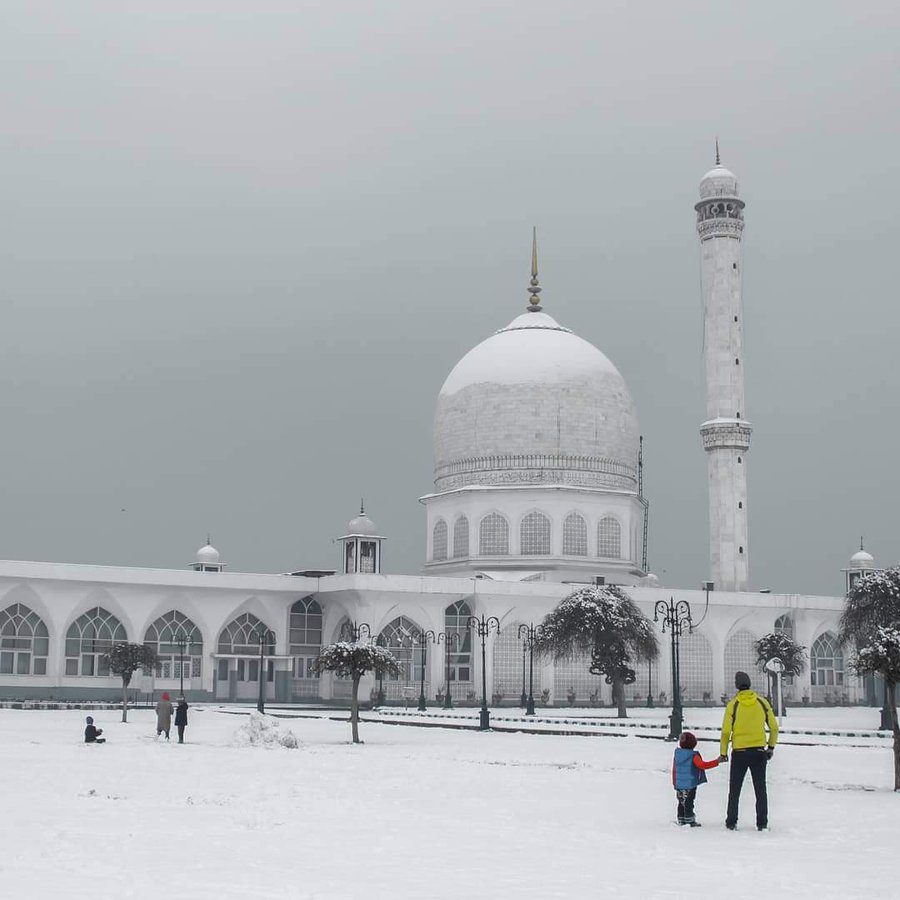 Hazratbal Shrine in Srinagar
Nestled on the banks of the beautiful Dal Lake, the Hazratbal is an iconic shrine and a symbol of faith, spirituality, and cultural heritage.
The Hazratbal Shrine houses a relic believed to be a strand of hair from the Prophet Muhammad, making it one of the most venerated sites in the region.
With its historical importance, architectural splendor, and serene surroundings, the Hazratbal Shrine continues to attract pilgrims and visitors, offering a glimpse into the rich Islamic traditions and the deep-rooted spiritual devotion of its followers.
History of Hazratbal Shrine
The Hazratbal Shrine, with its deep-rooted history, holds a significant place in the hearts of its devotees. Its origins can be traced back to the 17th century when the site was occupied by the Ishrat Mahal and a splendid garden. In 1623, under the orders of Shah Jahan's subedar Sadiq Khan, the palace and garden were constructed.
It was in 1634, during Shah Jahan's visit to Kashmir, that he decided to transform the palace into a place of worship. This marked the beginning of the mosque's journey as a revered spiritual site.
The Moi-e-Muqqadas in Harzatbal Shrine
The Moi-e-Muqqadas, a revered relic believed to be a strand of hair from the Prophet Muhammad, arrived in Kashmir in 1699. Initially, it was housed in the Naqashbad Sahib before finding its permanent home in Hazratbal.
The presence of this sacred relic has further enhanced the shrine's importance and attracted devoted followers from far and wide.
Architecture and Design
The Hazratbal Dargah Shrine is a beautiful blend of Mughal and Kashmiri architecture. The mosque has a white marble façade, while the dome is made of gold. The shrine is surrounded by lush gardens and overlooks the Dal Lake. The interior of the mosque is decorated with intricate calligraphy and designs.
Festivals and Celebrations
The Hazratbal Dargah Shrine hosts several festivals and celebrations throughout the year. The most significant event is the Eid-e-Milad-un-Nabi, which is celebrated with great fervor and enthusiasm. The shrine is illuminated, and special prayers are offered to mark the occasion. Other important festivals celebrated at the shrine include Eid-ul-Fitr and Eid-ul-Adha.
Visiting Hazratbal Shrine
Hazratbal Dargah Shrine is open to visitors of all religions and beliefs. However, visitors are required to follow certain guidelines and dress modestly. The shrine can be visited throughout the year, but the best time to visit is during the festivals and celebrations.
Hazratbal Dargah Shrine is a revered mosque in Jammu and Kashmir, known for its holy relic and beautiful architecture. The mosque is a significant religious site for Muslims and attracts visitors from all over the world. A visit to Hazratbal  is a must for anyone traveling to Srinagar, and the experience is sure to be a memorable one.
Read More: