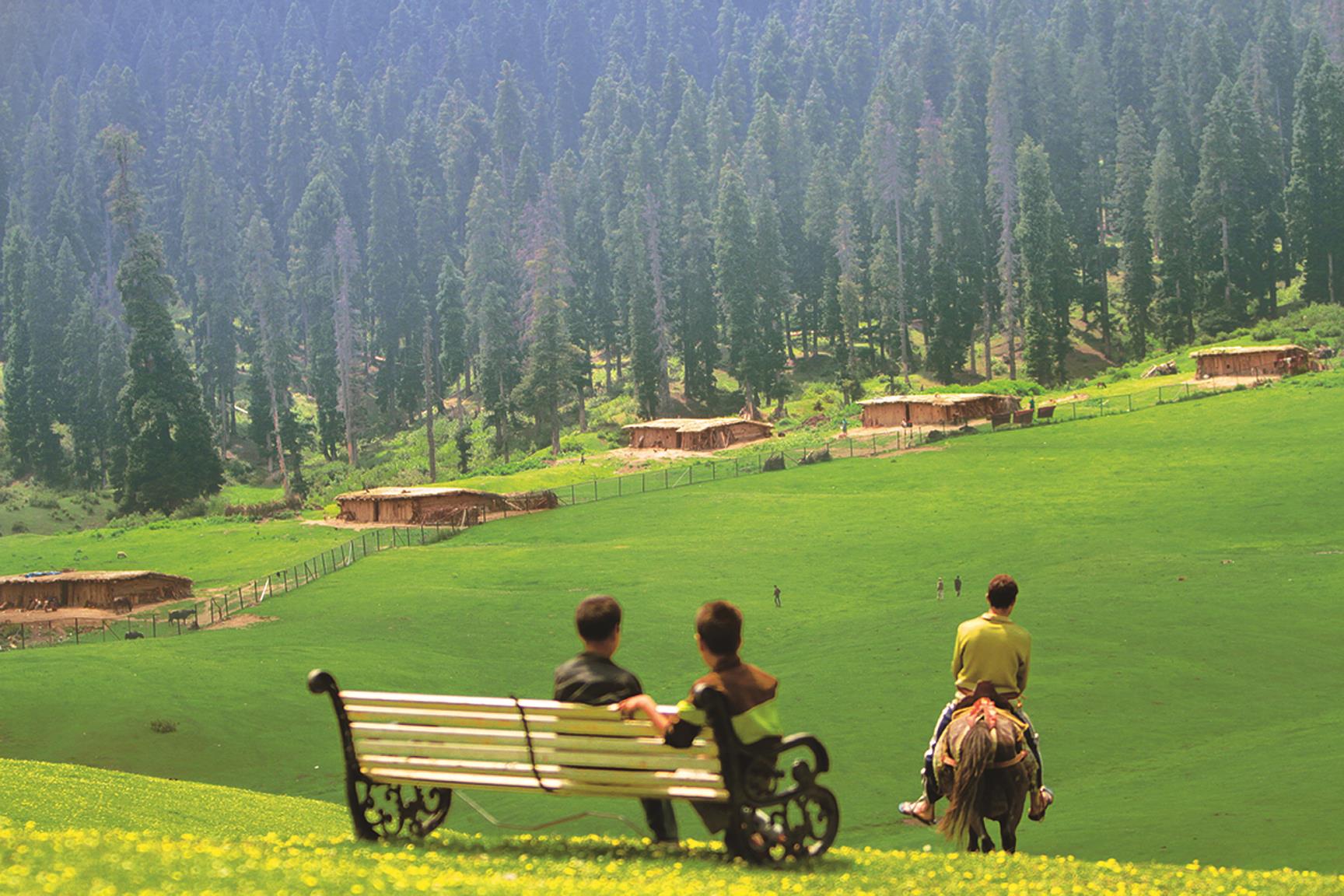 Nestled amidst the rolling hills of the Kashmir Valley, Doodhpathri is a picturesque meadow that is known for its breathtaking natural beauty and tranquil surroundings. The name Doodhpathri, which translates to 'valley of milk,' is derived from the fact that the meadow is surrounded by pristine white streams that look like flowing milk.
Doodhpathri is located at an altitude of 8,957 feet above sea level, and it is surrounded by lush green forests of pine and fir trees. The meadow is dotted with wildflowers, and during the summer months, it is covered with a carpet of vibrant pink and purple blossoms.
One of the highlights of Doodhpathri is the crystal-clear waters of the Doodhganga River that flows through the meadow. The river is home to numerous species of fish, making it a popular spot for fishing enthusiasts. Visitors can also enjoy a refreshing dip in the river or take a leisurely boat ride to explore the surrounding area.
Visitors to Doodhpathri can also indulge in a range of outdoor activities such as hiking, trekking, and camping. The meadow is surrounded by several scenic trails that offer breathtaking views of the surrounding mountains and valleys. The cool, crisp mountain air and the peaceful surroundings make it an ideal destination for those looking to escape the hustle and bustle of city life and unwind in the lap of nature.
Doodhpathri is a hidden gem in the Kashmir Valley that offers visitors a unique blend of natural beauty, cultural heritage, and outdoor adventure. Whether you're looking to go fishing, explore ancient temples, or simply enjoy a picnic amidst stunning natural scenery, Doodhpathri is a must-visit destination that is sure to leave you with memories that will last a lifetime.
How to Reach Doodhpathri
f you're planning a visit to Doodhpathri, here are some tips to help you make the most of your trip:
Getting there: Doodhpathri is located about 42 km from Srinagar, the capital city of Jammu and Kashmir. The best way to get there is by car or taxi. You can hire a taxi from Srinagar, and the journey takes approximately 2 hours.
Best time to visit: The best time to visit Doodhpathri is during the summer months between May and September when the weather is pleasant and the meadow is covered in wildflowers. However, if you're looking to experience the beauty of the snow-capped mountains, then the winter months between December and February are the best time to visit.
Accommodation: Doodhpathri does not have any hotels or guesthouses, so if you're planning to stay overnight, you'll need to make arrangements in advance. The nearest town with accommodation facilities is Budgam, which is about 25 km from Doodhpathri.
Activities: There are several outdoor activities that you can enjoy in Doodhpathri, including hiking, trekking, camping, and fishing. You can also explore the ancient temples and shrines that are located in and around the meadow.
Essentials: When visiting Doodhpathri, it's important to carry warm clothing, especially during the winter months, as the temperature can drop below freezing. It's also a good idea to carry a first aid kit, sunscreen, and insect repellent.