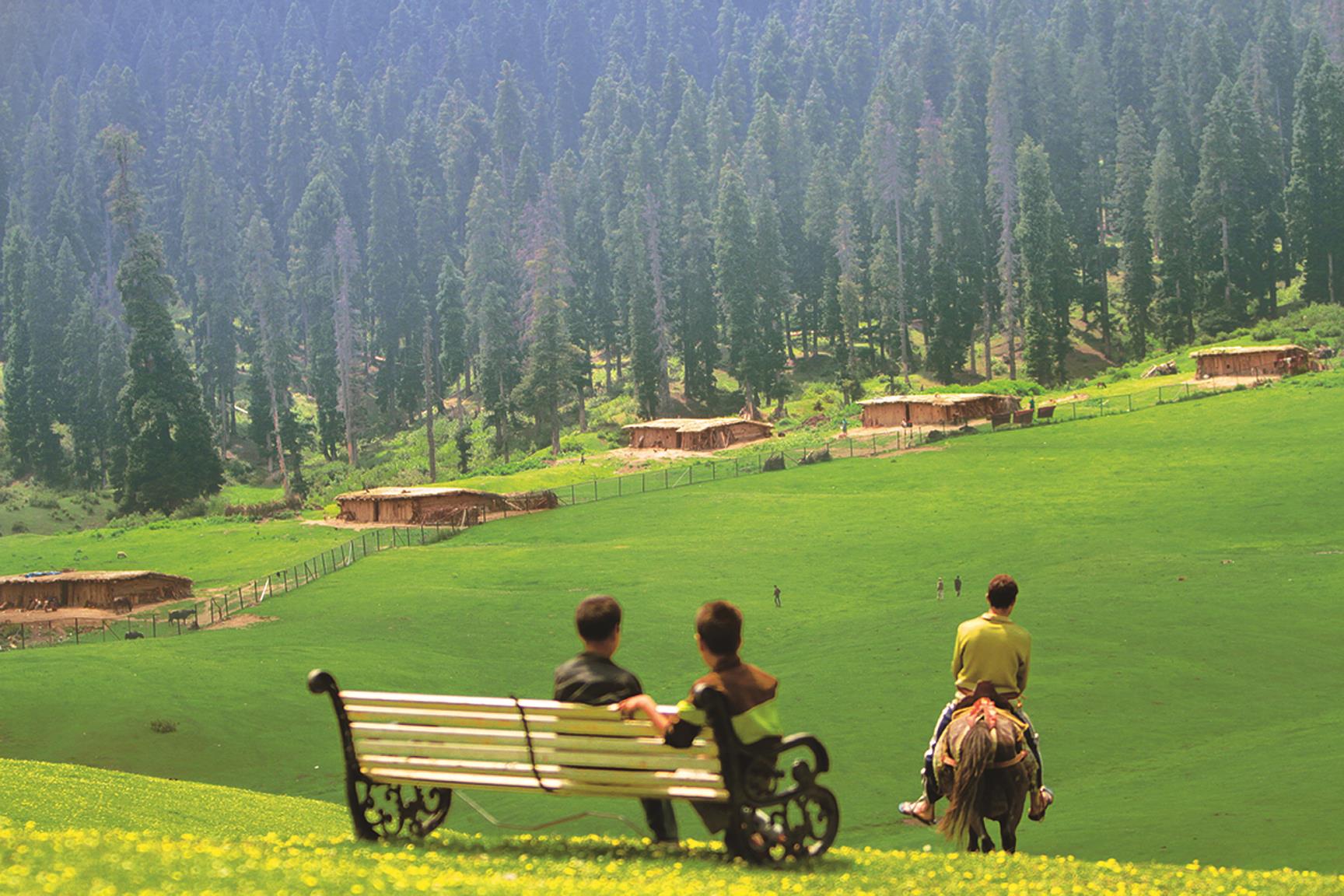 Doodhpathri is a tourist destination and a hill station located in the Khansahib tehsil of the Budgam district of Jammu and Kashmi, Doodhpathri is an emerging tourist destination that has been attratcting travellers with its unmatched beauty and Rich cultural Heritage. The name "Doodhpathri" translates to "Valley of Milk" in Kashmiri, and the area's compelling history is interwoven with legends of saints, pastoral life, and breathtaking landscapes. In this blog, we'll take you on a virtual journey to Doodhpathri, a destination that offers a peaceful retreat focused on the beauty of nature and a unique opportunity to experience the local way of life.
Doodhpathri: A Historical Perspective
The name "Doodhpathri" was bestowed upon this enchanting locale by one of Kashmir's revered Sufi saints, Sheikh Noor-ud-Din Noorani, commonly known as Nund Rishi (RA) or Alamdar Kashmir. The folklore surrounding the name suggests that while searching for water to pray, Nund Rishi struck his staff into the ground, and instead of water, milk flowed from the earth. This miraculous event eventually led to the region being named "Valley of Milk". Even today, when you observe the clear waters of Shaliganga River from a distance, they maintain their milky white appearance.
However, a more plausible explanation lies in the region's historical abundance in milk production, further emphasizing the name's relevance.
The Natural Beauty of Doodhpathri
Doodhpathri is a breathtaking region present in the Pir Panjal range of the Himalayas, surrounded by snow-clad mountains. The landscape is characterized by vast grassy slopes adorned with colourful wildflowers, creating a beautiful view that is a true treat for the eyes. Pine and deodar forests blanket the meadows, making it a perfect destination for nature lovers. During the winter months, the entire area transforms into a winter wonderland, covered with a Pure blanket of snow. In the spring and summer seasons, the meadows come to life with the bloom of wildflowers like daisies and buttercups.
A Place without Permanent Settlements
Doodhpathri is unique in that it doesn't boast any permanent settlements. During the summer months, shepherds from Budgam bring their cattle to graze in Doodhpathri and stay there temporarily for about six months. In contrast, the heavy snowfall during winter renders the region inaccessible. In recent times, efforts have been made to keep the area accessible during the winter, with discussions about turning it into a ski resort and providing ski equipment rental services. This has opened up opportunities for winter tourism and created employment prospects for the locals.
How to Get to Doodhpathri
The journey from Srinagar to Doodhpathri is a scenic delight, offering Lovely views of valleys, waterfalls, orchards, and meadows. It takes around two hours to reach by road, and there are popular stopovers along the way, including Tangnar, Mujpathri, and Palmaidan.
Tangnar, just two kilometers before Doodhpathri, is a Lovely gorge lined with pear trees, pine-deodar forests, and rolling hills. It provides a peaceful pitstop to enjoy the beauty of nature.
Mujpathri, known as the "Valley of Turnips", is a small village located three kilometers from Doodhpathri. The peaceful sounds of the Shaliganga river flowing through Mujpathri add to its charm.
Palmaidan, meaning "big boulder ground", features huge ancient rocks and a stream meandering through it. During the summer, shepherds camp here with their herds, offering a glimpse into the pastoral life of the region.
Other Nearby Attractions
Apart from Doodhpathri, the vicinity offers other attractions such as the meadows of Dikshal, which provide breathtaking views of Ashtaar glacier, and Yusmarg with its lush green pastures. The Shaliganga and Doodhganga rivers contribute to the milky waters that earned Doodhpathri its name, the "Valley of Milk".
When to Visit Doodhpathri
The ideal time to visit Doodhpathri depends on your preferences. If you're a fan of snowfall, December to January is the best time to go. However, if you're more interested in witnessing the meadows in full bloom, plan your visit between April and July. Due to limited accommodation options in Doodhpathri, many tourists choose to stay in Srinagar, just a two-hour drive away. It's advisable to carry your food and water due to the scarcity of settlements in Doodhpathri. The weather can be unpredictable, so dressing warmly is a must. If you're short on time, a day trip to see the main sights is recommended.
Doodhpathri vs. Other Tourist Spots
Doodhpathri distinguishes itself from other Kashmiri tourist spots by offering a more peaceful experience focused on the beauty of nature rather than adventure sports. While destinations like Gulmarg are known for winter sports and Sonmarg attract skiing enthusiasts, Doodhpathri remains a hidden gem tucked away in the paradise of Kashmir. Its natural landscapes, rich biodiversity, cultural heritage, and adventure opportunities make it a unique destination throughout the year.
Exploring Doodhpathri
One of the unique aspects of Doodhpathri is the opportunity it provides to interact with local residents. While in Doodhpathri, you can experience the hospitality of the residents, who often sell Kashmiri Nun Chai (salty tea) and butter-laced maize bread along the roads. This interaction allows you to get a firsthand look at how the pastoral communities live in hutments and what they eat. Some of them even sell tea and other items from their hutments.
Cultural and Natural Experiences
Doodhpathri offers more than just natural beauty. The valley is home to numerous Himalayan bird species like the Himalayan Monal, Golden Oriole, and Kashmir Flycatcher. You can also find remnants of ancient Hindu temples, such as the Naga Mandir dedicated to Lord Shiva, reflecting the rich history of the region. The waters of the Shaliganga river are believed to possess miraculous healing properties, adding an intriguing layer to the region's allure.
In the winter, Doodhpathri transforms into a snowy paradise, offering activities like skiing, snowboarding, and snowman-building. And, at night, the lack of light pollution and high altitude make it an ideal destination for stargazing. The night sky in Doodhpathri is a stargazer's dream, with sparkling constellations, galaxies, shooting stars, and even the Milky Way on clear nights.
Responsible Tourism
Efforts are underway to develop Doodhpathri while preserving its ecological balance. Voluntary groups educate visitors about responsible tourism, and waste management initiatives have been initiated. It's essential for tourists to cooperate and participate in these efforts to protect the local biodiversity and culture.
Exploring the Unmarked Trails
Doodhpathri's unmarked trails offer exciting opportunities for exploration. Wander along these trails, and you'll discover gurgling streams, hidden waterfalls in valleys, weeping willows, and clearings covered in wildflowers. Maps and guided tours are available for those who want to navigate these trails.
A Land of Legends and Stories
Interacting with local inhabitants provides insights into the regional culture and heritage. Trading stories while sitting around a bonfire is a wonderful way to hear interesting tales and gain a deeper understanding of the place.
A Hidden Gem
For travelers looking to escape the crowds and experience the untouched beauty of nature, Doodhpathri is the perfect destination. The peace and serenity offered by Doodhpathri make it an ideal location for those seeking respite from urban life.
Conclusion
Doodhpathri stands as a symbol of Kashmir's timeless ethos, offering an exquisite blend of natural beauty, rich folklore, cultural heritage, and adventure. As more travelers discover the allure of Doodhpathri, the region's unique charm continues to shine brightly. This hidden gem, tucked away in the paradise of Kashmir, promises an authentic and immersive experience for those who seek nature's beauty and a glimpse into the local way of life. Doodhpathri is a destination that awaits to be discovered off the beaten path, where the land once flowed with milk, now blossoms into a valley that sustains life, heritage, and unforgettable experiences.
Also, Read Mountains Of Kashmir.