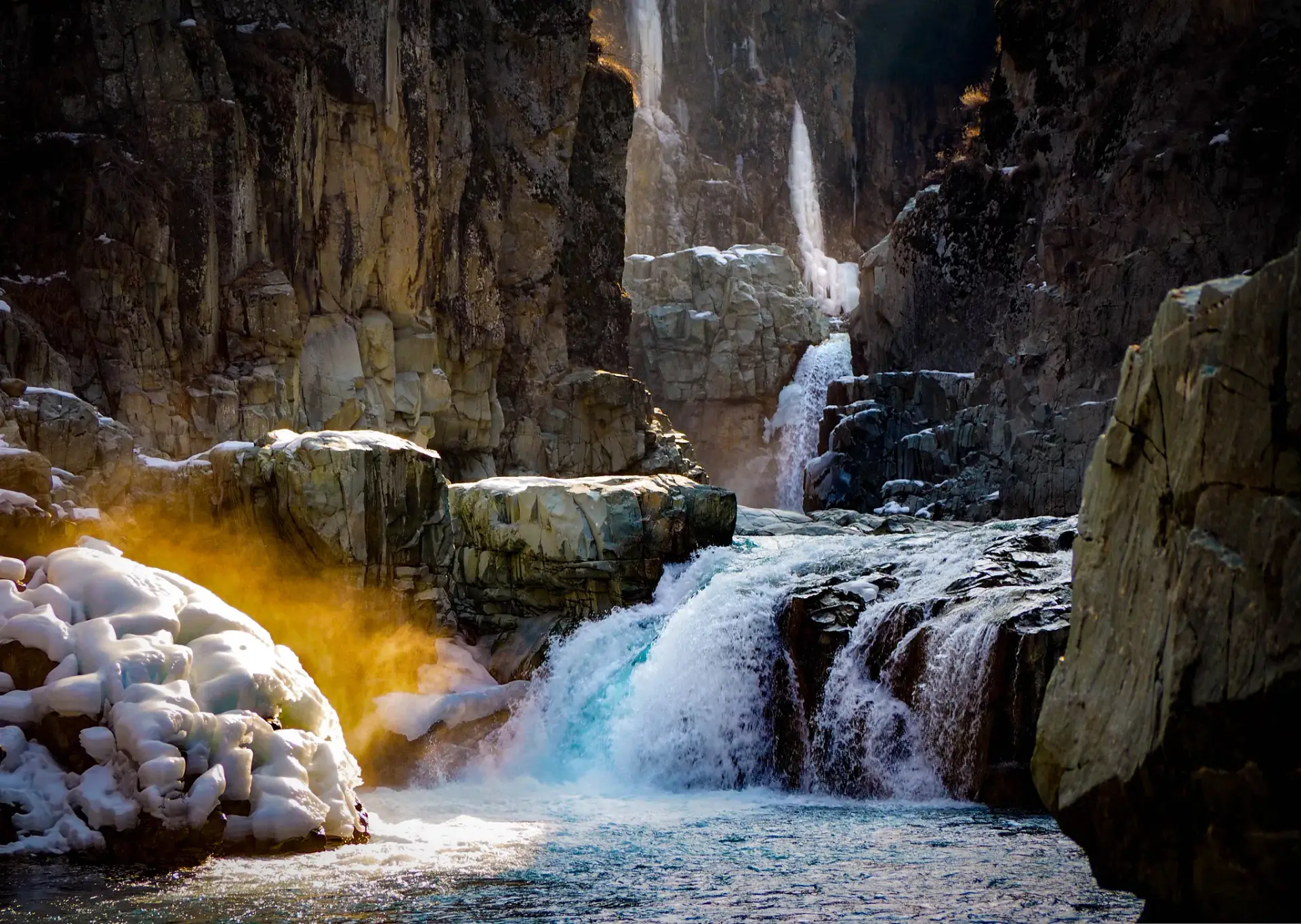 Aharbal Waterfall in Kashmir
Aharbal Waterfall, often referred to as the "Niagara Falls of Kashmir", is a hidden gem that sits quietly in the lap of The Beautiful Kashmir Valley. Located just 70 kilometers from the bustling city of Srinagar, Aharbal remains an unspoiled Paradise, overshadowed by more popular tourist destinations in the region like Sonamarg, Gulmarg, and Pahalgam. This article is your ultimate travel guide to Aharbal Waterfall, providing you with all the information you need to plan a memorable visit to this breathtaking location.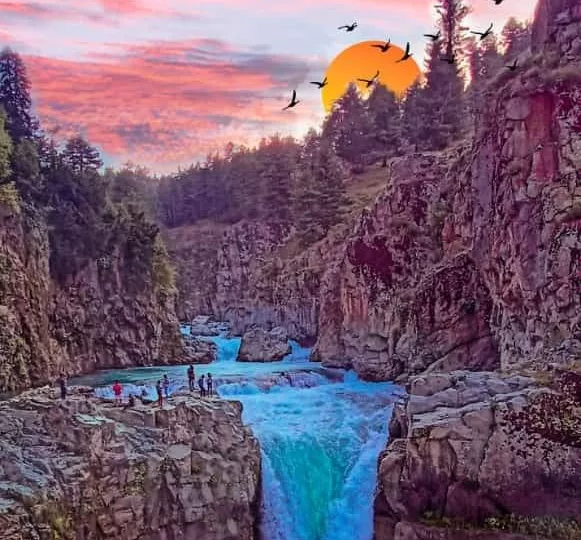 About Aharbal Waterfall
Aharbal is a small, Peaceful village situated in the Kashmir Valley, approximately 70 kilometers from the heart of Srinagar and just 15 kilometers from the town of Shopian. This village is most renowned for its Stunning waterfall, often dubbed as the "Niagara Falls of Kashmir". The waterfall derives its name from the village and is formed as the Veshaw River, also known as Nallah Veshaw, flows through a narrow granite gorge. The water cascades in three distinct stages, creating a spectacle that's both awe-inspiring and serene.
The first of the falls is relatively modest, meandering gently through massive rocks. It's almost as if the water is merely flowing between the boulders. The second fall, slightly higher, forms a pool-like area right beneath it, offering a breathtaking sight. Finally, the third fall, the highest and most thunderous of them all, adds an element of drama to the landscape.
The entire setting, featuring the village and the waterfall, is idyllic and ideal for various activities such as trekking, photography, fishing, and simply soaking in the natural beauty. Even if you choose to do nothing, the experience of sitting by the river, surrounded by colossal rocks, and watching the water cascade is truly rewarding.
The river that gives birth to this magnificent waterfall is known by several names, including Veshu River, Veshaw River, or Veshaw Nallah. During the winter months, when the river's waters freeze, the waterfall transforms into an even more enchanting spectacle.
How to Reach Aharbal Waterfall
Aharbal Waterfall is accessible solely by road from Srinagar. The most convenient mode of transportation is by private vehicle or taxi, though public transport options are also available, including buses and shared cabs.
To reach Aharbal, your journey must begin in Srinagar. If you're traveling in your private vehicle, you can take the Jammu-Srinagar highway, NH44, which leads directly to Srinagar. Alternatively, you can opt for the Mughal Road, a Beautiful route that passes through Rajouri, Peer Ki Gali, and Shopian.
For travellers without a personal vehicle, Srinagar is well-connected to the rest of the country via air, train, and bus services. Regardless of your starting point, reaching Srinagar is easily accomplished by flying or taking a train.
For a more detailed guide on traveling to Srinagar, please refer to the article "How to Plan a Trip to Kashmir".
How to reach Aharbal Waterfall from Srinagar
Once you've reached Srinagar, reaching Aharbal is a straightforward journey. Whether you're driving your vehicle or renting a cab or motorcycle, there are two primary routes to choose from:
Via Shopian
If you opt for the Shopian route, your journey from Srinagar will take you through Pulwama. You can choose either the internal road via Nowgam or the route via NH44. The former route is a single-lane road with significant traffic, while the latter involves traveling on NH44 with less traffic. Both routes are comparable in terms of travel time. Upon reaching Pulwama, you'll proceed directly to Shopian, passing through the town, and then turning left towards Aharbal.
The total distance for this route is approximately 65 kilometers, with travel time ranging from 2 to 3 hours, depending on traffic. The last 15 kilometers involve a steep ascent, while the preceding 50 kilometers are mostly flat until Shopian.
Via Kulgam
The second route passes through Kulgam and is slightly longer in terms of distance and travel time. Starting from Srinagar, you'll exit the city and access NH44, also known as the Jammu-Srinagar highway. You'll stay on NH44 for the initial 50 kilometers, crossing Awantipora along the way, and continuing towards Anantnag. Approximately 10 kilometers before reaching Anantnag is the village of Bijbehara, where you'll depart from the highway, turning right towards Kulgam. The road to Kulgam, around 20 kilometers in length, is relatively flat.
Aharbal is situated about 26 kilometers from Kulgam, with the road beginning to incline during this segment. You'll pass through a few more small villages before arriving at Aharbal. In total, this route covers approximately 100 kilometers, with travel time spanning 3 to 4 hours, contingent on traffic conditions and speed.
Which Route to Choose?
Your choice of route largely depends on your preferences and circumstances. For a well-rounded experience, consider taking the Shopian route to Aharbal and returning via Kulgam. This comprehensive day trip will enable you to explore lesser-known areas of Kashmir and capture the beauty of both routes.
If you're in a hurry or have limited time, opt for the Shopian route, which is shorter and more accessible. Alternatively, the Kulgam route, despite its slightly longer distance, offers a more extended drive through scenic landscapes.
By Private Taxi
For a comfortable and convenient journey to Aharbal Waterfall, hiring a private taxi is an excellent option. Many local taxi operators in Srinagar provide services for a round trip to Aharbal. It's advisable to negotiate the fare beforehand and ensure that you have a reliable driver who knows the route well. Private taxis also allow you to make stops along the way for sightseeing or capturing memorable photographs.
Srinagar to Aharbal Shared Taxi
If you're traveling on a budget, shared taxis are a cost-effective way to reach Aharbal. These shared cabs operate from Srinagar and are available at designated taxi stands or locations. However, you may need to wait until the vehicle fills up with passengers before it departs. Shared taxis usually follow a fixed schedule and route, so confirm the departure times and locations in advance.
Srinagar to Aharbal Waterfall by Bus
Another economical choice is traveling to Aharbal by bus. Public buses operate from Srinagar to Shopian, from where you can find local transport to Aharbal. Keep in mind that public buses can be crowded and might not adhere to a fixed schedule. It's advisable to inquire about the departure times from the local bus stand in Srinagar. Although this is the most budget-friendly option, it may not be the most comfortable.
By Air
Srinagar International Airport, also known as Sheikh-ul-Alam Airport, is the nearest airport to Aharbal. This airport is well-connected to major cities in India, making it a convenient entry point for travelers. Upon landing at the airport, you can choose to hire a taxi or use public transport to reach Aharbal, following the routes previously mentioned.
By Train
The nearest railway station to Aharbal is the Jammu Tawi Railway Station, located approximately 285 kilometers away. From the railway station, you can proceed to Aharbal by hiring a taxi or using a combination of train and road transport. The train journey itself is a scenic route through the Jammu and Kashmir region.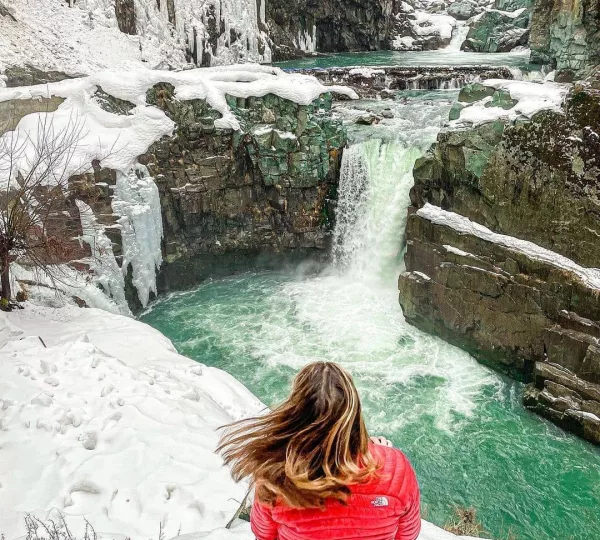 Aharbal in Winter
Aharbal transforms into a winter wonderland during the cold months, as temperatures drop significantly, and the region receives snowfall. The waterfall and surrounding landscapes are covered in a thick blanket of snow, creating a breathtaking vista. If you enjoy snowfall and serene, snowy landscapes, visiting Aharbal in winter is a unique and magical experience. Be sure to check road conditions and weather forecasts, as heavy snowfall may impact accessibility.
What to See at Aharbal
Veshaw River: The primary attraction at Aharbal is, of course, the stunning waterfall. Spend time by the river's edge, admiring the cascading waters and the natural beauty that surrounds it. You can take a leisurely stroll along the riverbank, capturing the mesmerizing scenery with your camera.
Other Side of the Village: Exploring the village of Aharbal is an experience in itself. The quaint houses, lush apple orchards, and the warm hospitality of the locals make this village an ideal place to experience the true culture of Kashmir. Be sure to taste the local cuisine and savor the unique flavors of the region.
Kausar Nag Lake: For the adventurous souls, a trek to Kausar Nag Lake is a must. The trek to the lake offers a different perspective of the region's beauty. Surrounded by alpine meadows, the lake is a serene and picturesque spot, perfect for a day's outing.
Peer ki Gali Pass / Mughal Road: For those interested in history and culture, the Peer ki Gali Pass, also known as the Mughal Road, is a historical route that connects Srinagar to Rajouri and Poonch. This ancient path was used by the Mughals and their armies.
Kungawatan: This nearby area is worth exploring for its natural beauty. The journey to Kungawatan involves a scenic drive through dense forests and pristine landscapes.
Things to Do at Aharbal
Trekking: Aharbal offers several trekking opportunities for adventure enthusiasts. Trek to Kausar Nag Lake or explore the surrounding hills and forests. The lush greenery and tranquil environment make it an excellent destination for trekkers.
Fishing: The Veshaw River is home to various fish species, and fishing is a popular activity in the region. You can try your hand at fishing and even cook your catch in a traditional Kashmiri style.
Photography: Whether you're a professional photographer or a casual enthusiast, Aharbal's natural beauty offers endless photographic opportunities. From the waterfall to the snow-covered landscapes in winter, every season has its unique charm.
Where to Stay
Aharbal offers limited accommodation options, primarily in the form of guesthouses and budget hotels. These are basic but provide all the necessary amenities for a comfortable stay. It's advisable to book your accommodation in advance, especially if you plan to visit during the peak tourist season.
Some of the options for lodging in Aharbal include:
Hotels in Aharbal
Hotel Pine View Aharbal: This hotel is known for its clean rooms and friendly staff. It's one of the popular choices among travelers.
Forest Hut Guest House Aharbal: Offering a more rustic experience, the Forest Hut Guest House is perfect for nature lovers. The surroundings are serene, with lovely views of the forest.
Please keep in mind that while these accommodations provide a cozy place to stay, they might not offer all the modern luxuries you'd find in larger cities. It's essential to embrace the natural and rustic charm of Aharbal.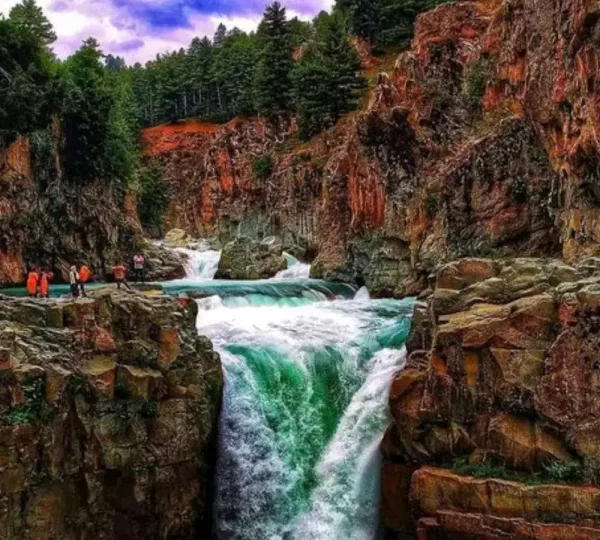 Best Time to Visit Aharbal Waterfall
The ideal time to visit Aharbal largely depends on your preferences and what you wish to experience:
Summer (May to September): During the summer months, the weather is pleasant and ideal for outdoor activities like trekking, fishing, and exploring the region. The waterfall is at its full glory, making it a mesmerizing sight.
Winter (October to April): Aharbal in winter transforms into a winter wonderland, with the entire area covered in snow. If you're fond of snowfall and serene, snowy landscapes, this is the best time to visit.
Aharbal Waterfall Itinerary
Here's a suggested itinerary for your trip to Aharbal:
Day 1:
Depart from Srinagar early in the morning.
Choose your route – either via Shopian or Kulgam.
Arrive at Aharbal Waterfall and spend your day exploring the waterfall, taking photographs, and enjoying the scenic surroundings.
Explore the village of Aharbal, taste local cuisine, and interact with the friendly locals.
If you have time, visit nearby places like Kausar Nag Lake or Kungawatan.
Overnight stay at your chosen accommodation.
Day 2 (Optional):
If you wish to extend your trip, consider spending an extra day exploring the area.
Go for a trek to Kausar Nag Lake or explore the nearby forests and hills.
Enjoy more fishing or photography opportunities.
Depart for Srinagar in the evening or early morning the next day.
Mobile Connectivity
Mobile connectivity in Aharbal might be limited, and you may experience fluctuations in network availability. It's advisable to check with your service provider for connectivity options in this area. It's also a good idea to inform your family or friends about your travel plans in advance.
Weather of Aharbal
Aharbal experiences distinct weather conditions throughout the year. Here's a brief overview of what to expect in different seasons:
Aharbal Waterfall in January, February, and March
During the winter months, Aharbal is covered in a thick layer of snow. The waterfall and surrounding areas are transformed into a mesmerizing winter wonderland. Snowfall can make the journey challenging, so be prepared for cold weather and potential travel disruptions.
Aharbal Waterfall in April, May, and June
Spring marks the beginning of the tourist season in Aharbal. The snow begins to melt, revealing lush green landscapes and the full splendor of the waterfall. The weather is pleasant and ideal for outdoor activities.
Aharbal Waterfall in July, August, and September
Summer is the peak tourist season in Aharbal. The weather is warm and inviting, making it a perfect time for exploring the area, trekking, and enjoying the natural beauty.
Aharbal Waterfall in October, November, and December
As autumn arrives, the region starts to cool down, and the landscapes are bathed in vibrant autumn colors. The snow begins to return by late October, setting the stage for the upcoming winter season.
Other Tips
Road Condition: The roads leading to Aharbal can be narrow and winding, especially during the last leg of the journey. Drive cautiously and avoid speeding.
Banks/ATM near Aharbal Waterfall: There are limited banking facilities in Aharbal. It's advisable to carry enough cash with you for your trip. The nearest ATM facilities can be found in the towns of Shopian or Kulgam.
Mechanic / Petrol Pump: If you're traveling in your private vehicle, ensure it's in good condition before embarking on your journey. There are petrol pumps in Shopian and Kulgam for refueling, but it's best to carry some extra fuel in containers.
Medical Facilities: In case of any medical emergency, basic healthcare facilities can be found in Shopian. It's advisable to carry a small first-aid kit with essential medicines.
Where to Eat: There are limited eating options in Aharbal, with local eateries serving traditional Kashmiri cuisine. Ensure that you try the local flavors and savor the unique dishes.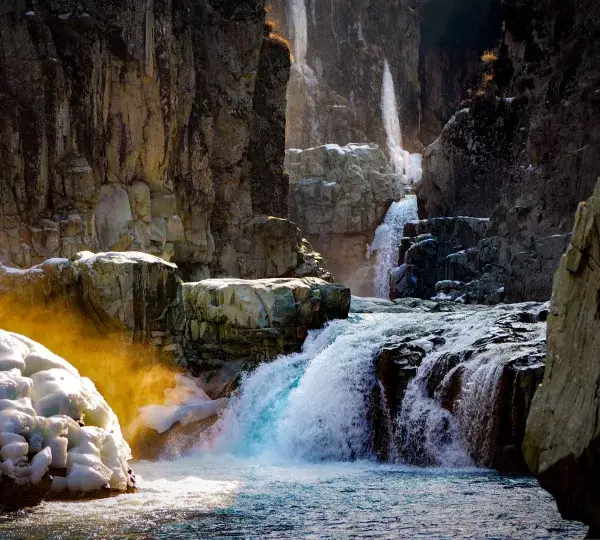 Aharbal Waterfall Altitude
The altitude of Aharbal Waterfall is approximately 2,240 meters (7,350 feet) above sea level. While it's not extremely high, you may still experience a change in altitude, so keep this in mind if you have altitude-related health concerns.
FAQs
Why Visit Aharbal Waterfall?
Aharbal Waterfall is a hidden gem in the Kashmir Valley, offering a tranquil escape from the bustling city life. The waterfall, set against a backdrop of lush landscapes, is a visual delight and a paradise for nature enthusiasts and photographers.
Is Aharbal Safe?
Aharbal is generally considered safe for tourists. However, like any travel destination, it's essential to exercise common-sense safety measures. Respect the local culture and customs, and take care of your belongings.
How far is Aharbal from Srinagar?
Aharbal is approximately 70 kilometers from Srinagar. The journey by road can take anywhere from 2 to 4 hours, depending on the route and traffic conditions.
Srinagar to Aharbal Taxi Fare
The taxi fare from Srinagar to Aharbal varies depending on the type of vehicle, the time of year, and your negotiation skills. It's advisable to discuss the fare with the taxi driver before starting your journey.
Aharbal Waterfall is on Which River?
Aharbal Waterfall is formed by the Veshaw River, also known as Nallah Veshaw, as it flows through a narrow granite gorge.
Where is Aharbal located in Kashmir?
Aharbal is located in the Indian-administered union territory of Jammu and Kashmir, specifically in the Kashmir Valley. It's approximately 70 kilometers south of Srinagar.
Is Aharbal Worth Visiting?
Aharbal is absolutely worth visiting for travellers who seek serenity, natural beauty, and a break from the hustle and bustle of daily life. The stunning waterfall, charming village, and surrounding landscapes make it a captivating destination for nature lovers and adventure enthusiasts.
Conclusion
Aharbal Waterfall in Kashmir, with its awe-inspiring natural beauty, is a destination that deserves a place on your travel bucket list. This hidden gem offers a unique opportunity to experience the unspoiled side of Kashmir, away from the crowds of more popular destinations. Whether you're an adventure enthusiast, nature lover, photographer, or simply looking for a peaceful getaway, Aharbal has something special to offer. Plan your visit to Aharbal, and you'll discover why it's often referred to as the "Niagara Falls of Kashmir".
Also, Read Mountains in Kashmir