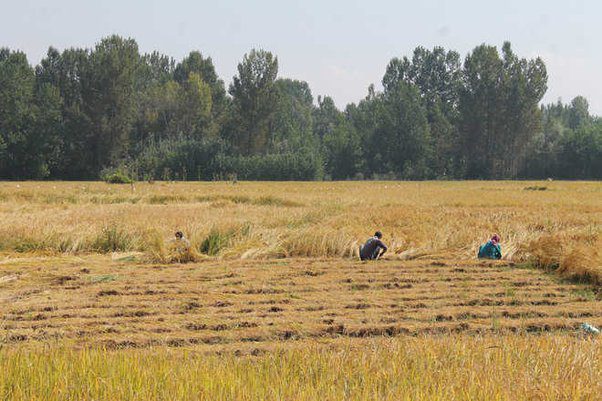 Rice Bowl of Kashmir (Kulgam)
Kulgam is a district located in the southern part of Kashmir valley, known as the "Rice Bowl of Kashmir". The region is 60 Kms away from the capital Srinagar is blessed with abundant natural resources, including fertile land, rivers, and streams that make it one of the most agriculturally productive areas in the state of Jammu and Kashmir. The district's economy primarily revolves around agriculture, with rice cultivation being the most prominent crop. The district is renowned for producing high-quality Basmati rice that is exported worldwide.
Kashmir Valley
Kulgam's agriculture sector is a significant contributor to the district's economy, employing a large percentage of the local population. The region has a long history of rice cultivation, with farmers relying on traditional methods of farming. The district's terrain is perfect for rice cultivation, with vast paddy fields and the availability of water throughout the year. The rice fields in Kulgam are irrigated through a complex network of canals and streams, making it possible to cultivate rice twice a year.
Kashmir Represented Worldwide
Kulgam's Basmati rice is famous for its aroma, taste, and long grain. The rice is highly sought after in international markets, with countries like Saudi Arabia, UAE, and Iran importing it regularly. The district's rice production has increased significantly over the years, with the government providing support through subsidies, loans, and training programs for farmers. Additionally, the district administration has established rice procurement centers to ensure that farmers get a fair price for their crops.
Kashmiri Apples
Apart from rice, Kulgam is also known for its production of other crops such as apples, apricots, walnuts, and saffron. The district's apple orchards are the second-largest in the state, and the apples produced here are of high quality. The region's saffron cultivation is also significant, with Kulgam being one of the largest producers of saffron in the state. The district administration has been taking steps to promote the cultivation of other crops to diversify the agriculture sector.
In conclusion, Kulgam's rice bowl status is well-deserved, given the district's significant contribution to the state's rice production. The district's rice is renowned for its quality, and its farmers work hard to ensure that they maintain the high standards that have made it famous worldwide. The government and district administration have been providing support to the farmers, and it is hoped that the district's agriculture sector will continue to grow and prosper in the years to come.
Also Read: Top 5 Offbeat Places to Visit in Kashmir